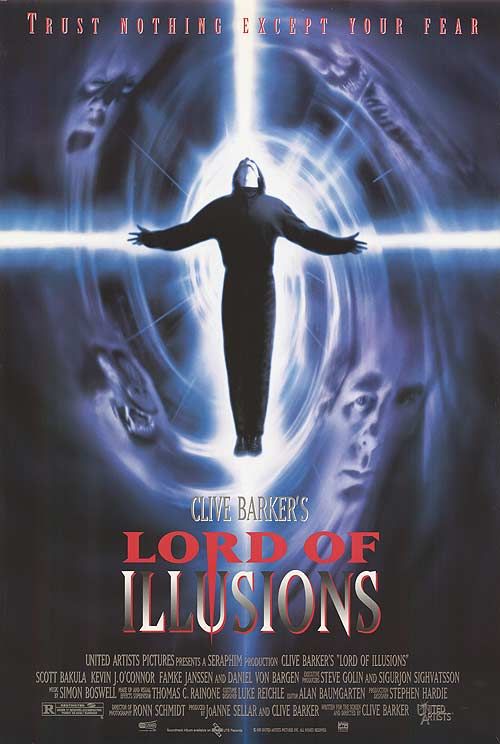 | | None | Light | Moderate | Heavy |
| --- | --- | --- | --- | --- |
| Language | | | | |
| Violence | | | | |
| Sex | | | | |
| Nudity | | | | |
What You Need To Know:
LORD OF ILLUSIONS is set totally on the premise of evil, occultic magic. When an evil magician called The Puritan attempts world domination, a detective and his team come to stop him with many horrifying encounters. Filled with violence and the occult, this film has no redeeming value and, in fact, may severely disturb those with sensitive spirits.
Content:
(Ab, OOO, FR, NA, LLL, VVV, SS, NN, A, M) Anti-biblical and occultic worldview where man fancies himself as a god, magic is depicted as spiritual truth, magic is depicted as religion with power to make one a god, depicted animal sacrifices & attempted human sacrifices, tarot cards, fortune telling, voodoo beliefs manifested, & New Age beliefs integrated with magical practices; 34 obscenities & numerous blasphemies; graphic violence including cultic disciples cutting themselves, walking across broken glass, baboon assaulting child under deliberate antagonism, child graphically shooting man in back, screws screwed into masters head, bleeding black blood, man tortured with scores of knives stuck into flesh yet keeping him alive, man impaled on pipe, swords drop down on body penetrating with much blood loss, woman graphically run over by car, reanimating occurs after a resurrection, students burned & baked alive, people cutting themselves, & two occurrences of penetration of fingers into mans head: depicted adultery; male frontal & rear nudity: alcohol use; smoking; and, theft.
More Detail:
LORD OF ILLUSIONS is the latest installment in Clive Barker's horror movie series. It is set totally on the premise of evil magic. A cult leader called "The Puritan" prepares to sacrifice a young girl in some satanic rite to increase his power and become a god. A team of renegades attack the complex to free the girl and evidently stop the fiendish work of their former master. The renegade party is able to bind him and contain him. When an albino student of the Puritan attempts to free him, a detective goes on the chase to stop the albino so that the Puritan will not be loosed to create more havoc. In a dramatic and horrifying climax, the detective ends up the hero, and the Puritan ends up being sent to a very literal Hell.
Aside from an attack on dedicated Christians, there are so many perversions of scripture and blasphemies in this movie you cannot even count them. This film is filled with satanic principles and an overwhelming sense of the occult. The only real references to God are how men long to become gods. The primary deception is that mortal man, through magic, can become immortal and have the power to become god. This film is an atrocity and an affront to all that is sacred, scriptural and holy.
Now more than ever we're bombarded by darkness in media, movies, and TV. Movieguide® has fought back for almost 40 years, working within Hollywood to propel uplifting and positive content. We're proud to say we've collaborated with some of the top industry players to influence and redeem entertainment for Jesus. Still, the most influential person in Hollywood is you. The viewer.
What you listen to, watch, and read has power. Movieguide® wants to give you the resources to empower the good and the beautiful. But we can't do it alone. We need your support.
You can make a difference with as little as $7. It takes only a moment. If you can, consider supporting our ministry with a monthly gift. Thank you.