"What Would You Do?"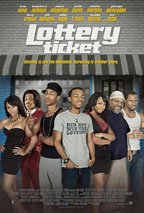 | | None | Light | Moderate | Heavy |
| --- | --- | --- | --- | --- |
| Language | | | | |
| Violence | | | | |
| Sex | | | | |
| Nudity | | | | |
What You Need To Know:
LOTTERY TICKET is an urban movie examining what happens with sudden wealth. Kevin Carson lives a mundane life in the projects, until he wins a $370 million lottery jackpot. He is soon pursued by the neighborhood loan shark, a local vamp, an irreverent reverend, and everyone else in his neighborhood. A thug just released from jail makes it plain that he wants Kevin's ticket, and he's willing to do whatever it takes to get it. A local hermit played by Ice Cube tries to help Kevin learn to defend himself. "Protect yourself at all times," he warns Kevin, who must decide whether to stand up against the ex con.
The production quality of LOTTERY TICKET is strong. It's well directed by Erik White in his feature debut, from a script by Abdul Williams. The movie is entertaining, though somewhat predictable. Although LOTTERY TICKET deals with worldly material, there is an underlying Christian worldview permeating the story. In the end, it has a generous spirit. There are some red flags, however. The movie contains plenty of foul language, some crude innuendoes, brief underage drinking, and some violence. The negative content requires strong caution.
Content:
(BB, CC, PaPa, Ab, LLL, VV, SS, AA, DD, MM) Strong moral worldview with underlying Christian influences, but marred by some worldly, pagan influences, including a Christian reverend who hassles a lottery winner for a donation; strong language, including one profanity, over 35 obscenities and several scatological references to women's body parts; strong violence some blood includes multiple fights, punching, knocking heads, and threats of gunplay; strong sexual content includes seduction scenes lead up to sex but stop short and not extremely explicit; no explicit nudity but exposure of legs, shots linger on clothed rear ends and female cleavage, and woman in lingerie in one scene; some use of alcohol in bar and in limousine, including brief underage drinking; no smoking but one drug reference; and, bad role models, covetousness, lying, loan sharks, gambling.
More Detail:
Although it starts with an interesting question – "What would you do if you won the lottery?" – and has a fair amount of charm, LOTTERY TICKET plays out in some fairly predictable ways and has some crude content.
Kevin Carson (played by Bow Wow) lives in the projects, but the whole of Atlanta is overwhelmed by Lotto fever, as the grand total is up to $370 million! Even his grandma, led by a "vision from the Lord," has Kevin buy her a ticket. Regrettably, hardcore criminal Lorenzo is back from prison, and he is instantly out to get Kevin. Benny, Kevin's quick-witted best friend, and his loyal love-interest, Stacie (played by Naturi Naughton), are there to help him. Kevin's life is mundane, uninteresting. He's even shunned after Lorenzo gets arrested, and Kevin is fingered as a snitch.
Then, Kevin gets his winning ticket. Suddenly, everything changes. Although Grandma and Benny are sworn to secrecy, word travels swiftly. A local loan shark named Sweet Tee, the local vamp, an irreverent reverend, and everyone else in his neighborhood is after him. Rather, they're after his money. Suddenly, Kevin is very popular. Sweet Tee wants to be his best friend, Nikki wants him to be the father of her baby, and the reverend wants a donation.
Worse, Lorenzo has just been released from jail, and he makes it plain that all he wants is Kevin's winning ticket and is willing to do whatever it takes to get it. It's not until a mysterious local hermit, Mr. Washington (played by Ice Cube), reveals that he knows all about what's happening, explains his past, and tries to help Kevin learn to defend himself. "Protect yourself at all times," he warns.
Kevin comes to realize that he really doesn't trust anyone anymore, including Benny. Beside that, though, he has to think through not only how he will defend his fortune (if he can ever get it back), but he has to decide what he will do with it, too. Is it just for his own enjoyment? Is it to help him accomplish his own goals? Or, should he help others?
There's a showdown where Kevin has to stand up against Lorenzo to try to get his money back. If he does, what will he do with it?
The quality of LOTTERY TICKET is strong. This should be no surprise, considering the track records of Producers Andrew A. Kosove and Broderick Johnson from THE BLIND SIDE. Add video director Erik White in his feature debut and you have a well-packaged movie. The script, by Abdul Williams (from a story with White) has a tremendous amount of heart, but its weakness is its predictability. There are not many surprises in LOTTERY TICKET. If that were not the case, the movie would have been much stronger.
There are some encouraging moments. For example, like when Kevin is about to engage in sex, and for various reasons it is stopped. Also, there are some fairly predictable moments (winning the lottery, facing the local thug). Even in the end, when Kevin has to decide what to do with the money, he's a nice guy, and it's not a huge surprise when he makes his final decision.
The performances are good. Bow Wow as hero Kevin and his buddy Brandon T. Jackson are well matched. They're fun to watch, and they play best friends convincingly. Nikki Naughton rounds out this triumvirate as the girl who sees the best in Kevin but is taken for granted. The other thing that rounds out the strength of this piece is a diverse cast of crazy characters, all melded together capably by the director. The crooked preacher, the greedy local mob boss, the dangerous hood, the haughty vamp, the crazy grandmother, the reclusive has-been who's still got something happening – they all work together to make a delicious stew of characters with something more behind them. They may not be fully developed, but they're fully interesting.
Cinematography by Patrick Cady and editing by Harvey Rosenstock give LOTTERY TICKET a polished look and a smooth, quick pace. Round it out with a solid soundtrack, and you have an easy-to-watch movie.
In terms of acceptability, LOTTERY TICKET has numerous red flags. In terms of violence, there are multiple fights, including some blood, and a knock-out punch. There are also threats of gunplay. Sexually, there are multiple cleavage shots, as well as a barely clad woman in more than one seduction attempt of Kevin. LOTTERY TICKET also has plenty of foul language, including several scatological references to women's body parts.
Nonetheless, LOTTERY TICKET has some positive content that shines through the crude content. Kevin has a love for his grandmother, his close friends, and likely the whole of the neighborhood. The bad guys are pretty bad, but there's no evidence that anyone's truly malicious besides Lorenzo. There's some tough talk, but it's all talk. Finally, the negative side of instant wealth (greed and selfishness) is explored, not ignored.
Overall, however, there are some pretty clear caveats, especially for the movie's crude language and sexual innuendo.