"Art Imitates Life in a Story of Divorce and Disappointment"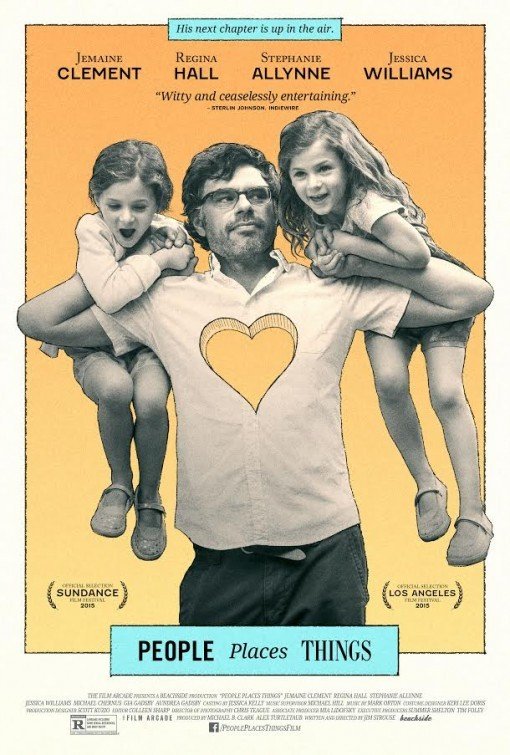 | | None | Light | Moderate | Heavy |
| --- | --- | --- | --- | --- |
| Language | | | | |
| Violence | | | | |
| Sex | | | | |
| Nudity | | | | |
What You Need To Know:
In PEOPLE PLACES THINGS, graphic novelist Will catches his wife, Charlie, with another man during their twin daughters' fifth birthday party. A year later, they're divorced, and Charlie's pregnant with the other man's baby. The girls are passed between their parents without any sense of a stable family life. There's a glimmer of hope when Will and Charlie think they might still have feelings for each other. Will then learns Charlie plans to marry the other guy. So, he must decide whether to move forward with another woman or continue to be a victim of unhappiness like the main character in his novels.
PEOPLE PLACES THINGS begins playfully with pencil sketches that creatively tell the background story and set the tone. Eventually, the characters try to come off happy, but it's too sad and disappointing they failed to keep their family together. The movie's central message is to seek happiness whatever the cost. Thus, Will and Charlie put their own desires above others. PEOPLE PLACES THINGS also has sexual references, brief nudity and plenty of foul language. All this is ultimately excessive.
Content:
(PaPaPa, B, FeFe, LL, V, S, NN, A, MM) Very strong, slightly mixed pagan worldview where main characters ultimately put their own "needs" and desires above their two daughters and each other, but husband seems to believe more in marriage and family than feminist-seeming wife, who ruins their marriage and breaks up the family because she wants to pursue her own interests; about 24 or 25 profanities and obscenities (including a few "f" words), plus child curses in French; light violence includes two men who try to fight but it ends up more of a boxer's hug, woman slaps a man in the face, man punches another man in the ear; implied adultery, college student presents an art project about self abuse, a man gropes a woman's breast, implied sex between two unmarried people, and two unmarried people try to sleep together but are interrupted; upper female nudity when woman takes shirt off, natural upper male nudity in swimsuit, upper male nudity after implied sex; man brings wine to dinner, and couple drinks wine with their dinner; no smoking or drugs; and, wife cheats on husband, married couple with two children get divorced, unmarried couple lives together, woman gets pregnant from man she's not cohabitating with, divorced couple shovel children back and forth and create an unstable environment for them, children of divorced couple are confused and hurt by their family being split apart, and divorced couple ends up with other people and permanently split up their family.
More Detail:
In PEOPLE PLACES THINGS, a graphic novelist must come to terms with his divorce and build a new life for him and his daughters. PEOPLE PLACES THINGS has some creative moments and funny dry humor, but other parts are uninspiring and unsatisfying, the main characters are ultimately rather selfish, and there's plenty of lewd content and some other immoral content.
Graphic novelist Will is shocked when he catches his wife, Charlie, cheating on him during their twin daughters' fifth birthday party. Charlie blames him for her actions, claiming she's the one that does all the work and never has time for herself. Although he's angry at her and her new flame, Gary, Will feels he has no choice but to accept it. After all, he reasons, he's partly guilty for their fizzling marriage by not putting in enough effort as a husband and father. A year later they are divorced, with Charlie and Gary sharing their family home, while Will lives a lonely life in a studio apartment.
Their six-year-old daughters, Clio and Colette, get shuffled back-and-forth between their parents every week. Although Charlie tries to create a stable home for them by keeping them busy with activities and school, the fact she's living with a strange man only creates confusion for the children. They stay at Will's each weekend. However, he tries to make it all about fun, so he has difficulty meeting the same parenting standards as his ex-wife. Clio and Colette take things in stride, but Will notices the toll that all these changes are taking on the girls and confronts Charlie about it, only to find out that she's pregnant with Gary's baby. This ignites a deep contempt for Gary and an uncertainty about how to handle the whole situation.
Though Will is a successful graphic novelist with a fan following, he teaches in Manhattan at the School of Visual Arts for extra money. One of his students, Kat, asks him to meet her mom, Diane, over dinner after he reveals his romantic woes during class one day. He hesitantly accepts, unable to completely let go of his failed marriage. He and Diane, a literature professor at Columbia, clash with each other over differing opinions about whether graphic novels can be considered literature. Their quarreling soon turns to affection, but Will pushes Diane away thinking that he and Charlie might still have feelings for each other. Things seem hopeful for a reunion with his ex-wife, but when he learns that Charlie and Gary plan to get married, Will must decide whether to move forward with Diane or continue to be the victim of unhappiness just like the main character in his novels.
PEOPLE PLACES THINGS starts out playfully with pencil sketches comprising the opening credits. Soon, it becomes apparent that the sketches are telling the background story of the characters. What starts out as a loving marriage quickly goes downhill, setting the tone for the rest of the movie. In another fun scene, message bubbles appear onscreen as two characters text back-and-forth, revealing their conversation. These creative touches are the movie's best part, along with a hilariously dry brand of humor. The rest of the movie, however, is rather uninspiring and somewhat disappointing. All of the characters would have the audience believe they're happy in the end, but it all feels like a pretense given that none of them can have the truly happy ending they want: the reunification of their family.
This movie may be very close to reality for some, but it only serves to show how selfish and destructive divorce can be. Its central message is to find happiness no matter the cost. A wife and mother gives up the cohesiveness of her family in order to reinvent herself, putting her needs above those of her husband and children. Her husband is not without blame either, but he seems to believe in the sanctity of marriage and family more than she does. Adultery and sex outside of marriage are implied in several scenes. There is brief explicit nudity and plenty of foul language. The movie's subject matter, pagan worldview and other objectionable content make it unsuitable for children. Media-wise adults probably will find this combination ultimately excessive, as does MOVIEGUIDE®.
Now more than ever we're bombarded by darkness in media, movies, and TV. Movieguide® has fought back for almost 40 years, working within Hollywood to propel uplifting and positive content. We're proud to say we've collaborated with some of the top industry players to influence and redeem entertainment for Jesus. Still, the most influential person in Hollywood is you. The viewer.
What you listen to, watch, and read has power. Movieguide® wants to give you the resources to empower the good and the beautiful. But we can't do it alone. We need your support.
You can make a difference with as little as $7. It takes only a moment. If you can, consider supporting our ministry with a monthly gift. Thank you.