"Nostalgic But Problematic Musical Romance"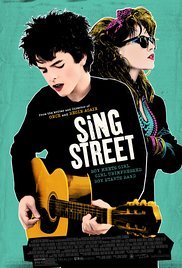 | | None | Light | Moderate | Heavy |
| --- | --- | --- | --- | --- |
| Language | | | | |
| Violence | | | | |
| Sex | | | | |
| Nudity | | | | |
What You Need To Know:
Set in 1985 poverty-stricken Dublin, SING STREET becomes the name of the band 15-year-old Conor forms with several schoolmates when he meets aspiring teen model, Raphina, who wants to make it big in London. Hoping to win her heart, Conor invites her to star in the band's music videos, reminiscent of 1980s MTV programming. Using her as inspiration, Conor writes several original songs with the help of Eamon, the group's musical genius. However, things hit a snag when Raphina decides to make the move to London with her boyfriend. Just as devastating, Conor's parents announce their separation. Will Conor ever see Raphina again?
SING STREET feels like a modern European version of the 1990s musical hit THAT THING YOU DO. However, SING STREET focuses more on the love story and less on the band. That doesn't make the catchy tunes any less memorable. Though the story is beatifically told, there's a fair amount of foul language and teenagers breaking rules. Also, some scenes depict teenagers smoking, and there are a couple drug references. SING STREET's Romantic, permissive worldview toward teenagers is too unacceptable.
Content:
(RoRo, C, AbAb, B, Ho, LL, V, S, AA, DD, M) Strong Romantic worldview of follow your dreams and, although a school is run by priests and one priest quotes Scripture in one scene, the Catholic headmaster is somewhat of a bully and is depicted as too stern and borderline abusive, but there is some morally uplifting bonding among friends and siblings in the movie despite family dysfunction, plus there are a couple jokes about homosexuality; 16 obscenities and profanities (including one "f" word), plus a person is seen vomiting on the street; a bully gives a student a black eye in school, a priest roughly washes makeup off a boy's face and holds his face in the water longer than necessary, it's implied a teenage girl was beaten by her boyfriend; no depicted or explicit sex, but it's revealed protagonist's parents are breaking up because his mother had an adulterous affair, some references to sex are made, and it's implied unmarried teenage couple will live together when they leave home; no nudity; a couple scenes show casual alcohol consumption, and it's implied someone vomited because they had been drinking at a party; lots of scenes show cigarette smoking and a couple references to smoking hash are made, including older brother smokes it in front of his teenage brother; and, a married couple fights throughout the movie and ends up separating, a boy lies to a girl to impress her, there's bullying but it's rebuked, and teenagers lie to parents about smoking and disobey their rules about not smoking.
More Detail:
SING STREET takes place in 1985 poverty-stricken Dublin. It's about a teenage boy who starts a band and to put a mysterious teenage model who has caught his eye into their music videos to win her heart. The story and music are captivating the whole way through in SING STREET, but there's some rebellion and immorality associated with the movie's teenage characters that's too unacceptable.
Fifteen-year-old Conor, his music guru older brother, Brendan, and academically inclined but bratty younger sister, Ann, are told one morning that the family's finances have to be tightened. Their parents move Conor from his expensive private school to a rough Catholic-run boys school, where he becomes a target of the school bully. At night, he and Brendan sit in front of the television watching music videos and discussing the latest music trends, much to the consternation of their father, who dismisses current bands as not on the same playing field as the "Fab Four," the Beatles.
Leaving school one afternoon, Conor spots a mysterious girl, Raphina, across the street and immediately falls in love. Working up the courage to talk to her, he finds out she's an aspiring model, who hopes to make it big in London, telling Conor she plans to move there soon. Desperate to get her phone number, Conor tells her she'd be perfect for his band's music videos, even though Conor has no band. Raphina writes down her information for Conor, who immediately begins the task of forming a band. He's unsure what kind of music they'd play, so he tells everyone he's a "futurist" as he goes through the process of auditioning potential band members. Five of Conor's schoolmates join, including musical connoisseur, Eamon, who demonstrates the ability to play a multitude of instruments.
Brendan listens to the band's first efforts, which include covering songs from Duran Duran. He admonishes his brother and the band for not writing their own songs. So, Conor and Eamon decide to form a writing duo, and before long they're ready to shoot their first music video. Raphina is impressed enough with the music that she agrees to star in the video. She becomes a sort-of sixth member of the group, and her relationship with Conor begins to progress beyond friendship.
However, everything is upended when Raphina makes good on her plan to move to London with her boyfriend. Also, Conor finds out his quarreling parents are separating, because his mother is having an adulterous affair. Will Conor ever see Raphina again?
SING STREET feels an awful like a modern European version of the '90s movie hit THAT THING YOU DO. However, SING STREET focuses more on the love story and less on the band. That doesn't make the catchy tunes any less memorable. To an ear familiar with today's music, it sounds, however, as if some modern styles are present in each of the songs. Therefore, the music tracks came across as being only partially authentic '80s music. That said, one can't help but be reminded of John Lennon and Paul McCartney's start as a writing duo when it comes to the scenes showing Conor and Eamon painstakingly collaborating over their latest creation.
Though the story is beatifically told, there's some foul language and violence. Catholic priests run the boys school and quote Scripture once, but they're portrayed as stern if not borderline abusive. Furthermore, many scenes depict teenagers and adults smoking. Also, children lie throughout the movie to their parents about smoking. There are a couple references to "smoking hash." It's also implied that unmarried teenagers will live together once they leave home. There's no explicit sex or nudity, but sex is referred to a few times during conversation. Finally, several scenes have Conor's parents arguing vehemently, and later it's revealed they are separating because Conor's mother had an affair.
Ultimately, therefore, SING STREET is a problematic movie with a Romantic, permissive worldview and too much objectionable content, especially the negative content involving teenagers. Media-wise viewers will find SING STREET too unacceptable, although the movie has some uplifting and morally positive content, especially involving the protagonist's creative talent and close relationship with his older brother. The movie's not extremely offensive, but it has enough problems that eventually push it out of bounds.