"Unpolished and Mixed"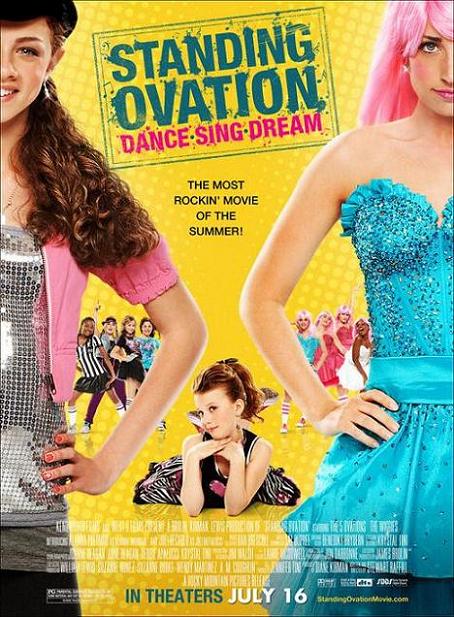 | | None | Light | Moderate | Heavy |
| --- | --- | --- | --- | --- |
| Language | | | | |
| Violence | | | | |
| Sex | | | | |
| Nudity | | | | |
What You Need To Know:
In STANDING OVATION, the Five Ovations, a singing group of 12-year-old girls from Atlantic City, New Jersey, enter a national music video competition to earn $1 million and a music contract. Their hometown rivals, a group of older teenager girls, are always pulling pranks to beat them, however. Meanwhile, the poverty-stricken leader of the Five Ovations helps the group's young new, wisecracking female manager track down the man who cheated her father out of his business.
STANDING OVATION is shot with lip-synched musical numbers. Thus, while the songs sound good musically, they also sound too canned. Also, much of the acting, editing, dialogue, and plot in this family movie needs work. There are some funny jokes, however, and some good dancing and singing. Younger children may not notice all the movie's flaws. So, they may find STANDING OVATION more entertaining and compelling. However, though the two lead heroines help each other, they also gamble on a fixed horse race, deceitfully threaten people to get information, and seek other material gains. STANDING OVATION just sends too many mixed moral messages. It also has an Americanized reference to karma, a Hindu concept.
Content:
(Pa, B, C, FR, L, V, N, MM) Light pagan worldview of purely materialistic goals and implied moral relativism that outweigh movie's light moral, redemptive elements, such as helping people out, repentance and forgiveness, plus an Americanized reference to the false Hindu concept of karma and one girl apparently becomes Hindu when she suddenly shows up with a Hindu dot on her forehead but nothing else is revealed or said about this; one "h" obscenity and seven light profanities, but someone says, "God bless you" in one scene, plus girl belches and video is doctored to make it look like two people are throwing up and girl watching it gets sick and in the public bathroom the toilet is heard flushing before she comes out of the stall with a little vomit in her hair and on her chin; brief violence as electric eel shocks bully's head, cobra scares man and someone is hit; no sex but there is light belly dancing in one scene, older teenage girls sing "I'm so hot" in one song's lyrics and minor character in one scene seems effeminate; upper male nudity in one scene; no alcohol; no smoking; and, girl tricks men with false threats to get information from them about a crime (e.g. one is threatened with a de-fanged cobra but he does not know cobra's de-fanged), gambling is rebuked but then not rebuked and actually rewarded, a heroine takes advantage of a tip that a horse race has been fixed, cheating, pranks, one prank is reversed and pulled on the pranksters, sister uses one of her brother's songs without telling him beforehand but then apologizes, two characters say, "If you can believe it, you can achieve it," and apparent celebrity worship and worship of fame.
More Detail:
Some children may like STANDING OVATION, a low-budget, uneven PG musical comedy about a talent competition, but the story and characters have some unrebuked immoral content.
Shot with what looks like lip-synched musical numbers, the movie opens with five 12-year-old girls in Atlantic City, New Jersey, the Five Ovations, losing a local competition to the Wiggies, a group of older teenage daughters of the local wig manufacturer and his wife who cheated. The Wiggies had the stagehand running the sound at the competition put pepper in the other girls' microphone headsets. Led by Brittney, the Five Ovations plan on getting back at the Wiggies by winning a national music video competition.
Brittney runs into Joei (pronounced "Joey"), a wise-cracking overweight girl who promises Brittney she can help them earn enough money to make the video if Britney promises to help her find the man who cheated her father out of his business. Brittney herself has problems at home. Her father left home when she was young, and her Irish grandfather has a gambling addiction that may put them out on the street.
Joei gives Brittany a horse-racing tip that helps them pay the rent. She also helps the Five Ovations get a couple musical gigs. Meanwhile, Brittany helps Joei threaten the men who may know where the crook who hurt her father is. Joey uses a perfume spray to get information from one guy by telling him that the spray is poison and only she has the anecdote. Joey threatens another guy by pulling a de-fanged cobra snake from her purse. Of course, the man does not know the snake is de-fanged.
Eventually, all the music videos are made. The tension increases as both the Five Ovations and the Wiggies make it into the semi-finals and finals in New York City. The Wiggies have a couple more tricks up their fancy sleeves, however. And, Joei's search comes to a fitting end that also personally affects Britanny.
Too much of the acting in STANDING OVATION is barely serviceable. The dialogue, plot and editing also need some re-working. In addition, although the songs sound good musically, they are lip-synched and thus sound too canned. Finally, a lot of the dancing is good, but it's not always good enough to get into the final Hollywood rounds of AMERICA'S GOT TALENT.
Younger children may not notice all these flaws, so they may find this movie more entertaining and compelling. The problem is, the two lead good guys – or in this case good girls – gamble in one scene to help Brittany and her grandfather pay the rent and trick and threaten people to get information. Also, their goal is to win competitions, get money and become stars, not to really hone their talents, help people or serve God. Thus, while the movie does briefly teach a few values, such as repentance, forgiveness and helping one another, its worldview is mostly a slightly mixed pagan worldview with only some light moral elements. Thus, the movie's positive values seem too much like an afterthought.
Hopefully, the next family movie by these filmmakers will be much better and have more money to make it really work. Some talent seems to be there; it just needs much more polish and a more inspiring, morally uplifting, family friendly, or overtly biblical focus.