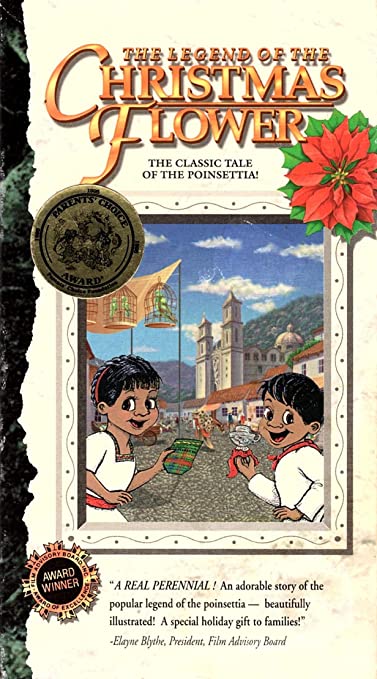 | | None | Light | Moderate | Heavy |
| --- | --- | --- | --- | --- |
| Language | | | | |
| Violence | | | | |
| Sex | | | | |
| Nudity | | | | |
What You Need To Know:
THE LEGEND OF THE CHRISTMAS FLOWER is an exceptional storybook piece with an excellent message of the true meaning of gift-giving. Juanito trades his hand-crafted silver candle holder for a sombrero; Abuelo trades his sombrero for Juanito's candle holder; and, after it is crushed, Juanito's tears produce the Christmas flower. Though slow moving with simple animation, the quality of art and music is flawless.
More Detail:
In Mexico in the early 1800's lies the village of Santa Anna. There, Padre tells THE LEGEND OF THE CHRISTMAS FLOWER to little Maria, who is upset because her gift to the Christ-child is not all she intended it to be. In the legend, 8-year-old Juanito dreams of owning a sombrero. Juanito will accompany his grandfather, Abuelo, to Taso where they will trade the silver crafts for candles which will light the way for the Padre's visit to their village on Christmas Eve. In Taso, a crooked sombrero vendor cheats Juanito out of his candle holder, but Abuelo reveals that he traded his own sombrero for Juanito's candle holder. The candle holder is crushed in an accident and so is Juanito's spirit. However, Juanito's last tear falls to the ground producing a tiny green plant, a Poinsettia, which Juanito takes to the Christ-child.
The subtle style of this animation isn't very exciting, but the quality of the art work is outstanding. Juanito's and Maria's grief over their gifts being ruined and the result of that grief proves that the best gifts are given in love. THE LEGEND OF THE CHRISTMAS FLOWER is a delightful story with a message of giving that is needed. It is, however, a little slow moving, and children will need encouragement to keep watching at first.