"Stunning Display of Humanity and Inhumanity"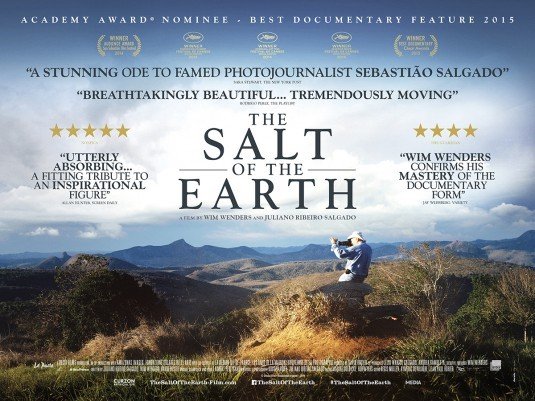 | | None | Light | Moderate | Heavy |
| --- | --- | --- | --- | --- |
| Language | | | | |
| Violence | | | | |
| Sex | | | | |
| Nudity | | | | |
What You Need To Know:
THE SALT OF THE EARTH is a documentary about photographer Sebastiao Salgado. His son films the documentary with Wim Winders. They take viewers back to Salgado's childhood on a Brazilian farm. Salgado goes to college, moves to France and quits his banking job to become a photographer. He goes everywhere except Asia to capture the injustices of humanity. After decades, he returns to Brazil, where he finds his childhood farm in ruins due to a severe drought. He and his wife embark on a reforestation effort. This inspires Salgado to make his next project about the beauty of untouched nature.
The cinematography in SALT OF THE EARTH is breathtaking, a quiet mixture of black and white photographs with colorful film footage of Salgado at work. Some photographs are filmed under a glass overlay, which reflects Salgado as he discusses his creative thoughts or tells a story. Salgado's projects include covering the pain inflicted by greedy third world dictators. Salgado blames the suffering of the victims on man's unwillingness to share. Because of many disturbing, violent images, SALT OF THE EARTH requires extreme caution.
Content:
(B, E, AcapAcap, H, Ab, So, L, VVV, S, NNN, M) Light moral worldview with some environmentalist content and a strong admonishment against people who cause the suffering of others through violence or socialist tyrannical greed, with an implied criticism of nations unwilling to help people from third world countries in a humanitarian crises, including a humanist conclusion that people can be so cruel that there's no hope or salvation for them, plus a utopian solution about sharing is offered; five obscenities and profanities; many images of adults and children starving, many images of dead bodies lying on the road or in mass heaps, images of people's skeletons who have been murdered by tyrannical socialist armies, images of people being carted away to death camps, images of threatening soldiers with guns, image of dead baby in a coffin, burning oil wells due to war; some suggestions of sexuality; footage of fully nude tribes people, including some images with partial nudity; no alcohol; no smoking; and, issues of cruelty, death and deprivation.
More Detail:
THE SALT OF THE EARTH is a documentary following the career of social and environmental photographer Sebastiao Salgado. Collaborating with filmmaker Wim Winders, Salgado's son, Juliano, chronicles Salgado's new project, Genesis, as they go into the wilds of nature to capture life in the last untouched places on earth.
For this project, Salgado abandons his usual fare of photographing the social injustices of humanity, having become disillusioned by the possibility of man's salvation. It is a project of healing for him after decades of witnessing the absolute worst in human suffering.
Juliano begins there, but then he takes viewers back to Sebastiao's beginning as a boy living on a Brazilian farm among a forest of trees, rivers and a train that carried coal from the local mines. There, Sebastiao was free to roam and explore his natural surroundings. His father was insistent that he attend college, even though he never was much of a student.
Sebastiao studied economics and set out for a lucrative career in world banking. He and his wife, Lelia, moved to France but found themselves unfulfilled. They bought an expensive camera for Lelia's architectural projects, but it was Sebastiao who developed a natural inclination for photography. He soon gave up his job in the financial world and took off for South America, where he lived among the locals, gained their trust and captured some of the most intimate moments of their lives.
From there Sebastiao ventured out into other areas of the globe including Niger, Serra Pelada, Rwanda, the burning oil fields of Kuwait during the Gulf War, and spent time with Doctors Without Borders. Throughout it all, he photographed the devastating affects of famine, genocide, epidemic disease, and people being forced into refugee camps where most would not survive.
Back home, the farm he had grown up on was all but gone due to severe drought. His wife suggested they plant trees in one of the most ambitious reforestation efforts ever produced. It was a phenomenal success, and provided the unexpected inspiration he needed for the Genesis project. This time his son Juliano would accompany his father, and see him for the first time as the world did.
The cinematography in SALT OF THE EARTH is rather breathtaking, a quiet mixture of still black and white photographs along with colorful movie footage of Sebastiao at work on his Genesis project, compliments of his son. It employs a unique narrative technique where some photographs are filmed under a glass overlay that reflects Sebastiao as he discusses his creative thoughts behind each shot or tells a story associated with it. Sebastiao has no formal training in photography, but he's had a burning desire to use whatever creative talent he could muster to make a difference in the world. Though it's soured his outlook of the human race, he ultimately found some fulfillment in his work.
At first glance, this documentary may appear to be an exercise of socialist ideals, but one must keep in mind that nearly all of Sebastiao's projects occurred in the third world where socialist and neo-Marxist dictators keep much of the economic resources to themselves. Sebastiao blames the suffering of the victims on man's unwillingness to share. The only admonishment from Sebastiao is his stunned honesty about why the more fortunate countries, who are in a position to help, often refuse to do so. There are many disturbing photographs of people starving, dead on the side of the road, lying in mass graves, a schoolhouse full of skeletons after all the children were trapped and killed, and hellish images of people walking amongst fires burning in the smoke-blackened Kuwaiti desert. Footage of naked tribes people permeate portions of the movie.
Because of its many disturbing, violent images, SALT OF THE EARTH requires extreme caution.