"Fluid Dancing/Stiff Acting"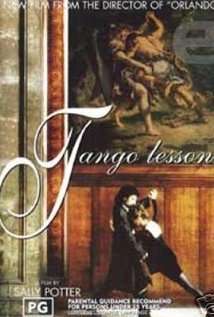 | | None | Light | Moderate | Heavy |
| --- | --- | --- | --- | --- |
| Language | | | | |
| Violence | | | | |
| Sex | | | | |
| Nudity | | | | |
What You Need To Know:
In THE TANGO LESSON, Sally Porter avoids a painful existence through dancing the tango. Sally writes for Hollywood moguls interested in big audiences and even bigger profits. She gets involved with the tango and a dancer named Pablo to distract herself from her frustrations. Pablo tells Sally that their relationship must only be expressed in the dance, or they will not work well together as a dance team. Hence, the story examines sexual tension expressed in dancing the tango by two lovelorn, artistic, strong, and controlling people.
Real life tango dancer Pablo Veron is not a skilled actor. Under his guidance, Sally masters the technique of tango, and their duet produces some of the finest moments of the film. There is precision and perfection, but no passion. The sexual tension is only suggested, due to the Sally's rigid acting. She is stiff, and it is difficult to imagine her in sexual agony over Pablo. Perhaps, Sally is so determined to make a movie that she just can't relax and play her part. Also, she is too self-indulgent when she defiantly proclaims that she is an atheist. The tango is obviously revered in Sally Porter's life, but not her Creator.
Content:
(H, L, V, S) Atheist worldview focusing on self-fulfillment & gratification; 1 vulgarity; some action violence involving shooting; and, implied sexual references & sexual tension in tango dancing.
More Detail:
Playing themselves, Sally (Sally Potter) and Pablo (Pablo Vernon) develop a relationship through dance in THE TANGO LESSON, an autobiographical film about Sally's struggles to find financing for a movie. As she writes and searches for money, she flits between her London home, Paris and Buenos Aires. In Paris, she wanders into a tango club, sees renowned tango dancer Pablo Veron and asks him for a lesson. In their first lesson, Pablo teaches the steps to Sally in an unfinished apartment.
Her dancing and their relationship progresses, especially after Sally takes an extra lesson with two dancers from Buenos Aires. Soon, Sally and Pablo are attracted to each other, but Pablo decides it is better to only experience their romance through dance as he fears a romance off the floor would affect their performance at a dance demonstration in Paris. Sally agrees, but the sexual tension comes out in their dancing.
While mastering the art of tango dancing, Sally finds that Hollywood moguls want to have their say in her film by putting in big name stars, changing locations and changing the language for purportedly bigger audiences and profits. Disillusioned, she tells Pablo she wants to make a movie about tango dancing and about their relationship. Thus, Sally and Pablo's story is born, a film by Sally about Sally and featuring Sally.
THE TANGO LESSON is captivating in its dance sequences, but these are the movie's only assets. While there is nothing wrong with a filmmaker acting in her own movie, the main protagonist in this movie fails to win the audience's sympathy. Pablo is not an actor, but a brilliant dancer, which makes up for his lack of vocal and emotional delivery. Sally Porter, however, degrades the movie. Despite her mastery of the tango, she is otherwise so rigid in the movie that it is extremely difficult to feel the angst she is trying to bring across as unexpressed love. Her non-dancing movement is not fluid, but stiff, and she conveys little emotional range.
The love story limps along, contrived at best, and utterly unmoving at worst. The tango scenes are undeniably the best part of the movie. There is only implied sexuality and most of the sexual tension is felt only on the dance floor. At one point, Sally mentions that she is an atheist, a philosophical and emotional philosophy which not only doesn't bode well for her future but also affects her current screen presence as a soulless and unconvincing storyteller.