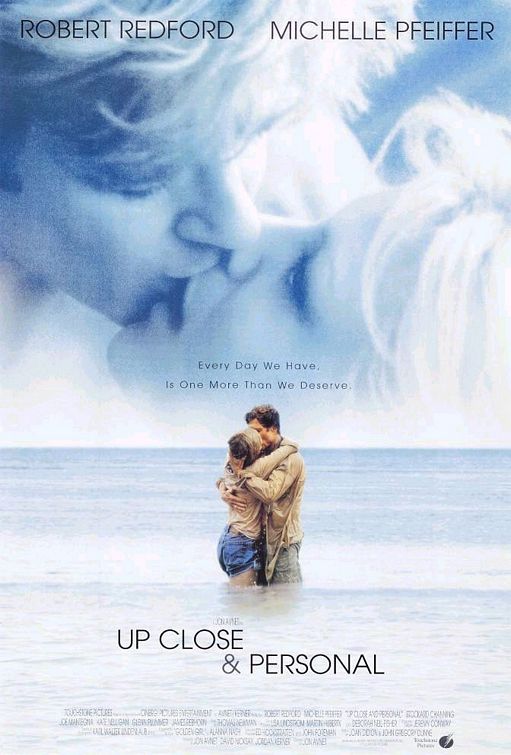 | | None | Light | Moderate | Heavy |
| --- | --- | --- | --- | --- |
| Language | | | | |
| Violence | | | | |
| Sex | | | | |
| Nudity | | | | |
What You Need To Know:
UP CLOSE AND PERSONAL pulls the right heartstrings but is extremely weak. Robert Redford's Warren Justice shapes Michelle Pfeiffer's Tally Atwater into a star newscaster. There is no chemistry between these stars. The sex is obligatory, and the plot is tired. Furthermore, it is humanist and politically correct. It may morally make you feel far away and impersonal.
Content:
(H, PC, LLL, VV, S, N, A) Humanist, politically correct worldview which places getting a story above everything, although honesty is the ultimate virtue; 5 profanities & 33 obscenities; prison riot, beatings, trampling, & shooting; fornication; partial nudity; and, alcohol use
More Detail:
Movies are an emotive medium. Weak movies can succeed if they pull the right heartstrings. UP CLOSE AND PERSONAL pulls the right strings but is extremely weak. The movie recasts a STAR IS BORN in the person of the news anchor wannabee Sally Atwood, played by Michele Pfeiffer. A small town girl from Nevada, Sally fakes her credentials for a video to send to 35 TV markets and lands a job at WMIA, channel 9, in Miami. Her boss Warren Justice, played by Robert Redford, has been at the top, but settled down in Miami after realizing that the news race wasn't fun anymore. He knows that Sally, whom he renames Tally, faked her credentials, and he knows that she eats the lens, so he shapes her into the Jessica Savitch of the 90's. They move to Philadelphia and get married. There, a prison riot makes Tally a star broadcaster.
Redford and Pfeiffer are misused in this movie. Redford looks like an aging sophomore, while Pfeiffer tries to look like she hungers after the 60 year old Redford, but there is no chemistry. The sex is obligatory, the plot is tired, the left-wing perspective is absurd, but the movie does know how to touch those emotional chords. This may be the most chauvinist movie since DR. NO, but without the humor.