"God Desires Reconciliation "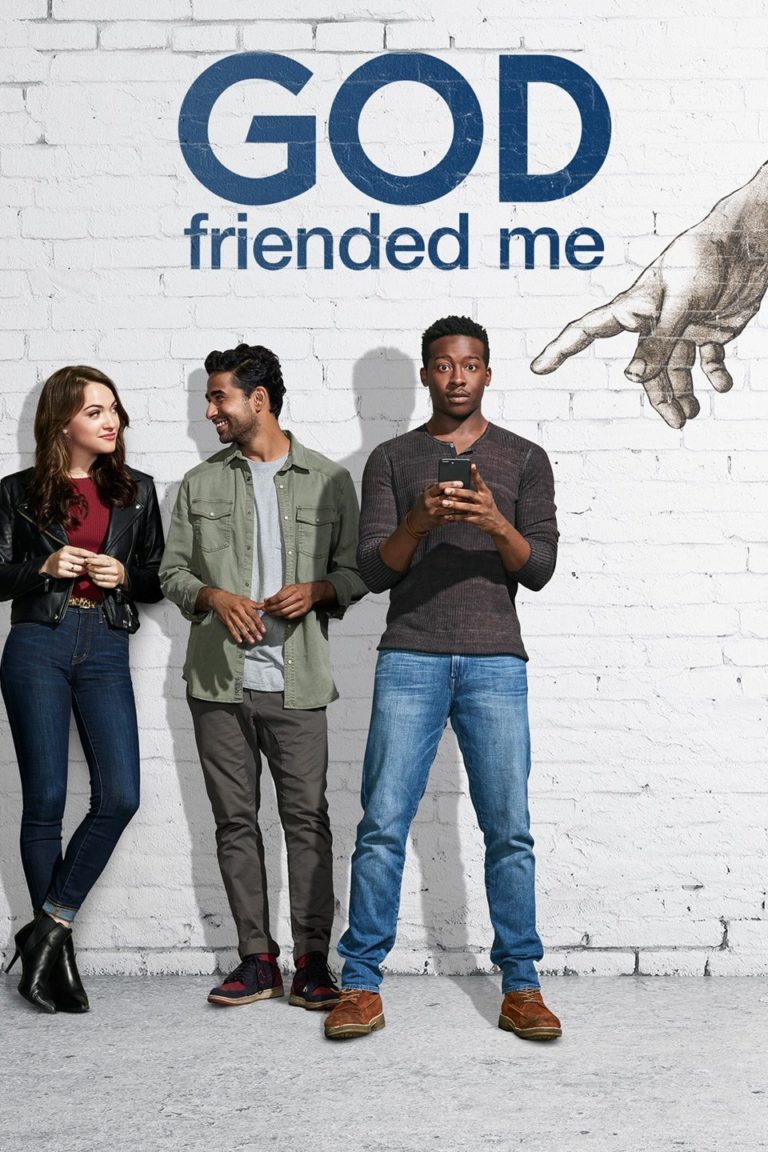 | | None | Light | Moderate | Heavy |
| --- | --- | --- | --- | --- |
| Language | | | | |
| Violence | | | | |
| Sex | | | | |
| Nudity | | | | |

What You Need To Know:
Episodes:
| Number | Date | Title | Production | Content |
| --- | --- | --- | --- | --- |
| 1.1 | 09/30/2018 | Pilot | | -1 |
More Detail:
In the CBS drama series GOD FRIENDED ME, Miles is a young podcaster in New York who's trying to "change the world" by spreading atheism. Miles really wants to take his podcast to the next level and has been trying to get his show on Sirius XM for a while. Now, it seems he may have his chance.
Something weird happens to Miles, however. He starts receiving a Facebook friend request from an account named God. Assuming it's spam, he dismisses it, but it keeps appearing over and over until he accepts it.
Once Miles has accepted the friend request, he gets a suggested friend notification for a John Dove, a stranger he immediately runs into on the street. Completely perplexed by what's happening, Miles sees that this man, John, is being dumped by his girlfriend. Miles follows John down to the subway and sees that he may jump in front of the oncoming train. Miles intervenes and pulls him back. The man turns around and with tears in his eyes tells Miles that he just saved his life.
Miles gets another suggested friend notification. This time it's a girl named Cara Bloom, a journalist. Miles finds her, thinking that maybe she's behind all the weird Facebook hacking, but she has no idea who he is or what's going on either. Meanwhile, other strange things keep happening. Like, his apartment room temperature keeps getting really hot by itself, and his computer is hacked, and he loses a presentation to pitch his podcast to Sirius Radio. Miles can't explain any of these events.
It's then revealed that Miles' father is a reverend, and they're no longer speaking to each other because of their vastly different belief systems. Miles' sister is trying to bring them together again. Not knowing if his father, or some random hacker, is behind the God Facebook account, Mile's continues to investigate, now with the help of his friend Rakesh and Cara, who desperately needs a good story for her job. Will they find out who's behind it all?
GOD FRIENDED ME is structured like a faith version of the CBS series PERSON OF INTEREST, just less action. Each episode is going to introduce new people that "God" is suggesting Miles find, and each episode will likely end with inexplicable good happening. It's a classic storytelling trope, but with a modern social media twist. The actors are great, but the dialogue is sometimes weak. The strength of this series lies in the interconnected stories of random strangers, which resolve in miraculous ways. This adds an element of mystery to the show.
As for the faith elements of the show's premise, the theme that rings through in the first episode, even though Miles is out to disprove God, is that God desires people to be reconciled with each other and with Him. Because Mile's father Arthur (Joe Morton) is a pastor, the strongest representation of faith in the show is Christianity. In the first episode, viewers hear excerpts of Joe's sermon, and he at one time quotes a verse from the Book of James. However, the show likely will take a more pluralistic approach to God in episodes down the road. In the first episode, Cara references her more vague spirituality, stating that she believes there's a grand design, and we're all interconnected somehow. Also, Mile's friend Rakesh comes from a possibly Hindu family, so it wouldn't be surprising if this is pursued in other episodes.
In fact, recently MOVIEGUIDE® heard from the cast and creators of GOD FRIENDED ME at a press panel, and they did confirm that the show will explore other religions, like Hinduism, Judaism and others. Also, while it's not made clear in the first episode, Joe Morton revealed that his character's daughter is a lesbian. The creators also hinted that the show isn't a "supernatural show," and that the themes are more about believing in each other than believing in God.
While there are promising moments in the first episode along with some wonderful moral messages, the show will very likely become more pluralistic. Also, there are several light obscenities and some implied sexuality in the pilot episode, so caution is advised for GOD FRIENDED ME.