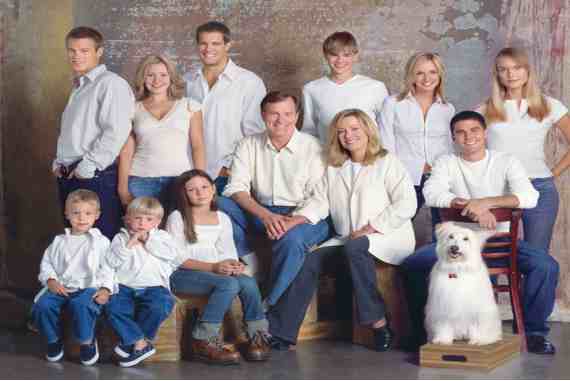 The 19th Annual Movieguide® Faith & Values Awards Gala is looking for a few good nationally televised TV programs telecast to a broad audience in 2010. The prize for the winning entry: $100,000.
There are only two catches:
First, nominees for the TV prize, which can be a nationally televised movie for television or an episode of a regular TV series, must be well produced, wholesome and spiritually uplifting. Second, the TV program's story, characters and content must lead to "a greater increase in man's love and/or understanding of God."
"We're looking for nationally televised network programs that honor traditional concepts of God," said Dr. Baehr, founder and publisher of Movieguide®, the family guide to movies and entertainment that sponsors the Gala.
Dr. Baehr noted that the vast majority of Americans, more than 90% of whom believe in God, are looking for more TV programs like "Touched by an Angel" and "7th Heaven" that support their faith.


"The television industry often seems to ignore God," he added, "but American families and their children respond very favorably to programs that explore faith and religion in a positive, natural way that's not preachy but that inspires, uplifts and enlightens as well as explores the spiritual side of life and people's personal relationship to their Divine Creator."
Known as the Epiphany Prize for the Most Inspiring TV Program of the Year, the prize is presented to the writer, director, producers, and network executives most responsible for developing, making and televising the best program that leads to a greater increase in man's love or understanding of God.
In Greek, the word "epiphany" means an appearance or manifestation of God.
The Epiphany Prizes are made possible through the support of a grant from the John Templeton Foundation.
Entries and suggestions for television nominees are due by Dec. 15, 2010. The final nominees will be announced in January, with the winner being announced by Feb. 19 in Los Angeles at the 19th Annual Faith & Values Awards Gala and Report to the Entertainment Industry.
Past winners of the Epiphany TV prize include "Touched by an Angel," "7th Heaven," "Love Comes Softly," "J.A.G.," "Doc," "Gifted Hands: The Ben Carson Story," "Walker, Texas Ranger," "The Valley of Light," and "The Christmas Choir."
Dr. Baehr is chairman of the Christian Film & Television Commission® (CFTVC) ministry and its family guide to movies, Movieguide® (www.movieguide.org). CFTVC and Movieguide® are an international non-profit ministry dedicated to "redeeming the values of the entertainment industry by influencing industry executives and by informing and equipping the public about the influence of the entertainment media."
The John Templeton Foundation (www.templeton.org) serves as a philanthropic catalyst for discoveries relating to the Big Questions of human purpose and ultimate reality. It supports research on subjects ranging from complexity, evolution, and infinity to creativity, forgiveness, love, and free will. It also encourages civil, informed dialogue among scientists, philosophers, and theologians, and between such experts and the public at large, for the purposes of definitional clarity and new insights.
The Foundation's vision is derived from the late Sir John Templeton's optimism about the possibility of acquiring "new spiritual information" and from his commitment to rigorous scientific research and related scholarship. The Foundation's motto, "How little we know, how eager to learn," exemplifies its support for open-minded inquiry and its hope for advancing human progress through breakthrough discoveries.
For more information about the Epiphany Prize for Most Inspiring TV Program, visit www.epiphanyprizes.com, call 1-888-248-6689, or write jack@movieguide.org.