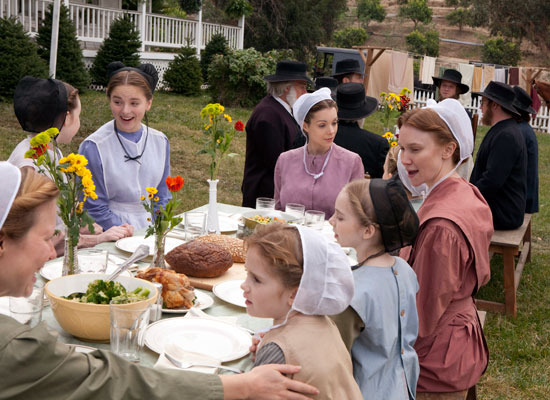 Gregg Champion directed the Lifetime Movie Network's AMISH GRACE, now on DVD, which tells the true story of the school shooting at an Amish school back in 2006.
Movieguide® had a few moments to catch up with Gregg to get his insights on this moving story.
When asked why he got involved with this movie, Gregg says


, "The script impacted me so profoundly. I don't remember reading a script that affected me so much. About one third of the way through is the scene when the father talks to his daughter. She says she hates the man who killed her sister. The dad talks about hate and what it does to your heart — that there's no room left for love.
"It's hard to understand how they [the Amish community] can transcend this tragedy through forgiveness. That translates into a lot of other areas. So this really is more of a universal story of how we deal with anger and what we do with these issues."
The production itself posed a number of logistical challenges. Budget dictated two important things: a very short shooting schedule and the shooting location. The entire movie was shot in 16 days, which is extremely short even for a television drama. Research had to be completed to make sure they there were accuracies in such small matters as how an Amish man takes off his hat when he comes inside.
"It was kind of like cramming for a final exam," Gregg observes.
The second challenging decision was that the movie was to be shot in California, doubling for Lancaster, Pennsylvania.
"We had 37 major roles. Dozens of kids under the age of 12, horses, buggies, and beards! It was like doing a period movie in many ways. There was a certain authenticity that we had to bring to it," Gregg says.
The most difficult aspect for Gregg was relating to the father in the movie. The father, consistent with Amish beliefs, does not allow his wife to have a photograph of their deceased daughter.
Gregg says, "I thought his strictness was too much. But then, as we did the scene, the father says that they don't need a graven image to remember their daughter by. That gave me insight, and I slowly came around to understanding the characters even better."
Gregg comes from show business parents. His father Gregg Champion was a dancer and director and his mother Marge Champion was a dance and choreographer. Gregg lost his brother and stepfather in an accident and used that memory and emotions to translate how people deal with anger and forgiveness.
Gregg continued:
"This was a very tough project. Kimberly Williams-Paisley is a young mother with two kids who were there. There were people who were worried that the movie would exploit this tragedy. So, we were careful not to deal with anything that led up to it [the shooting] in an impressionable way and not to show anything graphic so you get the idea without showing it. The movie is about the aftermath."
Gregg concludes, "I hope people will tune in with an open heart and open mind to learn a story about the healing power of forgiveness. That's what the movie is about. About healing. And showing that in the most unimaginable, extreme situation and how we might apply it to our own lives."