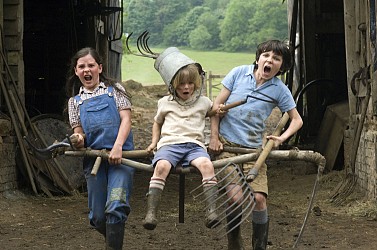 Story Comes First, Characters Second – And, American Food is 'Ginormous'!
By Tom Snyder, Editor
MOVIEGUIDE® had a chance to chat with members of the cast of NANNY MCPHEE RETURNS, which opens today, the 20th.
The first thing the English cast said they noticed about America on their first trip was the food.
"The food is ginormous!" said young Lil Woods, 12, who plays Megsie in the movie.
"It's great," said Eros Vlahos, 15, who plays Cyril. "Everything is bigger and cheaper."
"Huge portions," agreed Rosie Taylor Ritson, 13, who plays Celia.
"And, no one walks in America," Lil said. "We were walking down to get some food and we got really strange looks."
Writer and star Emma Thompson, who plays Nanny McPhee, remembers the
first time she came to Los Angeles with her father, Eric Thompson, who was most active in the theater.
She said she remembers going into an American supermarket, where she found it amazing that you could buy mascara, bacon and ice cream all in the same place.
"It was the most surreal experience," Emma said, "because I had never been to America, never been anywhere in America. So, Los Angeles or Hollywood was this absolutely unreal world. Plus, we were staying in a house on Blue Jay Way that had a conversation pit and very thick shag pile carpets and lots of plastic fruit in the kitchen and loads of cupboards with nothing in them and a swimming pool. Which, for a kid coming from West Hampstead where you could barely buy green vegetables in winter, was just all a bit extraordinary.
"Then you went to a supermarket and you could buy makeup and bacon in the same place. My dad gave us one of those trolley things and he said you can come back and you can go and get anything you want and we came back with two kinds of ice cream, some mascara and some bacon. That's all we had. We had hardly anything in our little trolleys because we just weren't used to that sort of plenty, that kind of overwhelming choice."
Emma said she remembers visiting to Grauman's Chinese Theater on that first trip, where see saw the handprints and footprints of Hollywood stars in cement and names of film, television and radio people on the sidewalk.
"I thought it was a lovely thing then to put in names of people who had made the city the legend that it is into the paving stones," she said. "I thought that was just so cool when I was little."
On her recent trip to promote NANNY MCPHEE RETURNS, Emma finally got to have her own star on the Hollywood Walk of Fame.
"The fact that they've done it for me just seems quite unreal," she said. "I was incredibly touched."
Emma's approach to writing the script for NANNY MCPHEE RETURNS sounds like one of the lessons the Publisher of MOVIEGUIDE®, Ted Baehr, teaches in his screenwriting courses that stress Aristotle's hierarchy of Story and Plot first and Characters and Ideas next.
"What I do is write the story first and then decide what lessons might work, might pertain," she said. "What's the big story? And then, what's the little story inside that? What's the emotional plot?
"Get that right, start creating the characters, and then the last thing is the lessons."
In the movie, Nanny McPhee comes to teach the children five important lessons they need, and, when they learn the lessons, they no longer need Nanny McPhee, no matter how hard they want her to stay.
The children were asked if they had nannies growing up.
"My mom works from home so I've never had a nanny, but I've had a couple babysitters, but they were my mom's friends' daughters," Lil said. "They were really nice so I wasn't naughty with them."
Rosie said, "I've had a few nannies over the years. Some of them were nice and some weren't very nice."
"I didn't have one," Eros said. "I babysit my brother and that's tough. He's eight years younger than me. Don't give him Coca-Cola is the rule I go by."
(Useful Insight: Eros Vlahos actually performs stand-up comedy and wants to do comedy films.)
Emma thinks all the concepts in her movie are universal.
"Parenting, war, absence, fear of loss, divorce, conflict between children. . . they're all universal. . . entirely universal."