Published: December 7, 2021
CHRISTMAS WITH THE CHOSEN Breaks Top 5 at the Box Office in Opening Weekend
By Movieguide® Staff
CHRISTMAS WITH THE CHOSEN: THE MESSENGERS broke several box office records and became the highest-grossing Fathom Event in history in its opening on Dec 1. 
However, the Christmas Special created by Dallas Jenkins that tells the story of Jesus' birth through the eyes of Joseph and Mary continued to perform over the weekend. 
According to Box Office Mojo, THE MESSENGERS earned $4.1 million between Dec 3 and Dec 5. The faith-focused and worship-filled holiday special outperformed horror movie RESIDENT EVIL: WELCOME TO RACCOON CITY and blockbusters heading into their second month of release like DUNE and Marvel's ETERNALS.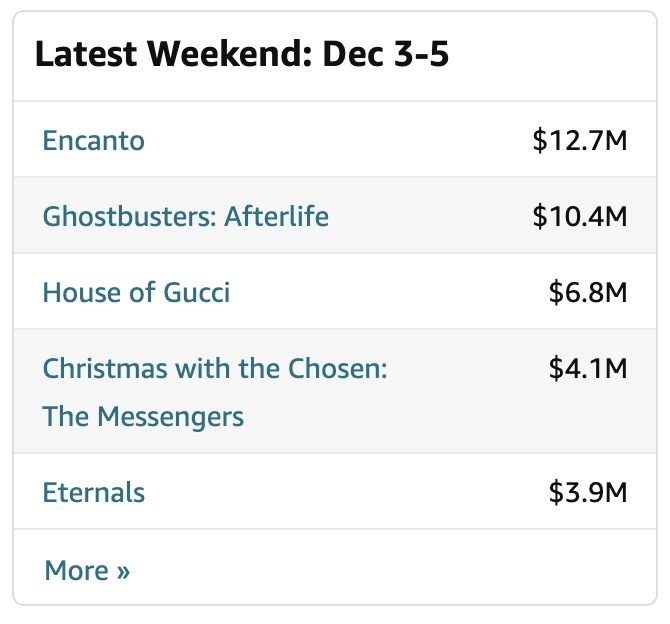 THE CHOSEN's first-ever theatrical release also competed at the box office despite only releasing in 1,700 theaters across the country. ENCANTO, GHOSTBUSTERS: AFTERLIFE, and HOUSE OF GUCCI all appeared in twice the amount of theaters, according to Box Office Mojo. 
Movieguide® previously reported: 
THE CHOSEN's first-ever theatrical release, CHRISTMAS WITH THE CHOSEN: THE MESSENGERS, broke box office records in its debut on Dec 1 and became the bestselling Fathom Event release of all time.  

"We knew we had something special with this title," Ray Nutt, CEO of Fathom Events, said in a recent press release. "We are grateful for the passionate fans of The Chosen and our exhibitor partners who accommodated demand by adding showtimes and locations. We are all partners on this journey to claim the #1 spot as Fathom's best-selling event, ever!"

In just the first 12 hours of availability, THE MESSENGERS recorded the fastest out-of-the-gate sales with $1.5 million.  

"We don't do this for the numbers, but these records indicate people will indeed go to the theater for a project they're passionate about," THE CHOSEN creator, writer, and director Dallas Jenkins said. "The enthusiastic comments from new and old fans give us confidence to do this again."
A portion of Movieguide®'s review reads: 
CHRISTMAS WITH THE CHOSEN: THE MESSENGERS is a joyous, Gospel-focused celebration of advent and the true story of the birth of Jesus Christ. The filmmakers use song, Scripture and dramatic representations to stress the hope that Emmanuel, God With Us, brings to a weary, sinful world. This event will make viewers want to worship the greatness of God, rest in the mercy of Jesus, and look expectantly to the believer's future with Him in heaven. The music and production in CHRISTMAS WITH THE CHOSEN are masterfully woven together to create a cohesive narrative that surely will stir many hearts this holiday season.