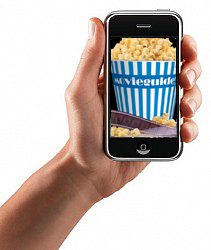 Movieguide®: The Family Guide to Movies and Entertainment has released a new application for Apple's iPhone offering family-friendly reviews of the latest movies and DVDs.
"This is a great day for parents and their children," said family and child advocate Dr. Ted Baehr, Founder and Publisher of Movieguide®. "Parents now will be able to protect their children even better from all the negative, graphic content coming from Hollywood."
The new application lets parents instantly scan the reviews offered on Movieguide®'s main website.
Movieguide®'s reviews not only tell families the amount and nature of the foul language, violence, sex, nudity, and substance abuse in a particular movie or DVD. They also tell them what other things Hollywood may be teaching in their products about morality, religion, theology, philosophy, politics, government, and economics.
To get the new app, click HERE to go to iTunes.
Dr. Baehr is chairman of the Christian Film & Television Commission® (CFTVC) ministry and its family guide to movies, Movieguide®. Founded in 1985, CFTVC and Movieguide® are an international non-profit ministry dedicated to "redeeming the values of the entertainment industry by influencing industry executives and by informing and equipping the public about the influence of the entertainment media."
The New York Times has called Movieguide® "the most conservative" Christian, family review service in the United States.
For more information about Movieguide®, CLICK HERE or call 1-888-248-6689.
For an interview with Dr. Ted Baehr, please contact Evy Baehr at 1-888-248-6689 or evelyn@movieguide.org