"There's a Better Home A-Waiting!"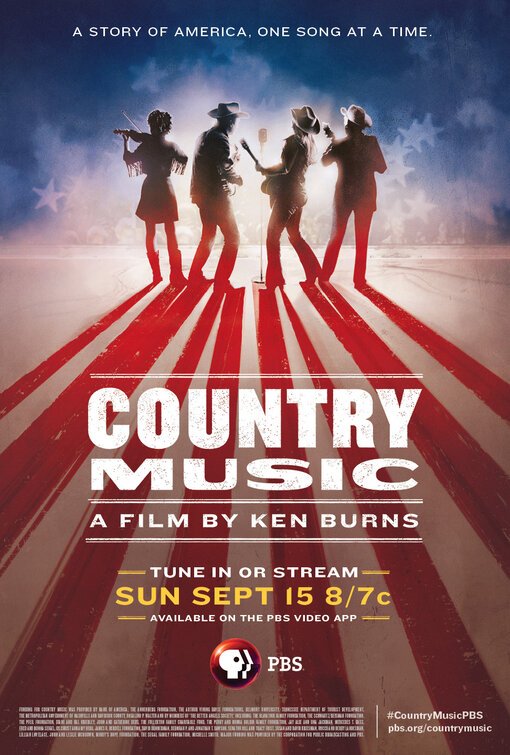 | | None | Light | Moderate | Heavy |
| --- | --- | --- | --- | --- |
| Language | | | | |
| Violence | | | | |
| Sex | | | | |
| Nudity | | | | |
What You Need To Know:
COUNTRY MUSIC is an eight-part documentary series from PBS, by documentary film director Ken Burns. Episode 8, titled "Don't Get Above Your Raisin'," is perhaps the best, most powerful episode of the series. Focusing on the years 1984 through 1996, it discusses the development of the Neotraditional movement in country music, which led to a much bigger popularity for the multi-varied genre than ever before. It also discusses the huge popularity and success of Garth Brooks in the 1990s, plus a renaissance in the career of country music legend, Johnny Cash.
Episode 8 of COUNTRY MUSIC is emotionally powerful, especially during the second hour as it discusses the passing of three of country music's biggest stars, Johnny Cash, George Jones and Keith Whitley. Gospel music plays a major role in all three stories. Episode 8 has a strong Christian, Pro-American, moral worldview celebrating faith, the entrepreneurial spirit, humility, and love. There's some brief, light foul language and a few references to evils of substance abuse. So, MOVIEGUIDE® advises light caution for children. Otherwise, however, we highly commend Episode 8 of COUNTRY MUSIC.
Content:
(CCC, BBB, PPP, CapCapCap, L, V, AA, DD, M):
Dominant Worldview and Other Worldview Content/Elements:
Very strong Christian worldview extols Christian faith and the comfort it brings and includes snippets of gospel music lyrics, expressions of love for the Father and the Son with strong moral elements and biblical references including family reconciliation, Johnny Cash's daughter says she read from the Psalms to her father while he was dying, Psalm 19:14 and 103:1 are mentioned, plus very strong Pro-American sentiments celebrating the American people, including and the free market entrepreneurial spirit that spawned the great popular music featured in this TV episode, even when corporate businessmen in the recording industry failed to recognize the new talent that came knocking on their doors, plus there are warnings about becoming too prideful (one interviewee says, "Be humble. God doesn't exalt pride. He exalts humility") and moments celebrating togetherness within the country music community
Foul Language:
One "d" obscenity, one "h" obscenity, one light "Lord knows" profanity and one light OMG profanity
Violence:
No actual violence but there's a discussion of Johnny Cash recording the "murder ballad" titled "Delia's Gone" in 1994, discussion of a plane crash that killed band members working with Reba McIntyre, and discussion of country music star Keith Whitley's death from alcohol poisoning
Sex:
No sex
Nudity:
No nudity
Alcohol Use:
Brief alcohol use in the background of photos from honky tonks and cafes featuring country music, and some talk about the alcoholism and alcohol poisoning that sometimes plagued some singer and songwriters
Smoking and/or Drug Use and Abuse:
Brief smoking and brief discussion of drug abuse that plagued a few music artists; and,
Miscellaneous Immorality:
Brief discussion of estranged families, troubled marriages and divorce, but episode doesn't focus on these subjects (it ignores a couple notorious divorces of several artists), because the main object is to celebrate America, country music, talented country music artists, and even faith.
More Detail:
COUNTRY MUSIC is a beautiful, insightful, informative, frequently poignant, and sometimes heartbreaking eight-part documentary series from PBS about country and western music from its beginnings to 1996. The final episode, titled "Don't Get Above Your Raisin'," is particularly good and ends on a beautiful note celebrating country music's frequent Christian themes and gospel music.
Narrated by Peter Coyote, the episode, which covers the years 1984 to 1996, opens with country star Vince Gill saying that country music "is not just one thing but a million different things in a million different ways." In the early 1980s, country music had gone through a new phase of popularity, with movies like COAL MINER'S DAUGHTER and URBAN COWBOY. In 1983, two country music channels debuted on Cable TV, CMT and TNN. However, by 1984, Coyote notes, record sales had decreased by 27%. Also, the country albums of Johnny Cash were no longer selling, and in 1986 Columbia Records dropped the artist who had been making tons of money for them ever since 1958. Then, the New York Times declared that country music would never be so popular again. Boy, were they wrong!
In the South, there's a saying that admonishes people, "Don't get above your raisin'." It means don't forget from where you came and don't forget the people who raised you and the values they taught you, an interview with country music historian Bill C. Malone says.
At the same time that Johnny Cash's record sales were plummeting, his daughter, Rosanne Cash, became an extremely popular singer-songwriter, with three Top 25 hits on her first album in 1980 and three Number One hits on her second album in 1981. In 1987, she had four Number One hits. Rosanne admits she felt "kind of guilty" for her success and bad for her father, especially when Columbia Records let him go.
Simultaneously with Rosanne Cash's success, a couple artists started a new trend in country music called Neotraditionalism, bluegrass musician Ricky Skaggs and singer-songwriter George Strait. Strait went on to have more Number One hits than anyone in history, across all musical genres. They were followed by other new stars such as Dwight Yoakim, Reba McIntyre, the Judds, Randy Travis, Clint Black, and Vince Gill.
The episode gives the biographical background to these artists, with interviews from all of them except for Randy Travis and Clint Black. It then takes a pause to discuss the origins of the classic song "Where've You Been," a song co-written by country music singer Kathy Mattea's husband, Jon Vezner. Vezner based the song on the last words of his grandmother to her husband. For years she had suffered from Alzheimer's and didn't recognize her husband, but on her deathbed, Vezner wheeled his grandfather into her hospital room, and she asked him, "Where've you been?" before she died. Vezner recorded the song himself, but the song didn't become a hit until his wife recorded and released it, and it won the Grammy Award for Best Country Song in 1990.
The story about this song is heartbreaking, and the story is followed by another heartbreaking story about the 1989 death from alcohol poisoning of popular country star Keith Whitley. Moved by Whitley's death, Vince Gill started writing a gospel country song in memory of Whitley, "Go Rest High on That Mountain," but couldn't finish writing the song until his older brother Bob died of a heart attack in 1993. Twenty years later, Vince was asked to sing the song with Patty Loveless at country music legend George Jones' funeral. However, Gill couldn't get through the song without tearing up and was helped and comforted by Loveless who had sung on Gill's hit record of the song, which won the Country Music Awards' Song of the Year and the Grammy Award for Best Country Song in 1996.
That was also the year that legendary bluegrass star Bill Monroe passed away. Monroe, who did a popular rendition of Hank Williams' "I Saw the Light," began performing on radio stations in Indiana, Iowa, Nebraska, and the Carolinas in 1934. Previous episodes of COUNTRY MUSIC had explored the origins of Monroe's influential career. Episode 8 details Monroe's influence on the later careers of the neotraditionalists, especially Ricky Skaggs and Marty Stuart.
A child prodigy, Skaggs had performed on stage with Monroe's band The Blue Grass Boys at the age of six in 1960. At age 14 in 1972, Stuart actually joined bluegrass music star Lester Flatt's band. Flatt had played with Monroe's band before forming the Foggy Mountain Boys with Earl Scruggs, Lester's bandmate with Monroe. Mr. Monroe is the only founder of a band whose name became a major music genre of its own. "I loved that old man," Stuart admits in an interview.
The episode next relates the amazing story of country music star Garth Brooks, the son of Colleen Carroll, a 1950s country music singer who appeared regularly on the first country music program on network television, OZARK JUBILEE, hosted by Red Foley, who replaced Roy Acuff as the host of the GRAND OLE OPRY (Foley is the father-in-law of legendary entertainer, Pat Boone). Garth Brooks burst on the country scene in 1989. His albums gradually set record after record, selling four million, then 10 million copies per album in the 1990s. Soon, Garth's success in album sales was surpassed by the new female star, Shania Twain, who sold 15.5 million copies of one album released in 1997. However, when he tours, Garth's concerts fill huge stadiums. Clearly, country music was back, with a vengeance!
Finally, beginning in 1994, the legendary Johnny Cash found new popularity with a series of five albums labeled AMERICAN RECORDINGS or just plain AMERICAN. Using just his guitar on most of the albums, the albums included country and folk-music covers of famous songs by contemporary rock bands like Nine Inch Nails, Soundgarden and Depeche Mode, older groups like Simon and Garfunkel, and country, traditional and folk songs Cash had previously recorded or performed onstage. During this period, Cash and his daughter, Rosanne, who had been estranged from her father as a child, solidified their renewed love for one another. At his memorial tribute in Nashville upon his death in 2003, four months after the death of his wife, June Carter, the tribute opened with a gospel choir. The narrator reminds viewers that years ago, at the start of his public career, Cash had promised his mother that he would never forget to sing or promote gospel music. The episode ends with the Nitty Gritty Dirt Band's hit rendition of the gospel song "Will the Circle Be Unbroken," with Cash leading the final verses. An old gospel song, the tune was discovered by June Carter Cash's uncle, Alvin, who founded the Carter Family trio with her mother, Maybelle, and aunt, Sara. The Carter Family was the founding group of country music, along with singer/songwriter Jimmie Rodgers, in the late 1920s. Uncle Alvin added some story lyrics to the song, a story about the funeral of someone's mother. The song's original title is "Can the Circle Be Unbroken."
Episode 8, "Don't Get Above Your Raisin'," of Ken Burns' documentary series COUNTRY MUSIC is perhaps the best, most powerful episode in the whole series. It certainly is one of the most redemptive. Excerpts from the songs discussed are interspersed with great interviews and fascinating little biographies of the major artists mentioned.
Episode 8 contains many Christian references. Snippets of several famous gospel country songs are played, with references to the Lord, the Father, Jesus Christ, and Heaven. The episode also includes verbal and visual references to God, faith and Scripture. In references to the show's main theme, Don't get above your raisin', an interviewee says, "Be humble. God doesn't exalt pride. He exalts humility." The episode also has a very strong Pro-American attitude. It celebrates the diverse American roots of country music, including gospel music. It also celebrates the small-town and rural American roots from which many country music stars sprang.
The episode contains brief but light foul language and a few references to honky tonks, alcohol abuse and drug abuse, but it doesn't celebrate that kind of bad behavior that occasionally ensnares country stars, celebrities and many other people. Nonetheless, a light caution is advised for older children regarding Episode 8. Ultimately, though, the Christian gospel songs in the episode dramatically show that Jesus and faith can overcome our sins. As Johnny Cash, who had his own personal problems with substance abuse, assures us at the end of the song ("Will the Circle Be Unbroken") that closes the series, "There's a better home a-waiting. . . in the sky, Lord, in the sky."
Will the Circle Be Unbroken
I went back home, my home was lonesome
Missed my mother, she was gone
All of my brothers, sisters crying
What a home so sad and lone
Will the circle be unbroken
By and by, Lord, by and by
There's a better home a-waiting
In the sky, Lord, in the sky
We sang the songs of childhood
Hymns of faith that made us strong
Ones that Mother Maybelle taught us
Hear the angels sing along
Will the circle be unbroken
By and by, Lord, by and by
There's a better home a-waiting
In the sky, Lord, in the sky