"High Stakes Drama Challenges Ethics of Corporate Greed"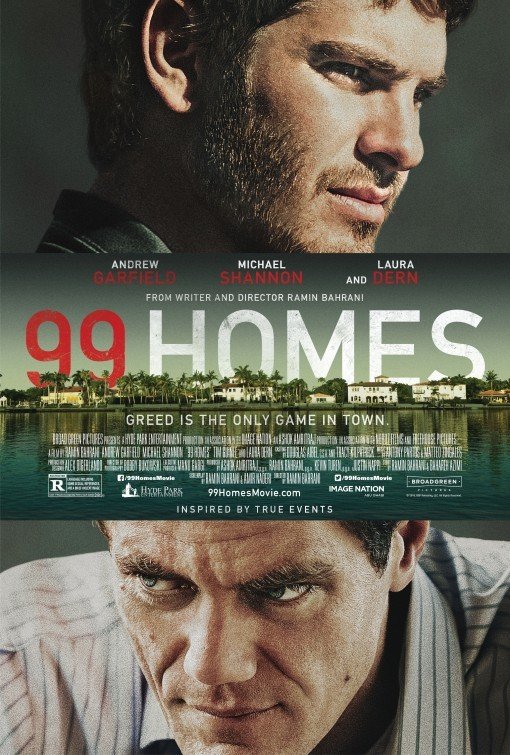 | | None | Light | Moderate | Heavy |
| --- | --- | --- | --- | --- |
| Language | | | | |
| Violence | | | | |
| Sex | | | | |
| Nudity | | | | |
What You Need To Know:
In 99 HOMES, an unemployed construction worker, Dennis Nash, and his family are evicted from their lifelong family home. Rick Carver, the real-estate agent who evicted them, offers Dennis a job fixing up foreclosed homes he owns. Dennis becomes Carver's full-time protégé and ends up being the one enforcing evictions. His increasing responsibility becomes lucrative, but it's not without employing unethical and immoral business practices exploiting legal loopholes. One day, business gets too personal when Dennis knows the family he must force out of their home. As the situation turns potentially deadly, Dennis must decide whether or not to risk everything by doing the right thing.
99 HOMES moves quickly and efficiently. The story never lags. Some scenes even make it feel more like a thriller. There is, however, an obvious plot hole. Also, two storylines remain unresolved. Despite unethical and immoral decisions by the characters, everything takes place within a moral worldview. 99 HOMES has a lot of foul language, though. There are also gratuitous references to sexual acts, slurs, drunkenness, and violence. So, extreme caution is advised for 99 HOMES.
Content:
(B, PaPa, Acap, LLL, VV, S, AA, D, MM) Overall moral worldview where characters are held accountable for corrupt actions, man admits that he cheated for profit and turns himself and his company over to authorities, but main characters allow selfishness and greed to replace morality, plus an anti-capitalist theme against banks who are depicted as heartless during foreclosure proceedings against homeowners; at least 84 obscenities and profanities, name-calling involving references to male genitalia, innuendo about the middle finger gesture is used, a house is shown with a septic problem, and the entire indoors is covered in human feces, and a man is shown vomiting; strong violence includes a dead man in a blood-splattered bathroom is shown with a gun beside him on the floor, a man is implied to have committed suicide, and police have a standoff and exchange gunfire with a man holed up in a house; references made to sexual acts, it's implied man is having an affair and has a child from a one night stand is implied; no nudity; alcohol use at a party, two men get moderately drunk at a party, a man gets drunk and passes out in his house, man talks about his father passing away from alcoholism; cigarette and cigar smoking in several scenes, but no drug references; and, company uses multiple immoral business practices to steal and cheat for profit and son lies to his mother repeatedly about his job.
More Detail:
In 99 HOMES, a man ends up working for the real-estate broker who evicted him from his home and faces a moral dilemma when he finds out how lucrative the foreclosure business really is. High tension and high stakes prop up this movie, but the amount of foul language drags it down.
Dennis Nash is a frustrated construction worker who's just been laid off from a job without pay due to lack of project funds. Together with his mom and pre-teenage son, he lives in the small family home where he was raised in an Orlando, Florida suburb. Not bringing in enough money to make ends meet, the bank has been threatening foreclosure for months, and Dennis is unable to find any help legally or financially to stave off eviction. After Dennis loses his case in court, a real-estate broker, Rick Carver, shows up with sheriff's deputies in tow to make sure Dennis and his family are out of the house on eviction day. Only given a few minutes to pack what they need, they quickly find themselves locked out of their home with nowhere to go.
Dennis checks his family into a seedy downtown hotel crowded with other evicted families who have been living there for months, and even years. Taking it the hardest is his son who can no longer attend school with his friends. His mom, Lynn, thinks it's best if they move to Tampa where they have extended family, but Dennis isn't willing to give up on their home and promises her that he'll find a way to get it back. The next morning he shows up at Rick Carver's headquarters accusing the workers of stealing some of his tools while they were moving his belongings from the house. Carver denies it happened but offers him a job when an emergency call comes in about a house with a septic problem. In need of money, Dennis takes the job on the spot.
Over the course of the next few weeks, Dennis continues to impress Carver with his skills and proves to be intelligent enough to trust with some of his trade secrets. Before long, he takes Dennis under his wing as a full-time protégé. Though grateful for the increasingly lucrative opportunities, Dennis begins to question Carver's business ethics. He goes along by reasoning that Carver is simply exploiting loopholes, so, as the profits mount, greed gets in the way of any moral reservations he has. He also comes to an agreement with Carver that allows him to get his own house returned.
However, things get much tougher when Dennis is put in charge of evictions, and his family finds out what he's doing for a living. In a desperate move to secure a huge contract, Carver forges papers for foreclosure proceedings against a family Dennis knows personally. As the situation turns potentially deadly, Dennis must decide whether or not to risk everything by doing the right thing.
The pace of 99 HOMES feels quick throughout most of the movie, never letting the story lag or allowing unnecessary scenes to fill space. In fact, this drama borders on thriller status in a couple of scenes, as clever editing and carefully timed music impress upon viewers the psychological tension that the characters are experiencing on screen. A major plot hole sticks out in the third act that seems immediately obvious, but somehow the characters never pick up on it, which paves a way for the required dramatic points to be made. The ending is also disappointing, because it leaves two storylines unresolved.
Despite the unethical business practices and immoral decision-making of the characters, 99 HOMES takes place within the context of a moral worldview. Dennis is portrayed as a blue-collar, honest, hardworking guy. As the movie progresses, it's his conscience is greatly bothered by his dishonest boss. Even his boss, Carver, displays hints of moral awareness, having come from the same type of folk as Dennis.
Foul language is the major downside of this movie with more than 80 obscenities and profanities. There are also unnecessary references to sexual acts and derogatory name-calling. Some drunkenness and violence contribute to the movie's unsuitability for families and children. Extreme caution is advised, even for older adults.