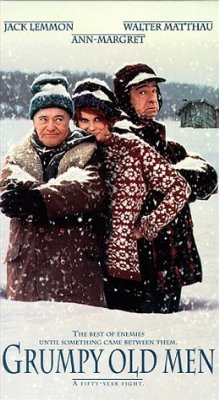 | | None | Light | Moderate | Heavy |
| --- | --- | --- | --- | --- |
| Language | | | | |
| Violence | | | | |
| Sex | | | | |
| Nudity | | | | |
What You Need To Know:
GRUMPY OLD MEN is about two old neighbors (Jack Lemmon & Walter Matthau) who live in a small Minnesota town, and who compete twice in life for the affection of one woman (though it is a different one woman each time). The film is enjoyable except for an implied sexual liaison and an excess of foul and profane language.
Content:
(H, B, LLL, S) Humanistic worldview which inadvertently emphasizes some biblical principles; 10 obscenities & 15 profanities; and, sexual innuendo & reference to a senior citizen's post-marital sex.
More Detail:
John Gustafson (Jack Lemmon) and Max Goldman (Walter Matthau) are life-long friends living out the waning years of their lives as next-door neighbors in a small Minnesota town in GRUMPY OLD MEN. Both widowed and retired, their main activity is to go ice fishing every day. When Ariel Truax (Ann-Margret) moves across the street, both men court her. Earlier, they had both dated the same woman, but John married her, and all their lives they have feuded because of it. Ariel befriends both men, but prefers John, and so the three-way love triangle becomes a reality once more. John, in love, nevertheless abandons the affections of Ariel to give Max the opportunity to even the score between them and to have a chance at happiness.
The movie has several obscenities and profanities. There is also an implied sexual liaison, but nothing is shown. By revealing John's celibacy for over fifteen years and Ariel's for five (since the death of both their spouses), Hollywood has attempted to show restraint and personal responsibility for any acts of intimacy. However, because Hollywood still doesn't understand that everything happens under the eyes of God, their union falls short of a moral sexual relationship. Even so, the acting by all three of these long-time actors–Lemmon, Matthau and Ann-Margret–is delightful and commendable.