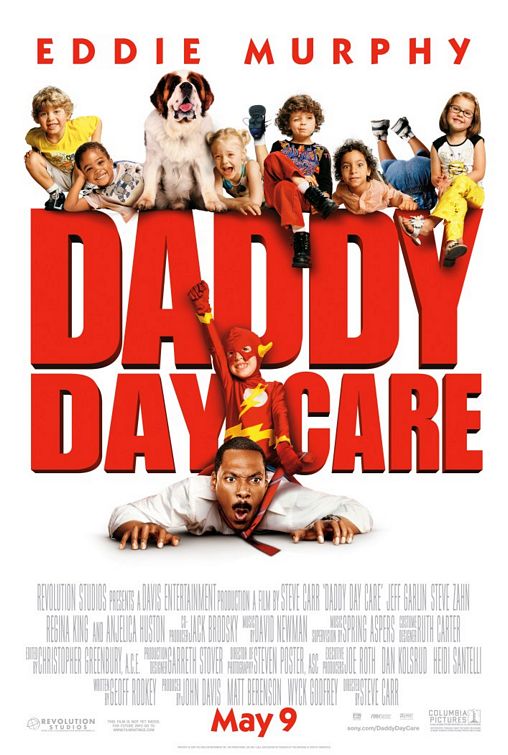 | | None | Light | Moderate | Heavy |
| --- | --- | --- | --- | --- |
| Language | | | | |
| Violence | | | | |
| Sex | | | | |
| Nudity | | | | |
What You Need To Know:
DADDY DAY CARE is a delightful, breezy romp starring Eddie Murphy in his most family-friendly movie to date. Mr. Murphy plays an unemployed advertising executive who decides to start a day care with his best friend, a decision that leads to humorous complications.
Content:
(BB, Fe, PC, L, V) Moral worldview, with positive family values, including strong father and son theme, with some very light feminist, politically correct notions about men being able to run a preschool day care that also, nevertheless, undercuts some feminist notions of the hyperactive career woman; two light obscenities, one stronger obscenity is stifled, four light profanities, several mentions of "poop," sounds of boy urinating, sounds of boy passing gas, light potty training humor in several scenes, and light changing diaper humor in one scene; mild slapstick violence includes child kicks adult in groin and fathers make the mistake of giving too much sugary foods to little kids, who make a big mess in the house; no sex but husband asks his wife about reserving time for romantic rendezvous and one male character becomes dazed when he meets pretty, divorced woman and they later kiss; and, nothing else objectionable.
More Detail:
DADDY DAY CARE is a delightful, breezy romp starring Eddie Murphy in his most family-friendly movie to date.
Murphy stars along with Jeff Garlin of HBO-TV's comedy CURB YOUR ENTHUSIASM. They play Charlie and Phil, respectively, two busy fathers who get fired from their advertising jobs when they fail to excite the children in a focus group about a vegetable cereal called Veggie O's. Their job loss means no more expensive day care for their sons at the exclusive, strict Chapman Academy, run by harsh headmistress Gwyneth Harridan, played by Anjelica Huston.
While searching for employment and tending to his four-year-old son, Ben, while his wife works, Charlie has an idea. If he and Phil can handle taking care of two kids, how much harder can it be to supervise 10?
Much harder than they ever imagined.
Charlie and Phil open a day care in Charlie's house, where they find that every child is different and every child is a hilarious challenge. They finally get the hang of it, however, and start taking business away from Chapman Academy. Miss Harridan decides to fight back, which leads to a showdown of epic proportions. Would you believe, above average proportions?
There is some mild potty-training and bathroom humor in DADDY DAY CARE and light foul language, but the movie is nearly perfectly wholesome otherwise. Eddie Murphy and Jeff Garlin are great with the little tykes. They are ably assisted by the talented Steve Zahn (STUART LITTLE 2), who is adept at both comedy and drama. There are plenty of jokes for children, as well as some jokes that will tickle the funny bone of more sophisticated teenagers and adults.
One of the best things about the movie is the warm relationship between Mr. Murphy and the boy who plays his son, Ben, a child named Khamani Griffin, whom the director found just before they started shooting. Little Khamani is very adorable. Mr. Murphy himself has several children in real life, and his ability in relating to children is clearly visible in DADDY DAY CARE. In fact, in the movie, Mr. Murphy's character discovers that taking care of his own child can be the most rewarding job that any parent can have.
The one conceit that the movie may have is when some mothers challenge Charlie and Phil's ability to run a day care. The mothers at first believe that men are incapable of running such a facility. Charlie and Phil turn the feminist notions about the abilities of women to do so-called men's jobs around on the ladies and ask them, Why not? Thus, the plot of the movie attempts to prove the premise that nurturing fathers can defeat so-called sexist ideas about the different roles of the two sexes. Of course, the plot of the movie also shows the men defeating the strong career woman, the owner of the strict Chapman Academy, so any feminist elements in the movie are somewhat ambiguous.
All in all, DADDY DAY CARE would make a good outing this summer for those families who are looking for something other than violent comic book superheroes, cartoons and romantic comedies for their children.