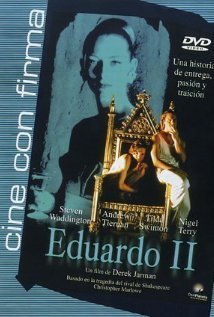 | | None | Light | Moderate | Heavy |
| --- | --- | --- | --- | --- |
| Language | | | | |
| Violence | | | | |
| Sex | | | | |
| Nudity | | | | |
What You Need To Know:
EDWARD II contorts Christopher Marlowe's drama into a polemic for today's homosexual rights movement. Solid acting and some interesting (though overtly anachronistic) staging plays second fiddle to gimmicks and politically correct agendas, not to mention nudity, homosexual foreplay, bloody violence, and church-bashing.
Content:
(L, NNN, SS, VVV, Ho, Ab, RH) 2 obscenities; full male nudity; extended view of nude homosexual foreplay; multiple stabbings and beatings, death by firing squad, graphic depiction of man killed by woman biting his neck, grotesque torture in dream sequence, & priest stripped and beaten; depiction of priests as stupid and hateful; strong advocacy for homosexuality & framing of historical events in terms of contemporary homosexual rights conflicts; and, cross-dressing by young boy.
More Detail:
In this British adaptation, Christopher Marlowe's drama "Edward II" has been contorted into a polemic for today's homosexual rights movement. In this version, young Edward is passionately attached to one Piers Gaveston, exiled by Edward I. Upon the old man's death, Gaveston is welcomed back by his lover, now king of England. The nobles, military and clergy take a dim view of the homosexual partying in the palace. Particularly unhappy is Queen Isabella, and hopelessly confused is their young son, who becomes an incoherent cross-dresser. Before long: Gaveston has been beaten to a pulp; prisoners are sliced and shot; and, Edward lands in a dungeon.
All of this mayhem plays out in a warehouse style of set, with a jumbling of costumes and props. (The soldiers, for example, use automatic weapons and riot gear.) Regrettably, the filmmakers deliver more than solid directing since they see to it that we get the message: that thwarted homosexual desire represents the Tragedy of the Ages. We are also treated to plenty of male nudity, homosexual foreplay and bloody violence. Also, of course, those who object to homosexual behavior–especially priests and military officers–are depicted as hypocrites, louts and hatemongers.