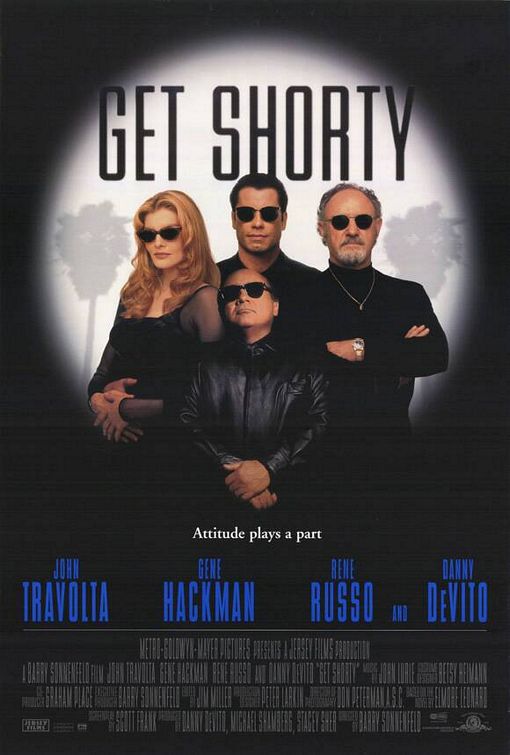 | | None | Light | Moderate | Heavy |
| --- | --- | --- | --- | --- |
| Language | | | | |
| Violence | | | | |
| Sex | | | | |
| Nudity | | | | |
What You Need To Know:
GET SHORTY is not a very profound crime comedy, but what it lacks in substance it makes up for in pathos, even if it is occasionally a bit crude and mean spirited. John Travolta plays Chili Palmer, a loan shark who, when he goes to collect mob debts in Hollywood, makes a successful pitch to an eccentric producer. His enemies follow close behind with a lot of violence and foul language.
Content:
(NA, LLL, VV, SS, A, D, M) Pagan worldview showcasing criminals in Hollywood; over 30 obscenities & over 10 profanities; Moderate violence including 3 murders by gunfire, man pushed over railing, & man beaten with broken bones; one extramarital sex scene with no nudity; alcohol use; and, drug sales & use implied
More Detail:
GET SHORTY is not a very profound crime comedy, but what it lacks in substance it makes up for in pathos, although it is occasionally crude and mean spirited. Chili Palmer (John Travolta) is a mob debt collector who gives another gangster a bloody nose. Chili's godfather dies of a heart attack leaving him without any protection against his new nemesis. Soon thereafter, Chili finds himself headed west in pursuit of some hard cash. It is only a matter of time before Chili becomes seduced by the excitement of filmmaking. He pitches a new script to eccentric director Harry Zimm played by Gene Hackman. Zimm wants gangster money to fund the picture. The result is a topsy turvy, fast-paced, madcap movie with lots of twists, and lots of holes to match.
One of GET SHORTY's major assets is its cast. Travolta, Hackman, Delroy Lindo, Renee Russo, and Danny DeVito are all very good in their respective roles. There are also brief appearances by Bette Midler and Penny Marshall. The film manages to convey the warm feel of a witty, funny, poignant satire. It is condemned, however, by including extra-marital sex, too many obscenities, excessive profanities, and chilling violence. This prevents it from being truly enjoyable. In fact, The film is irreparably soiled by all its excesses and so are its characters, the good as well as the bad.