"Deception and Redemption"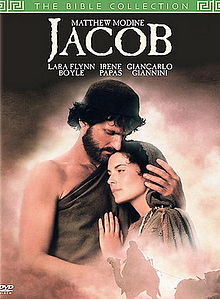 | | None | Light | Moderate | Heavy |
| --- | --- | --- | --- | --- |
| Language | | | | |
| Violence | | | | |
| Sex | | | | |
| Nudity | | | | |
What You Need To Know:
JACOB is a remastered DVD of a 1994 television movie about the story of the Jewish patriarch who sired the 12 tribes of Ancient Israel. After deceiving his father, Jacob flees the wrath of his spurned brother, Esau. He found favor with his parents and with God, however. So, he travels to a distant city to get away from the furious Esau and find himself a wife among his mother's family. Jacob spends much longer there than he plans. When he finally returns to his late father's house, he fears the wrath of his brother.
JACOB is well made, both in cinematography and pacing, keeping the audience's interest effortlessly. The script is realistic, as is most of the plot. The acting is decent but not exceptional. Biblical and Christian elements abound, and the worship of pagan idols is shown to be ineffective. Deception occurs again and again, but forgiveness and redemption follow. Also, Jacob insists on following God's plan even when it doesn't make sense and eventually prospers because of his faith. Some mature content in JACOB warrants parental discretion for younger children.
Content:
(BBB, CCC, Pa, O, FR, L, V, S, N, M) Very strong biblical, Christian, redemptive Biblical worldview with an emphasis on following God's plan, forgiveness, and redemption, plus the worship of pagan household gods/idols and consulting with a soothsayer are shown in a negative light; three "d" words; a low level of violence, primarily pushing and wrestling, but also punching, hitting with a staff, and threatening with a sword, but there's no gore whatsoever; a low level of sexual content includes two men talking hypothetically about sex with women, two premarital kisses, several kisses between married people, implied sex on a wedding night, a wife tells her husband to have sexual relations with her slave, and a father and son kiss on the mouth non-sexually; brief upper male nudity after implied sex; no alcohol use; no smoking or drugs; and, several counts of lying or deception, letting anger rule one's actions, revenge, and greed.
More Detail:
JACOB is a remastered DVD of a 1994 television movie about the story of the Jewish patriarch who went on to sire the 12 tribes of Ancient Israel. JACOB is well paced and well acted, with a story of sibling rivalry, deceit and redemption while trying to walk with God. It has a strong biblical, redemptive worldview, with some mature content requiring discretion for younger children.
The movie tells the familiar Bible story of the younger son of Isaac, the son of Abraham. Jacob is an upright man, feeling the presence of God. Esau, on the other hand, is a great hunter, and wants little more than personal gain and pleasure. The older twin sells his birthright for some soup, caring little for the future. Their mother, Rebecca, favors Jacob to carry on the family legacy through God's promises. She encourages Jacob to deceive his nearly blind father and receive the blessing due the firstborn son, so that Esau would not receive it.
Because of this, Esau plans to kill Jacob as soon as Isaac dies. At the suggestion of his parents, Jacob sets out for his mother's family to find a wife. There he sets his sights on Rachel, his uncle Laban's younger daughter. He works seven years to pay her bride price, but by then Laban (a pagan) has seen Jacob worshiping God and prospering because of Isaac's blessing. Because Jacob tends Laban's flocks, Laban's flocks prosper, and so does Laban. Laban doesn't seek to know this unfamiliar god, but rather seeks to trick Jacob into staying, so that Laban may continue to benefit.
So, Laban deceives Jacob into taking his older daughter, Leah, as a wife instead. Jacob is furious, and Laban gives Jacob Rachel as a second wife a week later, in exchange for another seven years of labor. The second seven years go by quickly, and Jacob itches to go home. They must leave Laban in secret, however, because Laban doesn't want to lose the prosperity he's enjoyed for 14 years.
When Laban and his sons move their flocks to the winter pasture, Jacob gathers his family and they depart. Laban is furious when he finds out, and follows. Meanwhile, Esau hears his brother is returning home. He gathers his army and rides out to finally get his revenge. Will God intervene?
JACOB is well paced. It doesn't tarry too long in any particular chapter, but it also doesn't rush through the plot points. Jacob's story is compelling throughout the entire 90 minutes, and easy to follow. The audience can relate as he repeatedly loses sight of God's plan, wondering if he has been abandoned, only for God's influence to manifest itself directly in his life once more. Consequently, this movie should be interesting to anyone who ever doubts God's interest in their lives.
The acting quality is consistent with that of a talented Community Theater troupe. The emotions are slightly overplayed to make them clear to the viewer, but it's not too over-the-top. The lines are delivered realistically, but the actors' accents are inconsistent. If there is too much difference from the lines before them, this makes the words difficult to understand. The clever use of dialog and scene breaks makes it usually clear when time jumps forward, and familiar characters are shown as a reference so the viewer can estimate how much time has passed. The audience is expected to remember only a few names. This makes keeping up with the plot effortless.
Laban consults with a soothsayer and worships pagan idols, even though the soothsayer is unreliable, and the idols do nothing. When he's presented with the power of God, to whom Jacob publicly prays, he doesn't seek to know Him, but rather seeks to trap Jacob, so that Laban and his sons may become rich. Deception for personal gain occurs again and again, but forgiveness and redemption always follow. Knowing the full story, it's heartening to see how Jacob's flaws, troubling situations and bad decisions led to the flourishing of Israel and the birth of Christ.
JACOB, the movie, truly expresses God's abounding grace. Jacob insists on following God's plan even when he's scared, when it makes those around him hate him, or when it defies logic. Thus, Jacob trusts in God fully, and that is a great model for all viewers.
The characters display some anger issues and some deception. Also, there is brief violence, a couple "d" words and an implied scene involving Jacob's wedding night. So, MOVIEGUIDE® advises parental discretion for younger children.