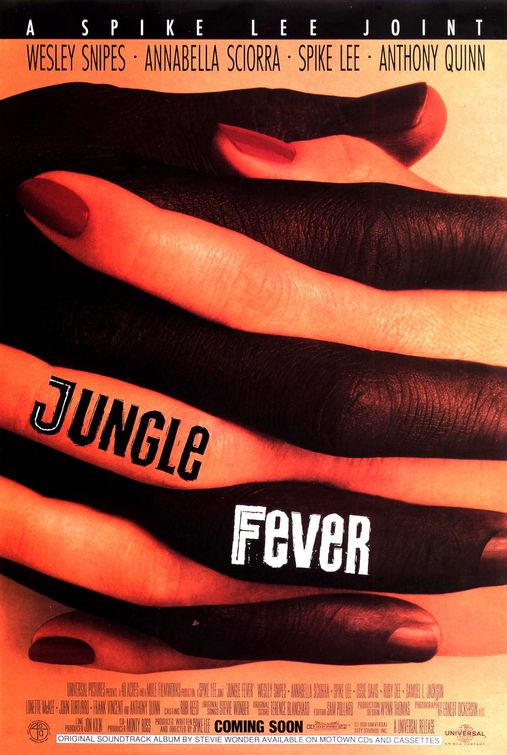 | | None | Light | Moderate | Heavy |
| --- | --- | --- | --- | --- |
| Language | | | | |
| Violence | | | | |
| Sex | | | | |
| Nudity | | | | |
What You Need To Know:
Politically correct filmmaker Spike Lee ("Do the Right Thing") directs this confused story about a black architect whose affair with his Italian-American secretary forces the couple to confront the harsh realities about race relations in New York City. Adultery and a demeaning portrait of Christianity dominate the film JUNGLE FEVER.
Content:
(LLL, VV, SS, N, A/D, Ab, M) Over 100 obscenities & 25 profanities; fighting & murder; adultery, explicit fornication & descriptive sexual language; drug scenes; anti-Christian elements; and, stealing.
More Detail:
Twin themes of adultery and interracial relationships dominate the film JUNGLE FEVER, writer-director Spike Lee's latest release. Moreover, a minor strain in the film portrays an ineffectual, vapid Christianity, in particular in the character, "the good, Reverend Doctor," a minister who has lost his church and who is obsessed with denouncing fornication and adultery.
In the film, a black architect from a gentrified part of Harlem falls for a white, Italian secretary from Bensonhurst, the site of notorious anti-black violence in 1989. The film uses this basic two-some to explore the whole spectrum of black-white, male-female interracial relationships.
When Italian-American Angie (Annabella Sciorra) comes to work for black-architect "Flipper" (Wesley Snipes), she immediately encounters his racial prejudice. His request for an "Afro-American" to fulfill the secretarial slot has been denied. Shortly, however, propinquity does its work as the two spend endless hours at the job (working and getting acquainted) and wind up in a tumultuous love-making session.
Of course, as the Bible teaches "Be sure your sin will find you out," so news of their encounter prompts Flipper's wife to throw him out. Angie is not married, but her father gives her a beating, then throws her out as well. Thus, the two locate an apartment and begin to live together.
Various scenes follow in which the characters dialogue about black-white sexual relationships. One scene includes Flipper's wife, Dru, and several girl friends. Their conversation consists of vulgar sexual language and centers on the various "hues" of color along with references to skin-tone such as mulatto, octoroon, half-breed, and so forth. They conclude that white women ("white bitches") desire a sexual relationship with black men to the point where they "throw themselves" at them.
Flipper's father, an out-of-work minister who appears well off, is known as "The good Reverend Doctor." He spends his time listening to canned Mahalia Jackson and preaching sermonettes against the evils of fornication and adultery.
When Flipper brings Angie to his parents' place for dinner, the good Reverend Doctor gets up abruptly, stating "I don't eat with whoremongers." Earlier, he had "preached" from the text in I Corinthians 7:1,2: "It is good for a man not to touch a woman… to avoid fornication, let every man have his own wife, and let every woman have her own husband."
A kind of denouement comes when the good Reverend shoots and kills his junkie son, Gator, Flipper achieves reconciliation with Dru, and Angie returns to her father and brothers. Interwoven into this scenario, a female street preacher screams to a non-existent audience "In all thy ways acknowledge Him…." This warning occurs amid prostitutes and drug pushers plying their trades and again implies an ineffectual, insipid Christianity.
Beware JUNGLE FEVER. Although fairly well-crafted, the film seems more a tirade on the Black experience with venom directed toward whites than any kind of a solid exploration of white-black relationships. The soundtrack, however, proves to be outstanding with eleven Stevie Wonder songs, his first album in over four years.