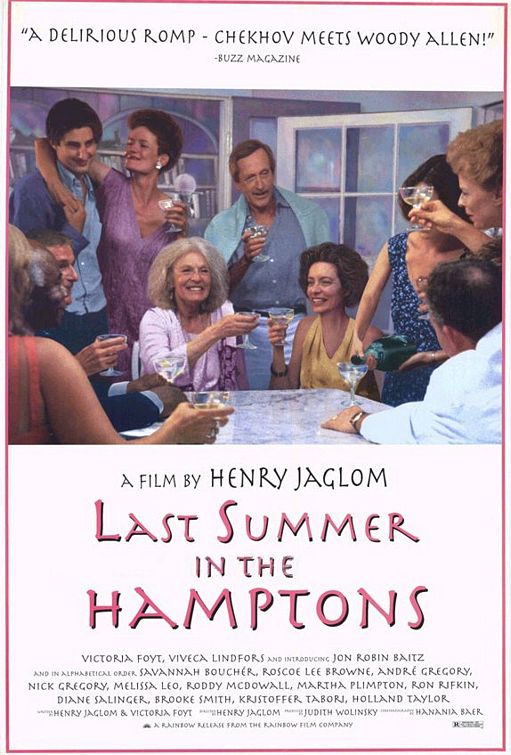 | | None | Light | Moderate | Heavy |
| --- | --- | --- | --- | --- |
| Language | | | | |
| Violence | | | | |
| Sex | | | | |
| Nudity | | | | |
What You Need To Know:
In LAST SUMMER AT THE HAMPTONS, a family of theatrical personalities and celebrities gather at their summer home for the last time before their home is sold. Here, they prepare for their annual play in their gardens while musing on their aspirations. The film is delightfully entertaining with a witty script, but there are themes of homosexuality, incest and immoral sexual liaisons as well as a fair amount of profanities.
Content:
(H, Ho, LLL, SS, M) Humanist worldview promoting self-interest; proclamations of homosexuality; 19 profanities, 9 obscenities & 7 vulgarities; implied sexual situations including one of a homosexual content, a few references to sex in conversations, father suggests daughter be sexually active to release her inner tensions, references to incest, & sexual immorality; and, greed & manipulation
More Detail:
LAST SUMMER IN THE HAMPTONS brings together a talented cast who muse and amuse themselves on their selfish aspirations while vacationing for the last time before their home is sold. This colorful, greedy, self-absorbed theatrical family members are headed by their ravishing matriarch Helena Mora, who wants to escape the relentless eye of the unforgiving camera in the advent of age, and must now direct theater plays. The platform for her transition is a play her nephew is currently writing, a boy-wonder playwright himself. Throw in an uncle, a visiting actress, a handsome houseguest, and a slew of other minor but by no means less scintillating personalities, and the stage is set for theatrical drama and puns that cross over from art into real life.
LAST SUMMER AT THE HAMPTONS is absorbing in its characterization as they endlessly rant and rave about their inner selves. Always entertaining and never pretentious, it delves into the eccentricities and egos of its lively characters and keeps an upbeat spirit. While the film has no violence, nudity, nor sexual scenes, there are strongly implied situations of incest, homosexuality and sexual liaisons. The film is a humanistic worldview where all focus and aspirations are on the human self.