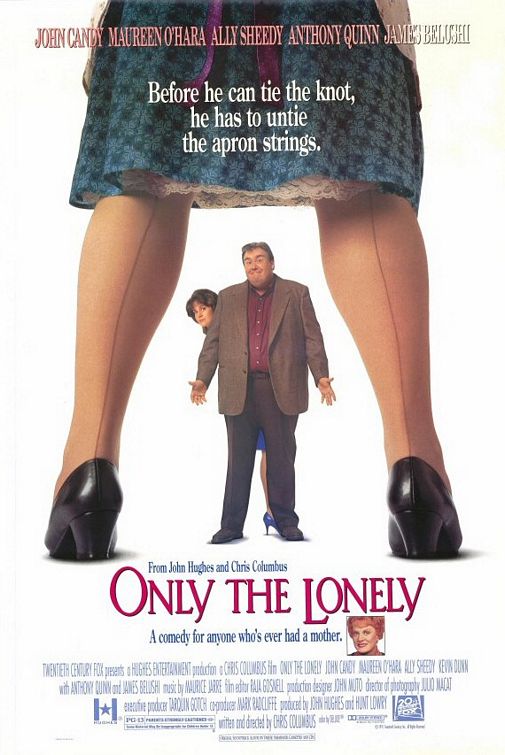 | | None | Light | Moderate | Heavy |
| --- | --- | --- | --- | --- |
| Language | | | | |
| Violence | | | | |
| Sex | | | | |
| Nudity | | | | |
What You Need To Know:
A cleverly-written romantic comedy about a Chicago cop whose courting of a mortician's shy daughter is made difficult by his domineering Irish mother with whom he lives. A biblical perspective towards leaving one's family in favor of marriage is resoundingly proclaimed; however, the film falters by advocating sex before marriage, not to mention the fact that it is peppered with foul language.
Content:
(LL, S, M) 23 obscenities and 13 profanities; sexual innuendos, lewd joking and implied promiscuity; lying and deception.
More Detail:
ONLY THE LONELY is the kind of movie one should bring a handkerchief to, while also preparing to laugh: hilariously. This cleverly written romantic comedy stars John Candy as Danny Muldoon, a Chicago cop whose courting of a mortician's shy daughter is made difficult by his domineering Irish mother with whom he lives.
Danny drives a mortuary paddy wagon for the Chicago police department. One day, he catches a glimpse of Theresa, the introverted daughter of a funeral parlor owner and, encouraged by his Irish bachelor buddies, calls upon her. He makes a date with Theresa, who paints and prepares faces of corpses to resemble famous celebrities, adding humorously that her current subject is a "dead ringer" for Clark Gable.
Courting Theresa, though, is made difficult by Rose Muldoon, Danny's widowed and overly-regulative mother, whom he worries about in the most hilarious of ways. The Sicilian-born Theresa endures quite a deriding from the ethnically-prejudiced Rose, who "tells it like it is," yet Theresa overcomes her shyness and stands up for herself.
In addition to this theme, there are several others that are introduced and worked out quite effectively. Theresa, for instance, desires a man to stand by her ("Put us first," she urges). Another is that Danny loves Theresa but fears marriage, since Rose is always in the back of his mind, making him feel guilty. Danny's lawyer brother also adds to his troubles by insisting that he and Rose move to Florida in order to further his own self-interests.
As for Rose, she must decide whether or not to come between her 38-year-old son and Theresa, as well as figure out what to do about an amorous Greek neighbor who has been hounding her.
It would seem these issues are on their way to a happy heartfelt ending when Danny, resolving to stand by Theresa, proposes marriage and she accepts. However, both bride and groom give in to their fears once again, and are "no shows" for the wedding.
No film could end as such and, as dreams fade and it appears that life will return to what it was, one realizes that a point is being wonderfully made about really gathering one's resolve. It is movie making at its finest and rarely done better.
"For this reason a man will leave his father and mother and be united to his wife," says Genesis 2:24, a biblical perspective resoundingly proclaimed in ONLY THE LONELY. However, the film falters in another area by advocating sex before marriage. After Danny gets Rose out of the house for the evening, it is implied that he has sex with Theresa, not to mention the lying and deception that accompany. Danny also covers a small statue of Jesus with his policeman's cap "to remove the Catholic guilt of sex."
Lastly, Danny's on-the-job partner, played loutishly by James Belushi, should have been eliminated, what with his offensive comments about dead bodies, sexual hang-ups and lewd joking. Considering the 36 instances of profanity and obscenity that also occur, ONLY THE LONELY merits extreme caution.