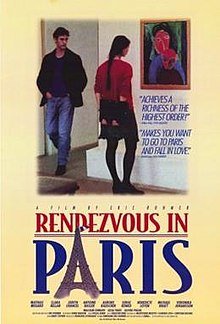 | | None | Light | Moderate | Heavy |
| --- | --- | --- | --- | --- |
| Language | | | | |
| Violence | | | | |
| Sex | | | | |
| Nudity | | | | |
What You Need To Know:
In RENDEZVOUS IN PARIS, there are three separate stories about mismatched lovers, wherein writer/director Eric Rohmer explores the various ways people fall in and out of love. Although the movie is nihilistic in its vision, there are some good lessons here.
Content:
(Pa, S, M) Pagan worldview; implied sex outside of marriage, attempted adultery, and, one anti-Christian reference to a sculpture of Jesus
More Detail:
RENDEZVOUS IN PARIS is a compilation of three stories that explore the ways people fall in and out of love. This movie functions as a travelogue on what not to do in a relationship. In the first tale, we see Esther emerge from her apartment with her boyfriend discussing when they will next meet. Subsequently, Esther learns that her boyfriend has been dating other women. The second story features a nameless young woman who plays her two boyfriends off against each other. A sociopath in the ways of love, this young woman wants the best of both men. In the last story, MOTHER AND CHILD, a young painter falls in love at first sight with a newlywed as she emerges from a museum. Undaunted by her marital status, he pursues her with the vigor of a man who has only one mission in life. Fortunately, she rebuffs his sophomoric attempts to seduce her.
In many ways, this is a remarkable movie. Fans of Woody Allen will see many tantalizing similarities. Yet, many viewers will conclude that these three stories offer little to those who would like to see moral healthy relationships portrayed on the big screen. With very little depicted objectionable material and no foul language, the movie offers a hopeless and nihilistic look at relationships.