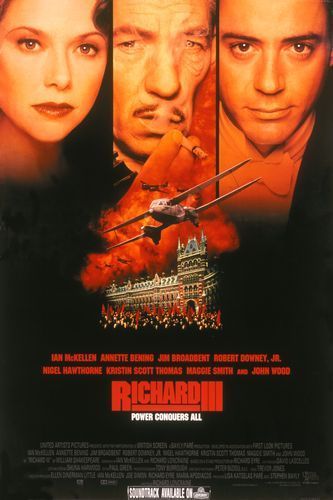 | | None | Light | Moderate | Heavy |
| --- | --- | --- | --- | --- |
| Language | | | | |
| Violence | | | | |
| Sex | | | | |
| Nudity | | | | |
What You Need To Know:
With a modern setting, Shakespeare's play RICHARD III, depicts the evil Richard of Gloucester as he slaughters innocent adults and children in order to become king. From plotting to kill his own brothers and those who appose him, Richard attempts to defeat Richmond's army, but instead finds his own demise. It is intense both in drama and in violence.
Content:
(B, LLL, SS, NN, A, D, C, M) Moral worldview examining one man's power to destroy many in the context of the fact that the wages of sin is death; no obscenities, 3 uses of evoking God's name in precarious ways & man urinating; excessive violence including murders, gunfire, explosions, point blank shooting, hanging, garroting, suffocating of children, & image of a corpse; two acts of intercourse depicted; partial rear male & female nudity; excessive alcohol use; drug abuse; and, Archbishop shown praying over meals & giving advice
More Detail:
RICHARD III is a modern version of Shakespeare's play about a man willing to commit any crime in order to be king. Set in a 1940's fictional England, Richard of Gloucester plots with several advisers to murder his own brother, setting his own course to the throne. King Edward is in frail health which Richard aggravates by jailing and murdering their docile brother. This kills Edward leaving the throne open to the royal traitor. Edward's wife, Elizabeth, despises Richard because he subtly opposes the coronation of Edward's eldest son. Richard rallies the people to crown him king. Richard the King decides he needs a new wife and demands Elizabeth turn over her only daughter. Elizabeth smuggles her daughter to rival Lord Richmond where the archbishop marries them before the final battle between Richmond's troops and Richard's army.
Despite the movie being set in modern England, the performances captured the audience once the speech became customary. The performance of Ian McKellan as Richard was absolutely superb. Although it is a modern version of Shakespeare's tragedy, RICHARD III is well worth watching. Shakespeare is about love, betrayal and death, and RICHARD III is no exception. It delivers captivating dialogue and drama, along with grotesque death and destruction.