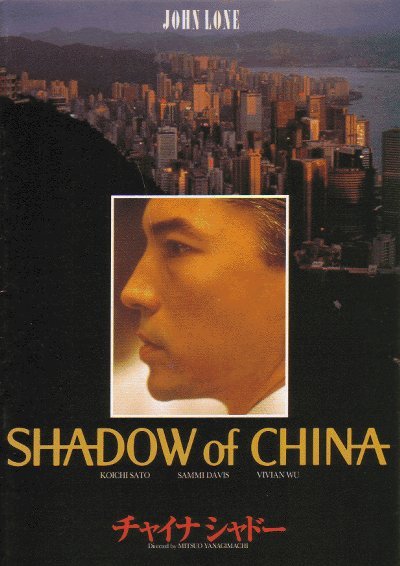 | | None | Light | Moderate | Heavy |
| --- | --- | --- | --- | --- |
| Language | | | | |
| Violence | | | | |
| Sex | | | | |
| Nudity | | | | |
What You Need To Know:
SHADOW OF CHINA is a somewhat glorified soap opera with seduction, adultery, and capitalist takeovers, but on a much more sophisticated level. Ostensibly, it deals with the lives of two Chinese Red Guards who escape mainland China to begin a new life in modern-day Hong Kong.
Content:
(V, SSS, O) Murder, adultery, fornication, and fortune telling.
More Detail:
Complete with all the trappings of a glossy soap opera (hidden pasts, corporate intrigue and adultery), the Chinese film SHADOW OF CHINA nevertheless possesses a somber tone and intricate backdrop that elevate it far above the potboiler level.
Set in contemporary Hong Kong, the film deals with the many-sided lives of Henry Wong and Moo-Ling who escape from mainland China only to find themselves in more turmoil than ever. SHADOW OF CHINA anticipates the Chinese takeover of Hong Kong in 1997 with some of its ramifications.
The action opens on the Chinese mainland in 1976 with the flight of Red Guards Wu Chang (Henry Wong) and Moo-Ling (Gloria) following the collapse of the Cultural Revolution. After they cross to Hong Kong, Moo-Ling is captured by border police, but Wu Chang escapes.
The film then cuts to 1989 and the skyscraper offices of voracious takeover artist, Henry Wong, Wu Chang's new name and identity, the result of his years on the capitalist island. Struggling with his identity while making millions and carrying on an affair with Katherine, a decadent English woman, Wong is poised to take over the colony's largest newspaper and again transform himself into the voice of free China.
However, Wong's plans become complicated with the discovery of Moo-Ling, herself transformed into Gloria, a cabaret singer. She, in turn, has linked up with Akira, a Japanese journalist bent on tracking down a longstanding rumor about a Japanese orphan who somehow became a leading member of the Red Guard.
Although the film reveals its thematic preoccupation with the nature of identity along with a desire to leave no loose ends prematurely, the build-up of suspicion and intrigue capture and maintain the viewer's interest. Further, the insights gleaned in the film prove to be valuable and come about largely through the able direction of Yanagimachi, who also directed 1985's HIMATSURI (FIRE FESTIVAL).
When Wong tellingly repeats the words of a fortune teller: "The sins of your father line your face," it reminds us that the past can turn up to haunt us. More than that, these lines echo the biblical warning in Exodus 20:5: "I the Lord thy God am a jealous God, visiting the iniquity of the fathers upon the children unto the third and fourth generation of them that hate me."