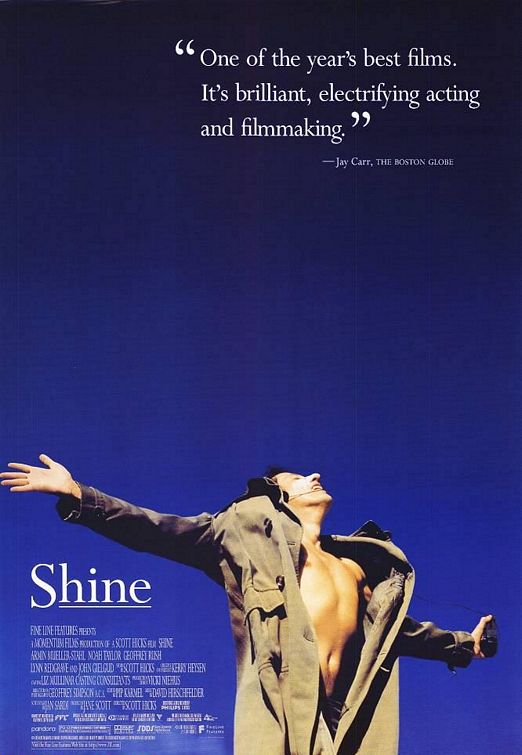 | | None | Light | Moderate | Heavy |
| --- | --- | --- | --- | --- |
| Language | | | | |
| Violence | | | | |
| Sex | | | | |
| Nudity | | | | |
What You Need To Know:
Winner of the 1996 Toronto International Film Festival, SHINE proves to be an uplifting theatrical experience that enforces the theme that one must never give up despite circumstances. David endures the psychological and physical abuse of his father and a mental handicap caused by a brain seizure to eventually triumph as a concert pianist. With only a few objectionable elements and an essentially biblical worldview, SHINE is Academy-award winning material.
Content:
(BB, O, L, V, S, N, A, D) Moral worldview tainted by one character consulting an astrological chart; one obscenity; two depictions of child abuse with fists & wet towel; brief depiction of clothed sexual petting; brief image of semi-nude female dancers & two instances of naturalistic rear male nudity; alcohol use; and smoking
More Detail:
SHINE is based on the life of David Helfgott, an exceptionally talented boy who is pushed relentlessly by his father, Elias, to be a better pianist than anyone else. Elias forces all David's family to be musicians and denies them any freedom to make decisions for themselves. David competes in music competitions and begins to win recognition, but when he gets offered an opportunity to study in the United States, his father denies him this opportunity. Instead, David accepts a music scholarship to an English university even though it means being utterly disowned by his father. Later, David plays a concert with such indescribable passion, it results in David suffering a brain seizure. The remainder of the film concerns David's journey back to emotional healing and success.
Sin bears consequences, and we see that Elias, as well as David, suffers immensely for the treatment and rejection of his son. Yet, years afterward, Elias returns to acknowledge David. Add to these a positive portrayal of Judaism and secondary characters who act kindly towards David, even during his lowest moments, and you have a very uplifting theatrical experience. There are two scenes of violence upon David by his father that are quite scary. There is a brief scene of semi-nude dancers and two shots of male rear nudity in an asexual connotation. SHINE is not a Christian film by any means, but it is good filmmaking, a moral film that honors human spirit.