"Spoiled by Immoral Content"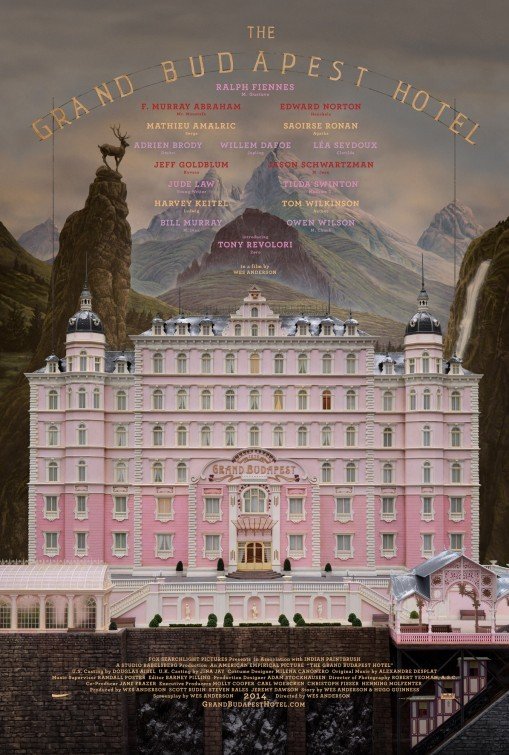 | | None | Light | Moderate | Heavy |
| --- | --- | --- | --- | --- |
| Language | | | | |
| Violence | | | | |
| Sex | | | | |
| Nudity | | | | |
What You Need To Know:
Director Wes Anderson's THE GRAND BUDAPEST HOTEL is about Gustave H, a dapper, crafty hotel concierge in 1933 Budapest. Gustav has inherited the prized painting of one of his wealthy elderly lovers, Madame D., at her death. The woman's family is shocked and angry that Gustave has inherited the priceless painting, especially her son, Dmitri. Dmitri and his henchman frame Gustav for the woman's apparent murder after Gustave absconds with the painting. Now, with help from his young apprentice, Gustav must clear his name. First, they have to break out of prison. Many complications ensue when they do.
THE GRAND BUDAPEST HOTEL is interesting, entertaining and well produced, but it's not morally uplifting. Despite some Christian Catholic elements, its worldview is mixed, with strong lewd content, violence, and foul language. Also, the main character is a questionable person. As with other movies by Wes Anderson, THE GRAND BUDAPEST HOTEL is very stylish and character driven. The style and characters are often captivating. The performances are fun. Even so, the movie's objectionable content is excessive. So, THE GRAND BUDAPEST HOTEL ultimately is unacceptable.
Content:
(PaPa, Ro, C, B, HoHo, LLL,VV, SS, NNN, AA, D, MM) Strong mixed pagan worldview including Romantic Worldview elements, very crude elements, materialism, and some overt Christian, biblical content such as crosses in a cemetery, mentions of saying the rosary and lighting a candle, going to confession, references to a monastery, hymn sung in church scene, and references to the Bible, plus some crude homosexual references; at least 24 obscenities (including about nine "f" words) and nine profanities (including several GDs); strong violence includes man hits other men, woman murdered, woman beheaded and head held up, man shown with wounds implied he was beaten, man is murdered and all you see is his fingers chopped off, solving of a murder; strong sexual content includes young man sleeps with several old women, oral sex implied, painting shows two women in sexual acts with each other, and crude humor about homosexual acts; full naked photos of women in prison and rear male nudity; alcohol use; smoking but no drug use; and, main character is a bad example, sleeping around, and potentially manipulating people
More Detail:
Wes Anderson's THE GRAND BUDAPEST HOTEL is a murder mystery involving a hotel concierge who received a cherished painting from a wealthy women's will. THE GRAND BUDAPEST HOTEL is in Director Wes Anderson's typical style of storytelling, mostly about the characters, but is marred by strong sexual content, violence, and foul language.
A young writer is staying at the Grand Budapest Hotel for the entire summer. One day the owner arrives, a man named Zero Moustafa. Completely interested in his story, the young writer asks about the hotel's history.
At one time, Moustafa was the lobby boy. A war refugee from World War I, Zero came to the hotel to work. The concierge, Gustave H, took him under his wing as an apprentice. Zero follows Gustave all around the hotel, witnessing Gustave's love of old, rich women. Gustave's biggest love is Madame D. Much older, Madame D. dies soon after Zero starts working at the hotel.
Gustave takes and Zero to attend the funeral of Madame D. and meet with her top housekeeper. Gustave learns that Madame D. left him a priceless painting, much to the chagrin of her son, Dmitri, and his sisters. A henchman helps Dmitri frame Gustave for his mother's murder, apparently by poisoning. With help from Zero and Zero's new girlfriend, Agatha, Gustav must find a way to clear his name. First, however, they must break him out of jail.
THE GRAND BUDAPEST HOTEL is an interesting, exhilarating movie but it's not morally uplifting. Though it contains some Catholic Christian references, the overall content is vulgar and materialistic. Also, the main character is a questionable person. As is the Director/Writer, Wes Anderson's, nature, the movie is very character driven. The style is true to Wes Anderson, with bright color tones, but it's marred by lewd content, foul language, and violence.