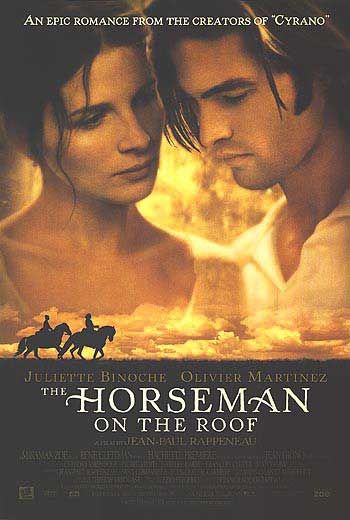 | | None | Light | Moderate | Heavy |
| --- | --- | --- | --- | --- |
| Language | | | | |
| Violence | | | | |
| Sex | | | | |
| Nudity | | | | |
What You Need To Know:
THE HORSEMAN ON THE ROOF is a beautifully told cinematic story of devotion, honor and true love set in the breathtaking landscape of the Provence, France. The young Italian freedom fighter Angelo Pardi meets and falls in love with Pauline de The'us as they fight the horrors of the plague. Containing scenes of mass death and a scene of full-female nudity (though not in a sexual context, but in the ravages of the plague), the movie is a sobering but beautifully photographed tale of devotion during trials.
Content:
(Ro, C, L, VVV, NN, A) Romantic worldview depicting the struggle to remain faithful to marriage & honor & mild christian prayer; 1 profanity, 1 vulgarity & 1 obscenity; one mention of suicide, many dead & bloated bodies, scenes of death-rattle, chocking corpse vomiting white bile, one hanged man, crow picking at the face of a corpse, two people killed by gunfire, one man beaten to death by a crowd, graphic scene of dying woman; full female nudity in natural context; and, drunkeness
More Detail:
THE HORSEMAN ON THE ROOF is a beautifully told story of devotion, honor and love set in the Provence, France. The young Italian freedom fighter Angelo Pardi has yet to prove himself in battle or in love, until Pauline de The'us, played by Juliette Binoche, reluctantly provides him with his chance to be her guardian. An exile from Italy, Angelo gallops through the French countryside which is overcome by a devastating plague. He rides on toward the plague-ridden town of Monosque where smoking piles of bodies are being burned in the street. Attacked by a fearful crowd, he takes refuge on the rooftops of the town. There, he meets Pauline, a married woman who lives alone. Gently, she convinces him to stay. Thus begins, the relationship which actor Martinez describes as "a love story with restraint."
Jean-Paul Rappeneau has created a beautiful film that pays homage to the artistic vision of the novel upon which it is based. When Pauline is struck by the plague, Angelo must rub her naked body to resuscitate her. Other areas of concern are gross images of plague victims. Graphically displaying the plague infested land of early 19th Century France, this movie manages to exhilarate us with its portrayal of the human struggle to cultivate honor and love in the midst of terrifying circumstances.