"Suspenseful and Thrilling, But Rather Pagan"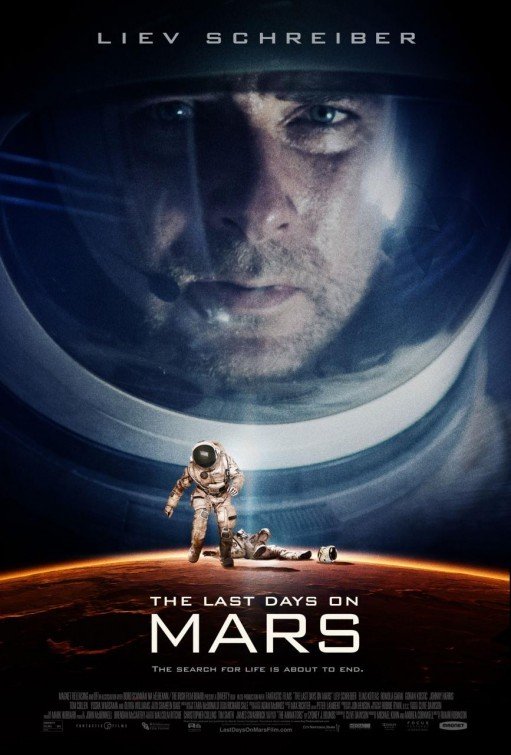 | | None | Light | Moderate | Heavy |
| --- | --- | --- | --- | --- |
| Language | | | | |
| Violence | | | | |
| Sex | | | | |
| Nudity | | | | |
What You Need To Know:
THE LAST DAYS ON MARS follows the final 19 hours of a crew sent to Mars to search for biological material. The crew encounters a biological virus that turns some of them into violent, humanoid creatures, and the remaining crew tries to escape. One by one, characters are killed as the survivors risk their lives for each other's safety.
THE LAST DAYS ON MARS is a well-executed, entertaining, intense science-fiction thriller with good writing, acting, and cinematography. The creatures are frightening, even for an adult, and the movie creates tension throughout its running time. However, LAST DAYS ON MARS doesn't do much in terms of character development. This was perhaps its weakest element. Worse, the movie carries a loose, rather mixed, neo-pagan worldview with humanist elements. There's also excessive foul language and some scenes of gruesome violence. The movie is also devoid of any solid Christian or Biblical themes or elements. That said, there are a couple pro-family moments and redemptive elements of self-sacrifice. THE LAST DAYS ON MARS isn't for children of any age and slides over into the excessive.
Content:
(PaPa, H, C, Ab, FR, O, B, LLL, VVV, M) Weak, morally-ambiguous strong mixed pagan worldview with humanist qualities and a redemptive element of characters helping each other to survive in a hostile situation, but no religious/metaphysical content aside from a brief discussion of the afterlife with some allusions to pagan spirituality and seeing people from beyond the grave, one character mockingly speaks about finding God on Mars, and some moral elements, including one character speaks longingly about his family in the moment before his death; about 62 obscenities (including about 32 "f"-words) and seven profanities (taking God's name in vain); very strong violence includes an astronaut falls into a hole into the ground in a perilous moment while searching for biological content on Mars' surface, three astronauts become infected with a microbial virus which kills them and turns them into very scary zombie-like creatures, one of these creatures attacks a crewman with a drill and impales his stomach, a great deal of blood and gore is shown and the crewman dies, a crewperson throws acid at a zombie, a woman is stabbed in the leg (we later see her wound as she's being treated), one character crushes the head of a zombie (the camera turns away), a fuzzy image of a zombie eating from the midsection of a dead body, several intense fights between crew people and zombies including a stabbing, though little blood/gore is shown, one crew member dies and begins to morph into a zombie while lying on a table and then chokes another crew member, his face becomes blackened in several frightening images, several scenes of crew members inject each other with fluid, one scene shows blood floating in a zero cavity space cabin after one character headbutts another and purges him into space through an airlock; no sexual content; no nudity; no drinking or drunkenness; no smoking or drug use; and, a character traps another woman in a room with zombie-like creatures to save himself and leaves a group of characters to fend for themselves while he tries to escape from a hostile situation on his own.
More Detail:
THE LAST DAYS ON MARS is a science-fiction thriller with a formulaic but well-executed plot, good screenplay writing and acting, an immersive environment, and some fantastic special effects, especially for a lower-budget movie. It's a heart-racing thriller high in entertainment value but replete with negative elements.
THE LAST DAYS ON MARS takes place during the final 19 hours of a six-month expedition to Mars to search for and collect biological samples. Leading the group is astronauts Vince Campbell (Liev Schreiber) and Charles Brunel (Elias Koteas) and consists of eight highly-trained crew members.
One of the scientists, Kim (Olivia Williams), discovers microbial boring bacterial cells in the cavities of a few rock samples they've discovered. While attempting to gather more samples, another of the scientists, Marko (Goran Kostic) is swallowed into a hole in the ground, prompting Lauren (Yusra Warsama) to go after him, against the wishes of the crew, who presume him dead. When neither Marko nor Lauren return, the crew begins to worry. Eventually, Marko and Lauren return to the base, although they are humanoid and zombie-like, having been infected by a bacterial virus. These creatures attack the crewmembers and kill one, Harrington (Tom Cullen), who in turn becomes one of the creatures.
The crew leader, Brunel, is stabbed by one of the creatures and himself becomes infected with the bacterial virus. He slowly dies as he lays on a table, as the crew's scientists trying injecting him with antibiotic fluids to counteract the virus. The antibiotic works for a while, but the virus develops a resistance. Realizing the virus can't be stopped, the surviving crew desperately tries to find a way to contact mission control and escape.
After five of the eight crewpeople have been killed or infected with the virus, the remaining three (Campbell, Irwin, and Laine) race against the creatures, who are intelligent enough to follow their tracks and destroy their equipment. Irwin (Johnny Harris), crumbles under the weight of the situation, at times breaking into tears. He proves to be unstable and eventually deserts Campbell and Laine.
Campbell and Laine venture onward alone in hopes of securing communication with mission control and being rescued, pushed to the limits of human survival.
THE LAST DAYS ON MARS is a simple, formulaic sci-fi thriller with a predictable but well-executed plot and terrific acting. The writing is tight and moves along well. The biological and scientific details of the crew's mission should prove interesting to some, and the rich cinematography and environments are satisfying to watch. For a movie without a large budget, it was executed and delivered very effectively.
THE LAST DAYS ON MARS doesn't do much in terms of character development, and this was perhaps its weakest element. It contains a few elements worthy of exploration (Campbell has several flashbacks to an experience on another spaceship that aren't fully explained), but favors more peril and suspenseful moments. The potential for expounding on a few relational elements was there, including moments where one character asks the other about the afterlife and whether a zombie still has elements of personhood, but the movie's budget likely wouldn't allow much movie time beyond 90 minutes.
The foul language in LAST DAYS ON MARS is intense and relentless, and the violence is also jarring at moments. The creatures are frightening, even for an adult, and the movie creates tension throughout its running time.
However, the movie is devoid of any strong Christian or biblical elements. At one point, one character mockingly speaks about "finding God and writing a song about it" when discussing the prospect of finding life on Mars. In another instance, Laine asks Vince whether he thinks there's an element of human existence that continues after death, but he deflects the question, saying, "That's above my pay grade." In the movie's final minutes, Vince has a vision where he seems to communicate with Laine (who has died by this point) from beyond the grave, although the movie's lack of a Christian worldview would lean one to believe this is simply a neo-pagan or occult element.
THE LAST DAYS ON MARS has a few pro-family elements. In one scene, as Brunel is moments from death, he speaks longingly in tears about wanting his family to know he loves them. In another, Irwin (also in tears) speaks of longing to see his family again. Several crewmembers make sacrifices and take risks to ensure each other's safety.
The violence in THE LAST DAYS ON MARS is not gratuitous and ongoing, but there are a few gruesome scenes (a man being drilled in the stomach is the most intense). There is also a general mood of dread throughout and few truly redemptive aspects in the THE LAST DAYS ON MARS, which would not sit well with many viewers.
The movie's excessive obscene language is its predominant negative element, with almost constant obscenity as the characters endure perilous situations. These elements of violence and language warrant excessive for THE LAST DAYS ON MARS.