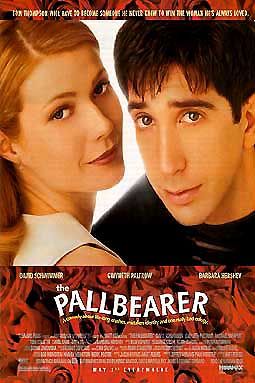 | | None | Light | Moderate | Heavy |
| --- | --- | --- | --- | --- |
| Language | | | | |
| Violence | | | | |
| Sex | | | | |
| Nudity | | | | |
What You Need To Know:
THE PALLBEARER shows how life can be changed as Tom gives a eulogy to a classmate he never knew. Showing that honesty is the best policy, it stars David Schwimmer and Gwyneth Paltrow in a romantic yet dark comedy. With a little bad language and implied fornication, it is a poor imitation of THE GRADUATE.
Content:
(Ro, LL, V, S, A) Romantic worldview demonstrating that man tries to please man; 11 obscenities & 12 profanities; mild violence with fight scene; provocative dancing & implied fornication; and, social drinking
More Detail:
THE PALLBEARER, presents David Schwimmer as Tom Thompson, a down-hearted searching Generation-X'er. A recent college graduate with an architectural degree, he is down on the prospect of ever finding love and happiness. One day, Tom receives a call from a high school classmate's mother. Bill Abernathy has committed suicide, and his mother, Ruth, wants Tom to be a Pallbearer at the funeral. Out of compassion, he agrees, but he can not recall Bill. To Tom's joy, Julie DeMarco walks into his life, his High School crush. As Tom and Julie establish a relationship, Tom finds he has to deliver the eulogy, and Ruth comes on to him sexually. Suddenly, all of the relationships in his life from friendships to romance stop with a thrusting halt. Fortunately, Tom bucks-up to solve the problems that were created out of misunderstanding and confusion.
For a movie with many plot points, this movie definitely moves slowly. Unable to present any excitement, it creates an atmosphere of boredom. Character growth is kept to a minimum. Without the comic relief and the perky supporting characters in FRIENDS, Swimmers' neurotic whining becomes a bit much. With a little bad language and implied fornication, it is a poor imitation of THE GRADUATE. Despite his presence, THE PALLBEAR dies.