"A Perfect Relationship Gone Horribly Wrong"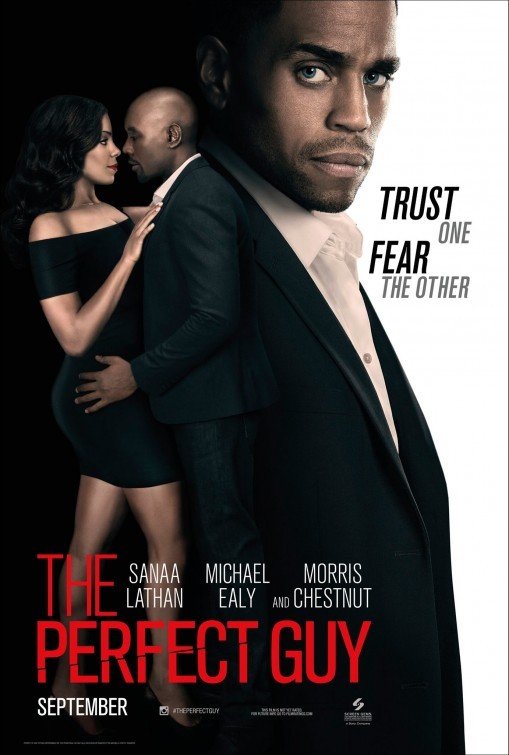 | | None | Light | Moderate | Heavy |
| --- | --- | --- | --- | --- |
| Language | | | | |
| Violence | | | | |
| Sex | | | | |
| Nudity | | | | |
What You Need To Know:
In THE PERFECT GUY, Leah, a 36 year-old lobbyist, has been in a loving relationship with her boyfriend, Dave, for two years. Leah wants to settle down and have a family, but Dave isn't ready to make that commitment. They break things off. Leah happens to run into a man named Carter a couple times. There's strong chemistry between them and they begin dating. Things seem perfect until Carter starts showing violent tendencies. Leah breaks up with him, but Carter stalks her, making her fear for her life. The police are of little help, so Leah must find a way to defend herself and bring Carter to justice. The plot in THE PERFECT GUY is engaging, but it belongs on the small screen. The movie has some suspenseful moments, but it's rather predictable, and there's nothing particularly artful or special about the way the movie is filmed. Plot holes abound, which conveniently prolong the story. THE PERFECT GUY is a tale of good versus psychotic evil, but it has some overt immoral content, strong violence and intense moments that warrant extreme caution.
Content:
(Pa, BB, C, LLL, VV, SS, N, A, D, MM) Mixed pagan worldview with some sexual immorality mitigated by strong moral elements and some Christian content, including parents insist that their daughter and her boyfriend sleep in separate rooms while they stay at their house, justice to wrongdoing is sought, family prays before a meal and acknowledges God's favor in their lives; 17 obscenities (including one "f" word), four strong profanities, eight profanities; strong violence includes a man beats up another man, a man shows some aggression towards his girlfriend and scares her, a car goes over the side of a mountain and badly injures the driver, a man suffocates and kills another man, a man throws a woman down the stairs and kills her, a man uses a shotgun to threaten another man, a man beats up a woman, a character is killed in self-defense with a shotgun; depicted clothed fornication standing up, depicted fornication in bed which is secretly videotaped and shown again briefly, couples live together, woman comes to man's room in her family's home and starts kissing and touching him but she leaves; upper male nudity and images of female cleavage; periodic alcohol use; brief cigarette smoking in one shot; and, selfishness, a man breaks into someone's house, a man hacks into someone else's computer and steals the data, a man kidnaps a woman's cat, a man unlawfully installs cameras in someone's home to spy on them, a man blackmails a woman by emailing her private info to people who could ruin her career, a woman breaks into a man's apartment and trashes it, a man tells a story of how his parents didn't want him, and that he was adopted, and a man is afraid to commit to a relationship because his parents got divorced.
More Detail:
In THE PERFECT GUY, a woman begins a relationship with someone who seems like the man of her dreams, but he has secrets, and a violent temper, that will turn her world upside down. THE PERFECT GUY has some suspenseful moments and moral elements, but otherwise is predictable and flat, and contains strong immoral elements, foul language and violence requiring extreme caution. Leah, a 36 year-old lobbyist, has been in a loving relationship with her boyfriend, Dave, for two years. Dave seems like the perfect guy for her, but there's one big problem: they both want different things. Leah wants to settle down and have a family, but Dave isn't ready to make that commitment. Even though he hasn't ruled out marriage and children, he refuses to be forced into it. It's a point of contention that's been brewing between them for months. So, with a tear-streaked face, Leah abruptly breaks off their relationship. One morning, Leah runs into smooth-talker Carter at a coffee shop. From the moment they see each other, Leah is rattled to distraction at the apparent chemistry between them. Days later, as Leah waits to meet a friend for drinks, she's harassed by a man who refuses to accept "no" as an answer to asking her out. In steps Carter, who just happens to be at the same bar. He fakes being her boyfriend to get the other guy off her back. Grateful for Carter's act of chivalry, Leah spends the rest of the evening with him over dinner. The two hit it off immediately. Leah learns that not only is Carter a great guy, he's also highly intelligent as a security IT expert. He lets her know that his job is to make people feel safe and implies he could do the same for her. Weeks pass and all thoughts of Dave are forgotten as the romance between Leah and Carter blossoms. She shares her bed and her secrets with him, even asking him to accompany her to her parents' house for the 4th of July holiday. He agrees to go and wins over her family. However, on the long drive back home, the two stop at a gas station. While Carter is inside, a man approaches Leah and asks her about the vintage car they're driving. Carter mistakes him to be a threat and snaps. Without warning, he beats the man to a pulp, shocking Leah with his sudden change in behavior. She keeps her distance from him for several days, but he persistently tries to see her. As he gets more aggressive towards her, she breaks up with him. Leah's problems have only begun when she realizes Carter is stalking her. Leah changes her numbers to keep him from harassing her, but this does nothing to stop him as his IT expertise makes it easy for him to circumvent those obstacles. Leah goes to the police and obtains a restraining order against Carter. In the meantime, Dave contacts her again and asks for a second chance. The two rekindle their romance, but this only enrages Carter further. Eventually, it's up to Leah to find a way to defend herself and bring Carter to justice. The first thing that comes to mind while watching this movie is that it belongs on the small screen and would work better as a Lifetime feature. The plot may be engaging, but it's not epic enough to deserve a theatrical stage. The cinematography only adds to this feeling. There is nothing particularly artful or special about the way this movie was filmed. It's static and flat, resembling an hour-long TV drama. Likewise, there's nothing fancy about the script. There are moments that jump out as obvious foreshadowing of future scenes to come. Plot holes abound, however, which conveniently ignore opportunities to prove Carter's guilt in favor of prolonging the story. While the movie is suspenseful, it is wholly predictable, dulling any nail-biting moments. Although the lead female character wants to get married and have a family, she sleeps with the two boyfriends she gets in the movie. This isn't conducive to happy family living unless one repents of such activity. Thus, THE PERFECT GUY has a mixed worldview. Despite the sexual immorality and foul language, the movie does contain some Christian, moral elements. Leah's parents pray and acknowledge God. They also insist Leah and her new boyfriend sleep in separate rooms, though Leah unsuccessfully tries to violate that rule. She's used to living with her boyfriends and clearly holds a different view of such things. However, she does go to the police and tries to do everything she can to bring the villain to justice. THE PERFECT GUY is not a movie for children. Extreme caution is advised because of the sexual immorality, foul language, some intense moments, and strong violence.