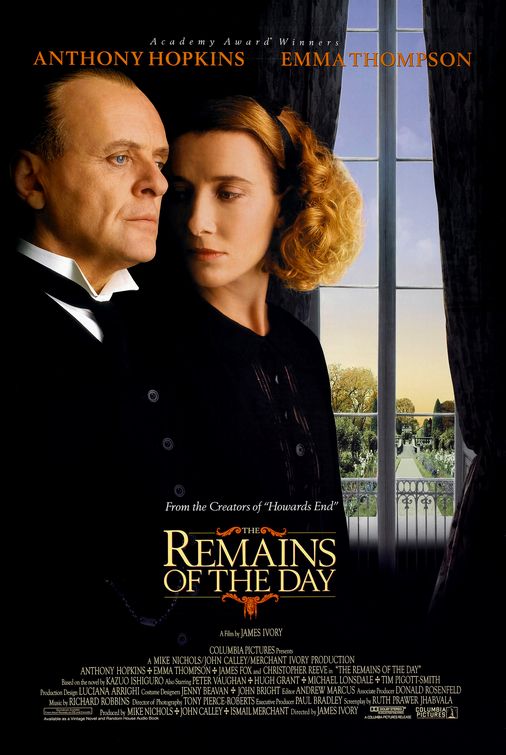 | | None | Light | Moderate | Heavy |
| --- | --- | --- | --- | --- |
| Language | | | | |
| Violence | | | | |
| Sex | | | | |
| Nudity | | | | |
What You Need To Know:
The film THE REMAINS OF THE DAY relates the story of a proper, repressed English butler who finds the love of his life but fails to win her. The movie contains excellent performances by Anthony Hopkins as Stevens, the butler, and Emma Thompson as the housekeeper. James Ivory's direction and Ruth Prawer Jhabvala's imaginative narrative are also commendable.
Content:
(B, C) A positive moral portrayal of English life in various societal levels prior to World War II with Christian overtones; and, nothing objectionable.
More Detail:
In what constitutes a nearly perfect film, THE REMAINS OF THE DAY is filmmaking at its best. Anthony Hopkins in his characterization of the exemplary and dedicated head butler Stevens turns in a colossal performance; and, Oscar-award winning actress Emma Thompson as the head housekeeper, Miss Kenton, is outstanding as well. Stevens is head butler of Darlington Hall and hires Miss Kenton as the housekeeper. Lord Darlington, his master, hosts an international "peace" conference with delegates from various countries, including Germany, in the pre-World War II 1930's. Stevens falls in love with Miss Kenton but struggles with divulging his true feelings because of his propriety and rigid formalism. A statement Stevens gives near the movie's close says it all: "I was too busy serving to listen to the speeches."
All performances are outstanding–especially that of Hopkins with his penetrating eyes, body language and facial expressions–and Emma Thompson in her superb characterization of the efficient, yet forward-speaking housekeeper who tries to lead Stevens out of his rigid, decorous prison. The direction, under James Ivory, the screenplay by Ruth Prawer Jhabvala and the fine cinematography both with exterior scenes, and in intimate, close shots, must also be commended. THE REMAINS OF THE DAY is bound to be one of the acclaimed films of the year.