"Situational Ethics at Its Worst"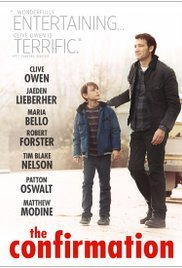 | | None | Light | Moderate | Heavy |
| --- | --- | --- | --- | --- |
| Language | | | | |
| Violence | | | | |
| Sex | | | | |
| Nudity | | | | |
What You Need To Know:
In THE CONFIRMATION, a down-on-his-luck father's relationship with his young son grows through mishaps and life lessons as the son awaits his confirmation day in his mother's Catholic church. In a Seattle suburb, Walt clashes with his ex-wife as he picks up their son for a visit. He asks her: How much trouble could they get into in one day? Turns out, a lot. On the hunt for some missing tools, father and son encounter a bevy of barflies and thieves around town. In the end, they come to a new understanding about loving and forgiving others.
Despite some positive moral, redemptive elements, THE CONFIRMATION veers from Christian orthodoxy into situational ethics and agnostic philosophy. Anthony wants to disavow the church altogether. Meanwhile, although his ne'er-do-well, agnostic father questions the church, he tells Anthony to obey his mother and go to church. He reminds Anthony he can decide what to believe when he's older. Throughout their search for the stolen tools, absolute truth is sacrificed for personal gain again and again. So, despite some positive elements, THE CONFIRMATION contains too many negatives.
Content:
(PaPaPa, HH, AbAb, FRFR, C, B, LLL, VV, AA, MM) Very strong, somewhat mixed, pagan worldview includes humanist and sometimes sarcastic attitudes toward biblical morality and Christian hypocrisy, divorced father tells son to obey his mother's command to go to church and get confirmed but says son can decide later when he becomes older what to believe, boy consistently bends the truth to practice situational ethics, and father tells son people can't really know whether God is real or not, mixed with some positive, if murky, Christian content, including boy does go to Confession twice and decides to get confirmed anyway despite his doubts and confusion about religion, and the Golden Rule is stressed; about 31 obscenities and profanities; a gun pulled on a teenager by a child, a gun pulled by an adult with a child present, multiple fist-fights and assaults, a stranger manhandles a child, a child hits another child with an object but later apologizes; no sex, but a brochure is shown that mentions sex in the context of a Catholic marriage; no nudity; several scenes of man drinking at a tavern and at home, sometimes around a child (including a scary scene of a father having withdrawals, forcing his son to call for help), but father is later inspired to stop drinking; meth is mentioned twice; and, a child fearing and running out of a church after seeing an image of Jesus on the crucifix (though, he later chooses to be Confirmed), biblical stained glass images and text made to look imposing, an insinuation at one or two points that Christians are unlikable, lifeless, strict, judgmental, and/or dull, main characters lie throughout (often portrayed as the necessary or better choice) by several characters, including lying to a police officer, a child lies to parents, purity is mocked (including fidelity in marriage), repeatedly stealing money and taking an object in revenge, and an awkward divorced family dynamic devalues and belittles marriage and the stepparent, but is slightly redeemed in the end.
More Detail:
In THE CONFIRMATION, a down-on-his-luck dad and his young son's relationship grows through a series of mishaps and life lessons as the son awaits his confirmation day at his mother's Catholic church. Ultimately, despite some positive moral, redemptive elements, this down-to-earth family drama stresses situational ethics and agnosticism, not solid biblical truth, with the son being left to make the final decision on how he feels about God, Jesus and church.
In a Seattle suburb, Walt (Clive Owens) clashes with his ex-wife as he picks up their son for a visit when the ex-wife and her new husband have to go away on a church retreat. Just how much trouble could they get into in only one day? he pleads. Turns out, a lot.
Meanwhile, at church, 8-year-old Anthony (Jaeden Lieberher) is exasperating the priest and getting stern looks from a parishioner. After uttering one line of the Lord's Prayer, Anthony is frightened at the sight of Jesus suffering on a crucifix. The boy literally runs out of the church. The insinuation is that he's fleeing an "oppressive" system toward "freedom" outside the doors.
While out together, Walt and Anthony discover dad's special tools have been stolen from his rundown truck. A hunt for the robber ensues, uncovering barflies and thieves, with help from a goofy guy and a new friend. Father and son must decide who's telling the truth, and whom they can trust.
Along the way, Anthony discovers his father has strong personal demons, especially alcoholism. He lacks work and income, but does have a passion for design and craftsmanship. Walt's instability is a morally mixed bag of excitement in contrast the dour, strict religious attitudes of Anthony's mother.
A few funny moments are dotted here and there, while other scenes are poignant, scary or somber. For example, Anthony and other children sometimes fend for themselves due to their parents' lack of responsibility. The sadness of divorce weighs on the main characters.
What at first seems incidental actually clues in media-wise viewers to something deeper: Anthony's bedroom is covered in science related posters, including ones displaying former Seattle-based Bill Nye ("The Science Guy"), who in real life is an agnostic. The movie seems to give Nye a mouthpiece through Walt, who tells Anthony, "You can't know" if God is real; something Nye has said in interviews. When Anthony shares that his teacher says there could be more than one universe, Walt's response sounds naïve and old-fashioned. Thus, supporting the teacher appears to be the movie's direct homage to Nye, a science education advocate. Nye is also the CEO of a space exploration company started by Carl Sagan that has a goal of seeking life outside of earth.
In the movie, Anthony's swirling universes, his mother's, father's, the church's, and his own, are each inconsistent. The story is set one week before Anthony's scheduled for his Catholic confirmation. Anthony wants to disavow the church altogether. Meanwhile, although his ne'er-do-well, agnostic father questions Christian belief and the church, he tells Anthony to obey his mother anyway, and, when he gets older, he can decide for himself what to believe. Also, for all his hang-ups, Walt still tells his son that "bad workmanship is a sin," and that "God lives in the details." On the other hand, though she clearly cares about Anthony, Anthony's mother carries an air of hypocrisy about her. Both she and the father stress the Golden Rule to Anthony. Finally, Anthony himself gives to charity, but he also repeatedly lies.
Eventually, in their search for the stolen tools, Walt and Anthony experience the idea that no one is perfect and forgiveness is needed to make peace. Situations are packaged, ironically, in material that is stereotypically Catholic: poverty, homelessness, hunger, charity, and family. The movie asserts that a person can still do good, whether one trusts in Jesus and His church or not. This contradicts Psalm 14:3, Psalm 16:2 and Luke 18:19, which say no one is truly good apart from God, despite their good deeds.
Throughout THE CONFIRMATION, the father and his son bend the truth to achieve one end or another. Some of the ends are shown as good, while others are not. Essentially, the moral philosophy presented in THE CONFIRMATION takes many cues from Joseph Fletcher. In 1966, this Episcopalian professor published, "Situation Ethics: The New Morality," and popularized a sly approach to decision making. Fletcher says love alone should be the guiding factor in each situation. However, critics have pointed out some flaws in Fletcher's moral philosophy: 1) Our highest calling is to love, obey and glorify God (not make up our own rules along the way); 2) Flawed humans may misjudge the end results of their choice to lie (or commit another sin) while trying to be "loving" toward one another; and, 3) Our vision is too subjective, so we need an objective standard (a law) to guide everyone.
In contrast to situational ethics, Scripture extols holding onto God's ways by telling the truth in love and not going off on one's own path:
"O Lord, I know the way of man is not in himself; it is not in man who walks to direct his own steps" (Jer. 10:23).
"No temptation has overtaken you except such as is common to man; but God is faithful, who will not allow you to be tempted beyond what you are able, but with the temptation will also make the way of escape, that you may be able to bear it" (1 Cor. 10:13).
Ultimately, THE CONFIRMATION presents a mixed bag. Despite some positive elements, the movie contains too many negatives.