"Heart Songs"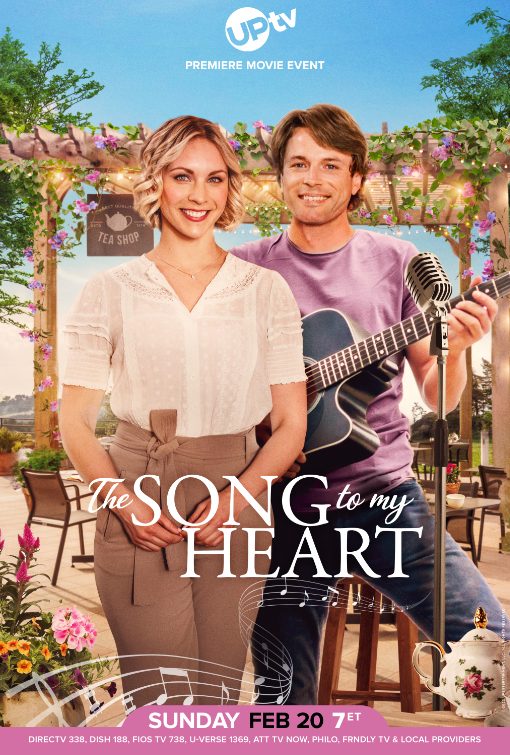 | | None | Light | Moderate | Heavy |
| --- | --- | --- | --- | --- |
| Language | | | | |
| Violence | | | | |
| Sex | | | | |
| Nudity | | | | |
What You Need To Know:
THE SONG TO MY HEART is a cute romantic comedy that follows two unlikely souls as they come together and create something beautiful. Bonnie Highstreet, a young poet in a small town, is trying to get her tea shop up and running. One day during a poetry reading, she meets Ryder Jameson, an up-and-coming young musician who can't seem to find the right words for his melodies. Ryder needs to come up with some lyrics for the songs in his new album. So, he and Bonnie strike a deal. If Ryder is willing to help her tea shop get some publicity, she'll help him write some song lyrics. The two end up coming through for each other, and a romance starts to blossom.
THE SONG TO MY HEART is very well produced, with appealing performances. It has a lighthearted story with a simple, emotional premise. There are little to no concerning elements in the movie, which is clean and wholesome. Thematically, THE SONG TO MY HEART promotes being open to possibilities, honesty and choosing the priorities that truly matter to us.
Content:
(Ro, B, M):
Dominant Worldview and Other Worldview Content/Elements:
Light Romantic worldview where the primary theme is accepting and personally expressing one's feelings, and, while there are no immoral actions shown, there is no moral or higher power being shown as the center, or answering/resolving the conflicts in the story, but the story does promote honesty with friends, family and romantic partners
Foul Language:
No foul language
Violence:
No violence
Sex:
No sexual content
Nudity:
No nudity
Alcohol Use:
No alcohol use
Smoking and/or Drug Use and Abuse:
No smoking or drugs; and,
Miscellaneous Immorality:
Woman gets upset when man submits her song to a music company under her name without asking her first.
More Detail:
The movie THE SONG TO MY HEART is a romance with a simple premise and a clean execution. It follows the romance premise of a brilliant young woman trying to accomplish her dreams in a small town, when all her plans are changed by the attractive stranger who comes into town with his own problems. By working together, they bring out the very best in each other. They do this by combining the girl's gift of words with the man's gift for melodies.
The TV movie follows the story of Bonnie Highstreet. Bonnie is a brilliant poet who lives in a small town and is known around that town for two things. The first is opening her long-awaited teashop with her best friend. Secondly, she's the daughter of the local celebrity musician, Hank Highstreet.
The tea shop Bonnie co-owns is in its grand opening. Bonnie's working hard to make sure it's a success, by trying to bring in a crowd with events, pastries, poetry, and making sure to get great reviews. While she works, Bonnie shows a talent for writing lyrics that she insists is poetry.
Around the same time, a rising star musician named Ryder Jameson is given a week deadline for his new music album. He arrives in town looking for inspirations for his music. He can write the melodies, but he's lost when it comes to the words. Ryder finds his way to Bonnie's tea shop and is entranced by her poetic mastery and delicious tea.
Ryder and Bonnie end up striking a deal. He will try to get her the best reviewer around to come try her teas and pastries while she helps him get inspired to write songs together. While working together, a spark of romance comes as the pair fall for one another. Over the course of the movie, both characters learn to trust each other, be vulnerable to each other and ultimately become a songwriting duo.
THE SONG TO MY HEART is very well produced. It tells a lighthearted story with a simple, emotional premise. THE SONG TO MY HEART has two major themes. The first is learning to be vulnerable and honest with the people we love, including our friends, our romantic partners and our family. This is what Bonnie must learn to be willing to share her poetry and heart with another. The second major theme is learning to prioritize what truly matters to us. In this case, Ryder learns that, although music is his livelihood, he wants to settle down and live in a small town. The movie's worldview is Romantic, where the answers to the problems lie within the characters doing what they feel and being true to their feelings. The movie also does not contain any form of sexual content, violence, or substance abuse. Overall, the film is a cute little romance.