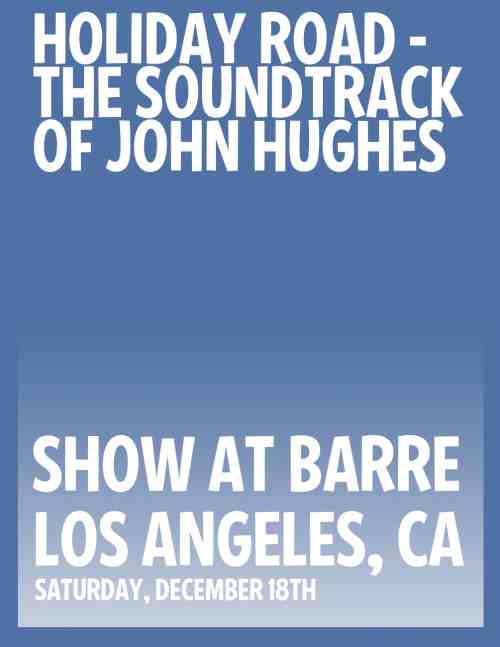 By Carl Kozlowski, Contributing Writer
Over the course of nearly 40 films in two decades, filmmaker John Hughes brought a uniquely American sense of comedy to the big screen. He especially had a strong run of hits in the 1980s and 90s, with such popular classics as Movieguide® favorite HOME ALONE, as well as the less than family friendly PLANES TRAINS AND AUTOMOBILES, SUMMER VACATION, THE BREAKFAST CLUB, UNCLE BUCK, PRETTY IN PINK, and FERRIS BUELLER'S DAY OFF. Of course, the most successful and most family friendly Hughes movie is HOME ALONE, which became

the biggest moneymaking comedy of all time before settling into its status as a perennial Christmas favorite.
While most fans of Hughes' work are content to watch his films in their DVD collections or on television, Shane Scheel is one superfan who opted to pay tribute to the filmmaker in an extraordinary way. Together with his friend Christopher Lloyd Bratten, he created the live-event series "For the Record," in which the best scenes and songs from the movies of such filmmakers as Quentin Tarantino and the Coen Brothers have been brought to life by actors and a live band, creating a wildly entertaining and endlessly inventive tribute to some of the most popular movies of modern times. Now, he has done the same thing for John Hughes.
Scheel and Bratten host the show amid the narrow confines of Barre at VT, the side bar of a popular restaurant called Vermont located just off the intersection of Hollywood Boulevard and Vermont Avenue in the Los Feliz neighborhood of Los Angeles. In the Hughes show, a five-piece band complete with a piano plays on a front stage while the performers run and dance through the crowd as well as performing on the bar and a second stage in the middle of the 90-seat venue. Along with the songs, the performers also re-enact the most memorable dialogue scenes from many of the movies.
The "John Hughes – Holiday Road" has proven to be their most successful one yet and is also co-created by actor Barrett Foa of the popular TV show "NCIS." Rocking the house from Wednesdays through Sunday nights in Los Angeles, the show features more than 20 unforgettable tunes including "If You Leave," "Try a Little Tenderness," and "Twist and Shout" in addition to a fiery, gospel-ized take on "Joy to the World" that brings the roof down at the end of the show. After all, it's playing in the Christmas season, and Scheel is proud to mention his Christian roots and give them a tribute in the show.
While the evening features a few profanities during the classic scenes the actors re-enact, and one song features an actress baring her bra, it's otherwise mostly worthwhile (though the show offers all-ages admittance). It plays through Dec. 30 in Los Angeles, but goes to other cities next year.
Following a raucous Friday night performance, Scheel talked with Movieguide® about the Hughes show and why he feels the filmmaker's work has stood the test of time.
MOVIEGUIDE:  How'd you get the idea for the series?
SCHEEL:  I had been working in LA for a few years and my show partner and I started by taking complete soundtracks from films, and we knew a lot of really great singers and actors, so we decided to pull the best ones together and started these shows as concerts. Then, we decided to add quotable lines.
We started with Tarantino because … in his soundtracks he'd put quotable lines, and we next had the idea of John Hughes and there were all these great scenes we remembered. That started the idea of hybrid shows with actors in the audience aside from just singers. The idea evolved over a year as we did Tarantino's, Baz Luhrmann's and the Coen Brothers' films before Hughes, and it's morphed into a cohesive show of songs and scenes with one cast doing both singing and acting.
The intention was to create an original musical statement for Los Angeles so that when people come to LA, as well as Angelenos in general, there's a show that's originally theirs.
The shows come to life through their soundtracks. I was in London a year ago and went to see "Sister Act:  The Musical." As an audience member, I was expecting to hear some of the songs that made the movie what it was, but redone in a very fun fresh way. When I got there, it was an original score with none of the original songs, which was a little disappointing. Soundtracks are underappreciated. Music helps tell these stories and in particular John Hughes helped launch a lot of British bands in the '80s through his movies.
MOVIEGUIDE:  What do you feel is the magic of John Hughes?
SCHEEL: … The show is divided between two phases of John Hughes:  family classics and teen-driven movies.
We all understand those problems growing up as well. He had such great archetypes through characters in THE BREAKFAST CLUB like the geek, the rebel, the princess, the basket case, and the jock. We all identify with one of those and that's where the universality of his material came from.
I watched my dad laughing and laughing at the VACATION movies, and children have a classic in HOME ALONE. There are universal truths in all his movies, so I think we can identify with portions of his career.
MOVIEGUIDE:  I was surprised and impressed with the fact that the show closes with a real barnstorming gospel rendition of "Joy to the World." How'd that come about?
SCHEEL:  As a closing number for the Coen Brothers show, which had a heavy gospel soundtrack too, due to their film O BROTHER, WHERE ART THOU? When we started looking at the John Hughes holiday show, the rendition of "Joy" is from his remake of MIRACLE ON 34TH STREET.
If you look at those classics, they appeal to families. I thought John's MIRACLE was a really refreshing take on a classic. I remember seeing it with my entire family and being pleasantly surprised that it wasn't a cheesy remake. It pushed all the right buttons, and was about a non-traditional family coming together.
I also grew up in the church and know a ton of gospel songs. A number of actors have strong ties to that music, and one of our performers is married to a minister. This is a show I can bring my church to. A couple words you have to tune out, but we were all teenagers once, and we don't think anyone could take real offense to anything here.
MOVIEGUIDE:  So how can people see the show if they're outside of LA?
SCHEEL:  We have a lot of plans for the series, including bringing it to the South by Southwest Music Festival in Austin in March. The Hughes show will be playing Los Angeles again, and we're in talks to do it in New York, with Chicago on the map.
Note:   For schedule and tickets, visit http://showatbarre.inticketing.com/events and click on the link to "Holiday Road." You might also be able to find discount tickets for the show at https://www.goldstar.com/events/los-angeles-ca/for-the-record-john-hughes-holiday-road. Tickets are normally $35 in advance.