Published: January 26, 2022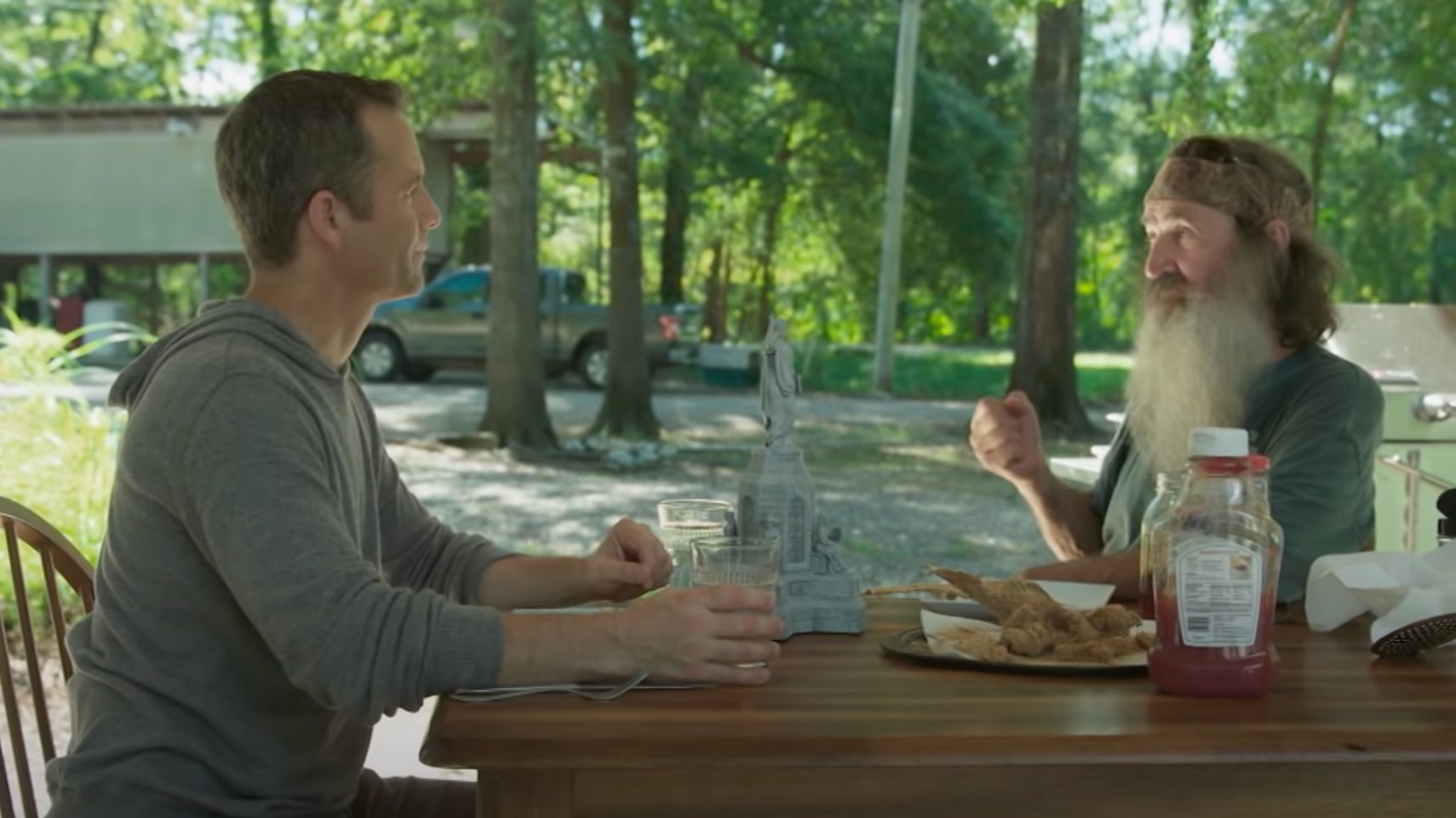 Kirk Cameron, Phil Robertson Talk Faith, Family, America's Future
By Movieguide® Staff
Actor Kirk Cameron recently made his way from Hollywood to Louisiana to talk about faith, family, and America's future with DUCK DYNASTY's Phil Robertson.
Over a meal of freshly caught catfish, Cameron asked Robertson about the current state of America and what the Robertson patriarch would change and where he would start.
"The same place they did: with faith," Robertson responded. "Faith comes from hearing the message, the message is heard through the word of Christ. Without faith one cannot believe in God. Without faith, it's impossible to please God. For anyone who comes to him must believe that he exists and he rewards those who earnestly seek him. So I would start right there and say, 'let me tell you about the story of Jesus.'"
Robertson said that he came to the Lord later in life when he was 28. Despite their different upbringings, both recognize God's grace in saving them from a life of sin.
"It's amazing what different worlds we come from," Cameron said. "I come from Hollywood California and you're in the Louisiana woods, but we have things in common. We love this country. We appreciate and we value the principles upon which it was founded."
"Hollywood meets redneck," Robertson joked.
Robertson, who has four sons, and Cameron, who has three sons, also discussed the importance of teaching their children the Word of God.
"All scripture is God-breathed and is useful for teaching [and] rebuking. Take the scriptures and teach them," Robertson explained. "Take the scriptures and rebuke them."
"If you keep [God's word] in front of them all the time they won't depart… all mine, faithful, godly men," he added. "They got their wives and all their little kids and now they're training their children how I trained them. You need to keep it and that way it becomes generational and you don't lose it in one generation."
Cameron also said that people need to live out their faith and show the love of Christ to the unbelievers around them, whether that be in Louisiana or Hollywood.
"Whether you're out here in Louisiana and you could have the Appearance of religion out here because you got a church on every corner or you could be in a place like Hollywood California, the place that generates a lot of trash that goes out into the world through movies and music and other kinds of things. I think there's an opportunity for everyone to turn their heart to love God and to love their neighbor and I appreciate you devoting so much of your time helping people to do that and talking about it boldly."
"You have to show them through the way you behave," Robertson said. "God's people are the ones who are showing the world what Jesus is like and if we don't do it, where else is it going to come from? If God's people are not going to show the world around us Jesus who's going to do it?"
"It's hard to show them that in two hours on Sunday morning inside a church building," Robertson continued. "They're not inside. Where you work is where you can point them to Jesus, where you work, where you play, that's when you show them. We now have God confined to structures with tall steeples in front of them. It's not enough. You got to have family structures meeting together in their homes where they eat, where they play."