Published: October 1, 2021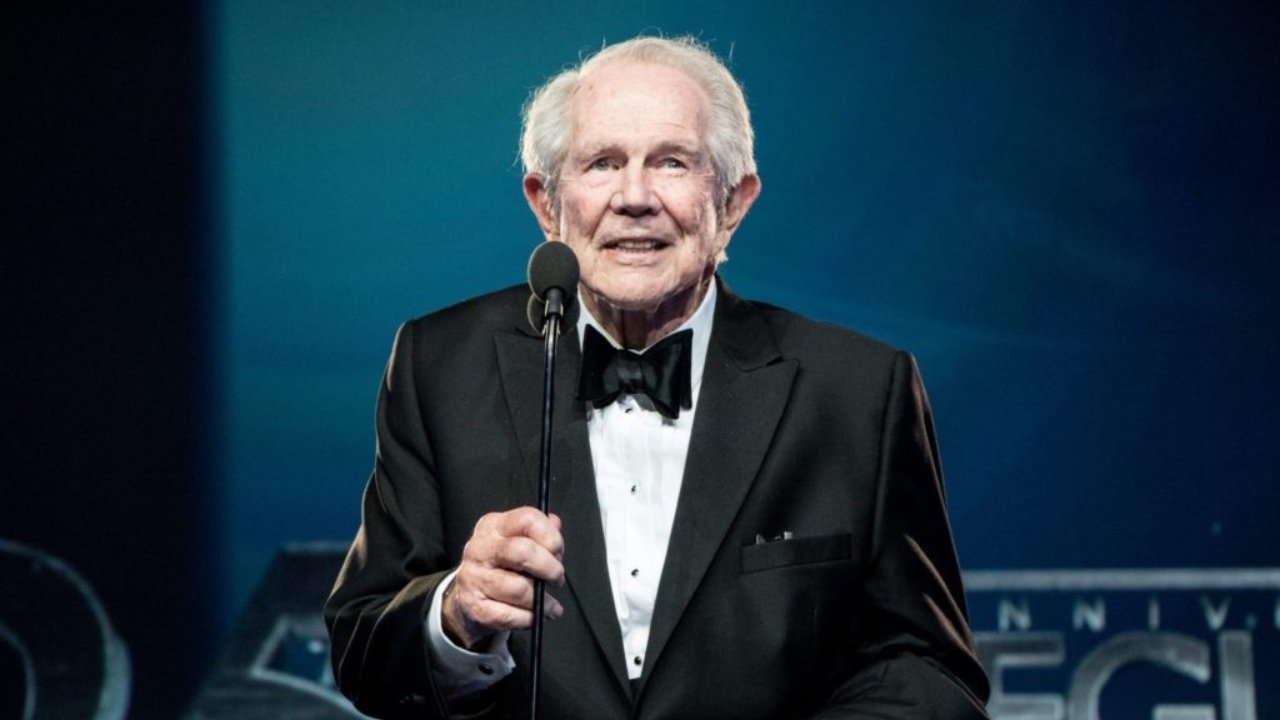 Movieguide® photo
Pat Robertson Steps Down From THE 700 CLUB
By Movieguide® Staff
CBN Founder and 700 CLUB co-host Pat Robertson announced he will step down as the daily host of the long-running television show.
"Today's show will be my final as host of THE 700 CLUB," said Robertson said on October 1, the 60th anniversary of the show's first broadcast. "My replacement will be my very capable son, Gordon, who will take over as full-time host of the program."
Robertson will now be training and equipping Regent University students full-time as they prepare to become "Christian leaders to change the world," according to a CBN report. 
Movieguide® honored Robertson with the Lifetime Achievement Award for Communicating and Living the Good News at the 25th Annual Movieguide® Awards Gala and Report to the Entertainment Industry.
He commended Movieguide® Founder and Publisher Dr. Ted Baehr with these words: "I want to thank you most profoundly for your kindness in giving me the Lifetime Achievement Award by Movieguide. I deeply appreciate the kindness. More particularly, I am most impressed by your analytical approach to persuading the movie industry to move toward more family-friendly films. Without question, you have had a major impact on the industry, and you have done it by brilliant analysis of the statistics which are dear to the industry…how to get more tickets sales at the theaters. May the Lord continue to bless you in this important work and give you ever-increasing influence in this vital work. God bless you and those who work with you. I remain your friend."
Baehr applauded Robertson's work in the industry, as well.
"Pat was a friend for a long time and one of our first Good News Communications, Inc Board of Reference members. I was on one of the first 700 CLUB programs before the beautiful CBN campus was built. His decision to train leaders is wonderful. Multiplying strong Christian leaders is the most important task today," Baehr said.
Gordon honored his father for his commitment to the Christian Broadcasting Network and its programming. 
"'Good and faithful' doesn't even begin to describe my father's service to CBN for 60 years. His legacy and the example of his prayer life will continue to lead THE 700 CLUB in the years to come," said Gordon Robertson, who has served as co-host and executive producer of THE 700 CLUB for two decades. "And the best part is, he is just going across the street to Regent University and will be on THE 700 CLUB regularly in the future."
Robertson is expected to make monthly appearances on the interactive episodes of THE 700 CLUB to answer viewer emails. He will also be available as a consultant on international affairs, CBN says. 
According to a release sent to Regent University students, Robertson's career highlights include:
Exclusive interviews with United States Presidents Jimmy Carter, Ronald Reagan, Gerald Ford, George H. Bush, and Donald Trump
In-depth interviews with a dozen Prime Ministers of the State of Israel, including Yitzhak Rabin Shimon Peres, Menachem Begin, Benjamin Netanyahu, Ehud Barak, Ariel Sharon, and Ehud Olmert.
An interview with nuclear scientist Khidir Hamza, who was in charge of Saddam Hussein

'

s atomic research, during which he learned conclusively that Saddam was unable to manufacture a nuclear weapon, clearly disproving the claim of the existence of weapons of mass destruction by then U.S. President George W. Bush.
Robertson met in Africa with rebel warlord Jonas Savimbi. He also traveled by small airplane to rebel-held Mozambique to interview Afonso Dhlakama, leader of the Army known as RENAMO.
He journeyed to Quetta, Pakistan on the border of Afghanistan and sat on the floor of a tent to speak to leaders of a group known as the Mujahadin which later morphed into Al-Qaeda. Robertson went to hospitals and viewed the suffering caused in the civilian population by Russian atrocities. He was able to predict to his audience the decline of Soviet power resulting from their losses in Afghanistan.
During the span of 1967-85, an intelligence official named John Walker leaked to the Soviets the war plans of the American Atlantic Fleet. No one knew of the source of the leak until a member of the family of John Walker contacted Robertson and appeared on The 700 Club with the identity of the spy who was her father.
Robertson interviewed the Presidents of South Africa, Zambia, Angola, Zaire, Vietnam, and virtually all of the leaders of Latin America.
He traveled to China and brought to his audience an exclusive interview with Prime Minister Zhu Rongji, and on subsequent visits met with the Minister of Poverty Alleviation in China to show the desperate plight of the poor in that nation.
Robertson brought to his viewers fascinating guests such as physicist Edward Teller and futurist Alvin Toffler, and other scientists, authors, statesmen, and composers, as well as providing spiritual teachings, insights, prayers, and inspiration.
Robertson was responsible for replacing the live band on The 700 Club with a segment featuring news and analysis presented by a dedicated news team bringing The 700 Club viewers insight into world events. Today, CBN News is a national/international, nonprofit news organization that provides programming 24 hours a day by cable, satellite, and the Internet. Staffed by a group of acclaimed news professionals, CBN News delivers stories from its headquarters in Virginia Beach and bureaus in Washington D.C., Jerusalem, and elsewhere around the world.