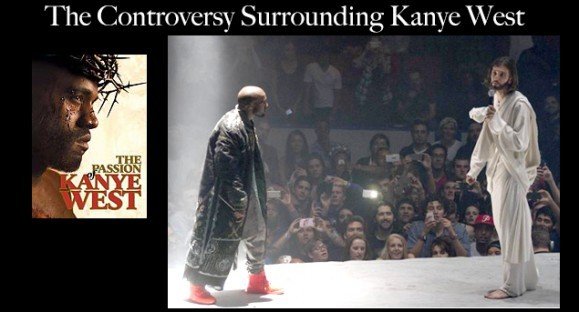 By Diana Anderson-Tyler, Contributing Writer, and Tom Snyder, Editor
Controversial rapper Kanye West is stirring up more controversy this fall.
He recently launched his "Yeezus" tour in Seattle and wasted no time making it clear to critics and fans that his style of performance and proclivity to shock hasn't mellowed in the slightest.
During the Seattle show, West (in an effort to show one of the "awesome things" about Christianity) welcomed an actor wearing white robes and sandals, clearly portraying Jesus Christ, before performing his hit song, "Jesus Walks."
The singer exclaimed, "White Jesus, is that you?!" followed by a four-letter word of irreverent surprise. "I've been waiting for you my whole life," West said.
"I've been here all along," "Jesus" said, adding, "I didn't come here to make bad people feel good. I came here to make dead people alive."
Then, "Jesus" tells West to tell the people about "the light" and about "the light in you."
Finally, West, accompanied by a group of back-up dancers, proceeded to bow to the Jesus figure as He looked down at them from a mountaintop.
In a radio interview with the Bay Area's Wild 94.9, West said he consulted with a pastor friend of his before kicking off his tour, and added that his "girl" – presumably Kim Kardashian – asked if such an act would be "weird." He assured her that "we [Christians] do plays all the time where people play Jesus."
West is correct that Jesus has been depicted in movies, television programs, art, illustrations, and stage productions. Also, the comment by the Jesus character in his show that Jesus came to Earth to make dead people alive echoes passages of Scripture, such as Ephesians 2:1:5 and Christ's own words in Luke 19:10.
However, Jesus wants us to offer people the light in Him, not the light in ourselves. Also, there's an aspect to West's stage presentation (and perhaps in his lifestyle) that seems grossly devoid of the respect, inspiration, and holy awe that reflect the best depictions of Jesus in the arts and the mass media (for a non-exhaustive list of many of the depictions of Jesus in the movies, see our article at https://www.movieguide.org/news-articles/a-brief-chronological-survey-of-some-of-the-major-movies-a-tv-programs-featuring-jesus.html).
Also, compare the lyrics between those of West, aka "Yeezy," and those of one of his contemporaries, Christian hip hop artist LeCrae.
In the song "I am a god" (need I say more?), West raps, "Hurry up with my d*** massage/Hurry up with my d*** ménage/Get the Porsche out the d*** garage. . ."
He wrote the song after being denied access to a few shows at Paris Fashion Week last year, likening the rejection to "blasphemy" in an interview with W Magazine.
Perhaps Mr. West would be wise to humble himself and take a listen to a song LeCrae wrote and recorded called "Don't Waste Your Life." The lyrics explicitly mention Luke 12:15-21, a passage that begins with the warning, "Beware! Guard against every kind of greed. Life is not measured by how much you own" (NLT). It goes on to explain the parable of the wealthy fool who lived his life by the adage, "Eat, drink, and be merry" instead of building an eternally rich relationship with God through Jesus Christ, by the power of the Holy Spirit.
Editor's Note:  Diana Anderson-Tyler is the author of Creation House's Fit for Faith: A Christian Woman's Guide to Total Fitness. Her popular website can be found at www.fit4faith.com, and she is the owner and a coach at CrossFit 925. Diana can be reached on Twitter.
– Source:  The Hollywood Reporter, 10-20-13; Christian Post, 06-25-13.