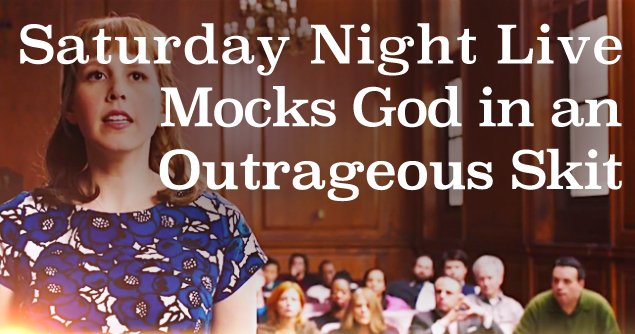 Saturday Night Live Mocks God in an Outrageous Skit
By Diana Tyler, Contributing Writer
We're told in Scripture that in the last days, "scoffers will come, mocking the truth and following their own desires." Last week, "Saturday Night Live" helped prove this prophecy true.
In the faux movie trailer outrageously titled "God is a Boob Man," SNL mocked both the new Christian film GOD'S NOT DEAD 2, as well as multiple court cases related to religious freedom. The production features a baker who is sued for refusing to make a wedding cake for a homosexual couple, alluding to the real-life case in which Colorado baker Jack Phillips was found guilty of discrimination.
After being pressured by an aggressive, Jewish, ACLU attorney to declare "God is gay," the fictional baker, Beth, must prove to the courtroom – and by extension, the nation – that God is heterosexual. Unsuccessful, Beth reaches out to a southern-accented governor who immediately dismisses a meeting about his impoverished state (an advisor announces that the state is "second in obesity and third in teenage pregnancy"), and proclaims that Beth's case is now the top priority, insinuating that right-wing politicians would rather spend their time oppressing and disenfranchising minority groups than pursue humanitarian endeavors.
The final clip of the trailer shows Beth standing before the judge and triumphantly exclaiming, "God is A BOOB MAN!!!!" That is just one of the sketch's mockery-laden moments. Halfway through it, an elementary school teacher is shown standing in front of a chalkboard from which hangs a huge poster of a seductive, half-naked depiction of God with a rainbow necklace around his neck and only a cloud concealing his genitals. Written on the board are the irreverent words, "Things God Loves: Gaga, Brunch, Drama." The next frame features a Methodist church's sign, which reads, "Today's Sermon: Yasss Kween!"
Websites such as thebraiser.com are hailing the spoof as the best of the season, again serving as a sign of the godless times in which we are living.
Daily Wire writer Chase Stephens jokingly reported that after the "God is a Boob Man" trailer, the SNL cast performed subsequent sketches mocking Jewish bakers refusing to make neo-Nazi cakes, black bakers refusing to make KKK cookies, and fundamental Islamic bakers refusing to make anything associated with the state of Israel or let their women drive, vote, or be seen in public. Putting shrewd rhetoric to use, Stephen astutely highlights the increasing double standard by which the media, and the entertainment industry in particular, have no trouble poking fun at and disrespecting Christians, but refrain from even remotely offending other groups and belief systems. I don't mean to imply that they should vilify others, but rather that the repeated targeted attacks on Christians are just that – bigoted and targeted…
Entertainer Pat Boone, who starred in GOD'S NOT DEAD 2 accused Saturday Night Live of "sacrilege", stating they they "went over the line, and believers in God deserve an apology."
Whether they'd ever admit it or not, non-Christians who create and partake in such mean-spirited, blasphemous "entertainment" are motivated not by their hatred of believers, but by the One in whom we believe. The darkness is repulsed by the light and will do everything it can to suppress it. Jesus said it plainly:
"If the world hates you, keep in mind that it hated me first.  If you belonged to the world, it would love you as its own. As it is, you do not belong to the world, but I have chosen you out of the world. That is why the world hates you" (John 15:18-19, NIV).
When we see such brash expressions of scorn and hatred, it is easy to let our flesh fill us with emotions of anger, disgust, and bitterness. Our first impulse might be to encourage all of our friends to boycott "Saturday Night Live" and flood social media with retaliatory tweets and posts. This brings to mind one of the positive aspects of the mounting persecution we're seeing, namely that opposition should serve as an opportunity to shine and show Christ's love to a lost and hurting world.
We would do well to remember Jesus' words to his disciples in Matthew 5:44-45:
"But I tell you, love your enemies and pray for those who persecute you,  that you may be children of your Father in heaven" (NIV).
One of the chief characteristics of born-again believers is our ability to return malice with mercy, coldness with compassion, and persecution with prayers. That Hollywood is taking jabs at courageous Christians and God-honoring movies is testament to the fact that the Gospel is going forth, changing lives, and therefore meeting critics, cynics, skeptics, and plenty of scoffers. Let us pray for every Goliath that comes against us, and show them the grace and love that has been so lavishly poured out on us.
Sources: thebraiser.com (April 18, 2016); dailywire.com (April 18, 2016)
Diana Anderson-Tyler is the author of multiple books on Faith and Fitness and she is a co-owner and coach at CrossFit 925. Diana can be found on Twitter here.
Now more than ever we're bombarded by darkness in media, movies, and TV. Movieguide® has fought back for almost 40 years, working within Hollywood to propel uplifting and positive content. We're proud to say we've collaborated with some of the top industry players to influence and redeem entertainment for Jesus. Still, the most influential person in Hollywood is you. The viewer.
What you listen to, watch, and read has power. Movieguide® wants to give you the resources to empower the good and the beautiful. But we can't do it alone. We need your support.
You can make a difference with as little as $7. It takes only a moment. If you can, consider supporting our ministry with a monthly gift. Thank you.