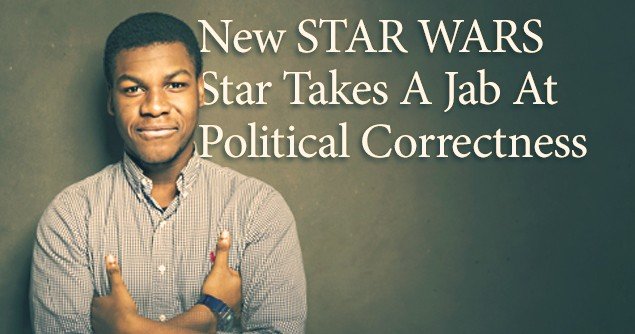 New STAR WARS Actor Takes Jabs at Marvel's Political Correctness
By Ben Kayser, Managing Editor
Tuesday morning, breakout star John Boyega who has a leading role in the upcoming STAR WARS: EPISODE VII, went on a tongue-in-cheek rant against political correctness regarding recent Marvel Comics news.
Recently, Marvel made two announcements regarding two pivotal Avengers characters who'll be stepping down from their heroic duties in the print versions of their comic book characters.
As announced on The View, a woman is replacing the male character Thor, but she will carry on his name and legacy in the comics, even though, in Norse mythology, Thor was male. Later, it was revealed that Steve Rogers is setting down his shield as Captain America and his good friend and ally Sam Wilson aka The Falcon, an African American character, will take over.
John Boyega took to the Twitter-Verse and wrote, "So Captain America will be a black man! Erm okay. . . Can we have character information, origin story and Steve Rogers comparison." He continued, "There is no need to emphasize the 'black' man. Falcon has been by Steve's side for some time."
Marvels decision isn't comical (pun intended) and ridiculous because they are switching up the race and gender of two popular superheroes (though, making Thor female does pose some questions). What's so silly about Marvels "huge" decision and what John Boyega points out on Twitter is that they're caught up in their own political correctness. Instead of telling positive, inspiring stories for everyone, they have decided to appease as many advocacy groups as they can. A few minutes later, Boyega sarcastically used the new Marvel movie GUARDIANS OF THE GALAXY as an example.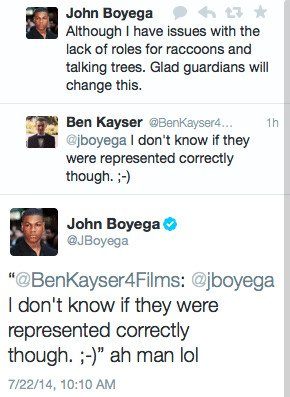 Sam Wilson taking over for Captain America makes a lot of sense for Marvel, but the way they told the world reveals just how out of touch they are with the majority of Americans. We didn't watch CAPTAIN AMERICA:  THE WINTER SOLDIER because Steve Rogers was white or male. We didn't watch and love THE HUNGER GAMES:  CATCHING FIRE because Katniss was female. People all over the world love stories that give them hope regardless of race and gender.
Let's stop pandering to people out of fear. If Marvel tells good, uplifting, moral, and family-friendly stories, none of the other stuff matters.
Boyega wrapped up his thoughts on the subject by tweeting, "Steve Rogers will always be my favorite Cap. Will defo [definitely] miss Sam as Falcon."