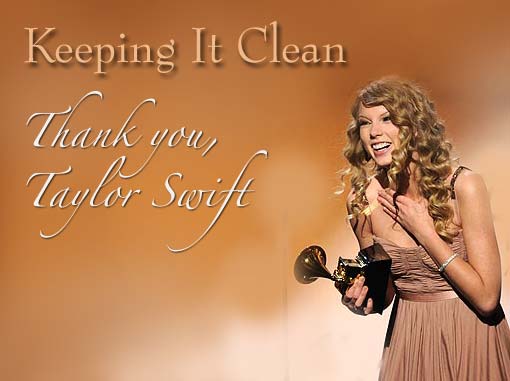 By Donna Miller, Contributing Writer
In an era of porn-laden images in music videos and lyrics, I am thrilled to see the success of the young country star, Taylor Swift. And how successful is she? She's a four-time Grammy winner, and was just named Billboard's 2011 Woman of the Year. Her latest album "Speak Now" sold more than a million copies in its first week of release. She also broke Beyonce's record for most Top 40 singles by a female artist in the past decade. Not bad for a 21-year-old farm girl from Pennsylvania.
Swift, a 5'11" slender blonde, is a multi-talented singer/songwriter who lets her talent speak for itself – not some trashy video or concert behavior that would make an adult blush. She actually wears clothes – on and off stage. Her statements to the world are made with her music – not a magazine cover showing off her nude attributes.
Nor does she plan to go nude in the future. In an interview by the UK's Telegraph, she said, "It's just a life decision. I like wearing pretty dresses, and I like trying out new styles, but I don't feel comfortable taking my clothes off. I wouldn't wear [a] tiny amount of clothing in my real life, so I don't think it's necessary to wear that stuff in photo shoots."
While much of her music is now more pop than country, she's light years away from the sex-saturated images of pop music's female porn queens. The Telegraph says her lyrics "are wholly unlike the banal sexual come-ons that crowd the music of most of her contemporaries. Her image, too, is about as far away from Rihanna or Lady Gaga as you can get."
Like all of us, Swift has her imperfections. Unlike one of her former boyfriends, Joe Jonas, she does not wear a chastity ring. Some of those relationships and disappointments in life are poured out in her songs. That's one of the reasons why young girls connect with her.
She also doesn't seem to have the inflated ego of many musicians. While some stars insist that they made themselves, Swift takes the time to "meet and greet" her fans for hours. That's rare access to a major star, and her fans love it.
As a parent of a daughter and a child advocate, I appreciate the following actions (and in some cases, inactions) on her part:
— not posing nude in photo shoots;
— not using vulgar language (in life or music);
— using mostly clean lyrics;
— wearing modest clothing; and,
— being generally polite and nice to people.
Parents will be able to take their child to a Swift concert and not introduce them to simulated sex acts or pornography. What a concept!
Thank you, Taylor Swift, for giving consumers clean options. And, special thanks to her parents for raising a secure and confident child not screaming for attention through exhibitionism. She is an amazing breath of clean and fresh air.