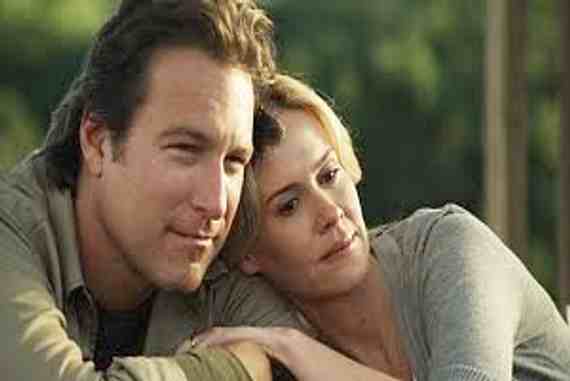 Quality: * * * * Acceptability: +1
Language: None
Violence: None
Sex: None
Nudity: None
RATING: TV-G
RELEASE: November 28, 2010 at 9 p.m. ET/PT on CBS-TV
TIME: 100 minutes
STARRING: Sam Elliott, Karen Allen, John Corbett, Sara Paulson, Emily Alyn Lind
DIRECTOR: Robert Harmon
PRODUCERS: David Rosemont
EXECUTIVE PRODUCERS: Brent Shields
WRITER: P'Nenah Goldstein
BASED ON A SHORT STORY BY: Greg Coppa
DISTRIBUTOR: Hallmark Hall of Fame
CONTENT: (CC, FR, BBB) Strong Christian worldview, very slightly marred by mentions of magic and celebration of Halloween, but very strong moral elements stressing love and giving; no foul language; no violence but girl is dying of cancer; no sex; no nudity; no alcohol use; no smoking; and, nothing else objectionable.
GENRE: Drama
INTENDED AUDIENCE: Older children to adults
REVIEWER: Dr. Ted Baehr
REVIEW: NOVEMBER CHRISTMAS is a heartfelt, well-made Hallmark Hall of Fame movie.
It opens with a young woman coming to a small town to read her new children's book in a library to a group of young children. The little girl in the front asks the woman what the story is about and she says that it is a surprising story of Christmas magic.
Cut to the story itself as Tom Marks and his wife, Beth, bring their daughter home from the hospital with their son, her brother Gordon. The daughter, Vanessa, has a very serious form of cancer. Her mother is so concerned she just wants her to rest. Her father Tom wants to give her a good life, so he plans an


early Halloween and then an early Christmas.
Of course, in the middle of August, there are no pumpkins and no Christmas trees. However, a local farmer, Jess Sanford, married to the local librarian, Claire, lost his son when he was 9, so he's determined to help Tom celebrate the holidays before Vanessa is supposed to die. In the process, Jess gets over his anger at God and goes to church to ask the priest to pray for Vanessa. The priest tells him that God has never given up on him and listens to his prayers.
It almost looks like Vanessa is about to die at the Halloween Party and then the gigantic Christmas surprise transforms everyone.
Whatever approach toward scriptwriting study you take, it should be pointed out that there are only a limited number of plots and themes. Hallmark does a great job of presenting heartfelt themes that many people think they know. The acting by Sam Elliott is absolutely terrific.
NOVEMBER CHRISTMAS also has strong evangelistic content and a positive portrait of church. It's also full of examples of caring and giving.
The only negative is that a big deal is made about this being a story about magic when it's actually a story about faith in God. Also, Halloween becomes a big deal, though there's nothing occult in this movie's handling of it.
NOVEMBER CHRISTMAS is a deeply moving Hallmark Hall of Fame movie which is highly recommended by MOVIEGUIDE®, as long as parents are careful to explain the difference between faith and magic to their children.
Please address your comments to:
Brad Moore, President
Hallmark Hall of Fame Productions
12001 Ventura Place, Suite 300
Studio City, CA 91604
Phone: (818) 505-9191
Fax: (818) 505-9842
Do you enjoy articles like this?