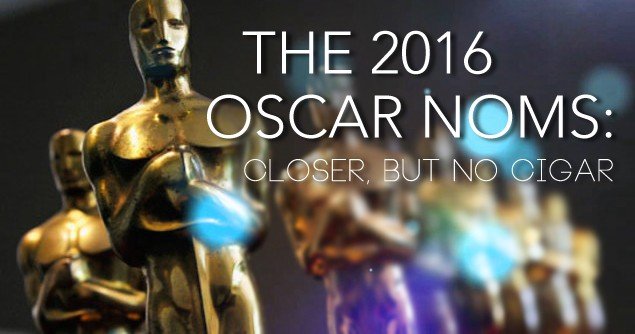 The 2016 Oscar Noms:
Closer, But No Cigar
By Dr. Ted Baehr, Publisher
Looking at Thursday's Oscar nominations, the Oscar folks continue to snub great, family-friendly movies such as CINDERELLA, HOME, THE GOOD DINOSAUR, MAX, WAR ROOM, and THE PEANUTS MOVIE.
However, this year they did nominate some redemptive movies and inspiring performances. That said, most of those nominations were still movies that Movieguide® rated with an "extreme caution."
Thus, for example, while the Academy did nominate family-friendly Movieguide® Award nominee INSIDE OUT for Best Original Screenplay and Best Animated Feature Film, SHAUN THE SHEEP MOVIE for Best Animated Feature Film, and Jennifer Lawrence for her inspiring performance in JOY, it also nominated redemptive movies like Movieguide® Award nominees THE MARTIAN and BROOKLYN and the redemptive science fiction movie MAD MAX:  FURY ROAD, which we gave an "extreme caution" to because of foul language, violence and some other content problems.
Also, Oscar nominations went to Matt Damon's inspiring performance in THE MARTIAN, to BROOKLYN and THE MARTIAN for Best Adapted Screenplay, and to Sylvester Stallone in CREED for Best Supporting Actor.
That said, some really awful, anti-family and deceitful movies received some Oscar nominations, including the pro-communist false history of TRUMBO, the linguistically challenged and silly attack on traditional family values THE DANISH GIRL, the depressing animated porn show ANOMALISA, and the misleading report on the causes of the 2008 financial crisis, THE BIG SHORT.
However, if you really want to see a family-friendly award show, tune to the REELZChannel on Feb. 22 and 24 to see the 24th Annual Movieguide® Faith & Values Awards Gala, which honors the Best Movies for Families, the Most Inspiring Movie and TV Program, and the Most Inspiring Acting for 2015 Movies and TV.
The show will air 4 pm Pacific Time and 7 pm Eastern Time Feb. 22 and 9 pm Pacific Time and 12 Midnight Eastern Time Feb. 24 on the REELZChannel.
Last year, many people called and wrote us to say the Movieguide® Awards were the best produced, most entertaining, most inspiring awards show of the whole season!
The theme for this year's Awards Gala, which takes place Feb. 5 at the Universal Hilton Hotel in Los Angeles, is "Home and Heart."
For more information about Movieguide® or the Awards Gala, visit www.movieguide.org or call 1-888-248-6689.