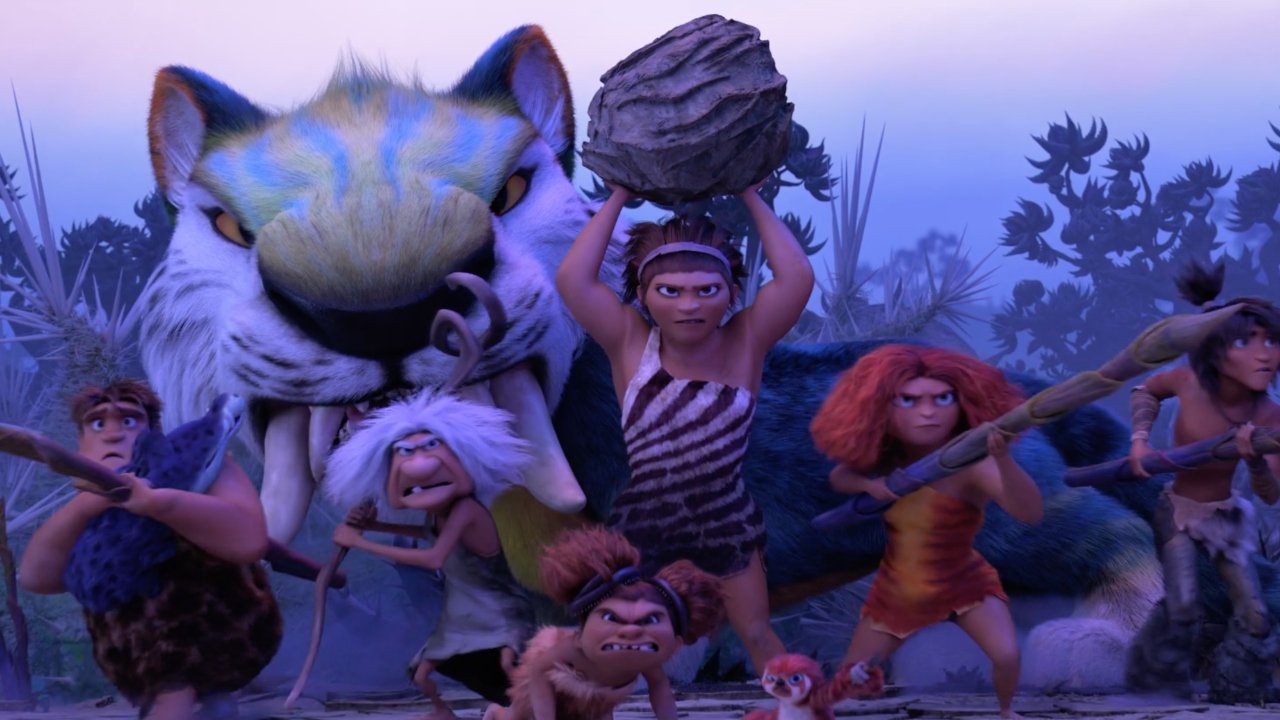 THE CROODS: A NEW AGE Has Many Moral, Biblical Lessons
By Movieguide® Staff
Editor's note: This is a portion of our review for THE CROODS: A NEW AGE. To read the full review, click here.
In THE CROODS: A NEW AGE, the prehistoric Crood family meets a family named the Bettermans, who challenge the Croods on everything. THE CROODS: A NEW AGE is a very funny, heartwarming movie that the whole family can enjoy, with moral messages throughout the story.
One day the Crood family meets Guy, a teenager who falls in love with their daughter, Eep. One evening, Guy asks Eep to marry him and have a life adventure, away from her family. Eep's father, Grug, overhears the conversation and is not pleased. His goal now is to get rid of Guy, not because Guy is a bad guy, but because he doesn't want to lose his beloved daughter, Eep.
Grug walks around trying to figure out how to solve this problem and comes across a huge wall. In the morning, Grug wakes the family up and shows them that beyond the wall is a beautiful garden of luscious food. As the entire family munches on the delicious food, Grug reaches for a banana and is caught in a trap. It is a couple that traps Grug, but soon they recognize Guy and let Grug go. They have been looking for Guy for years and years, and Guy has been looking for them.
The couple introduces themselves as the Bettermans and invite the Croods into their house. Their house is like an oasis where everything seems a little better. Grug is now thinking that Guy can stay with the Bettermans, and he won't have to give away his daughter. Eep becomes sad, however, that Guy is getting accustomed to a comfy lifestyle and acting like he doesn't want the adventure she craves. At the same time, the Bettermans are scheming for their own daughter to marry Guy.
Will Eep and Guy stay together or will Grug and the Bettermans get their way, and succeed in splitting up the couple?
THE CROODS: A NEW AGE is an extremely funny movie with great dialogue. Also, the movie has a very entertaining plot line, with silly characters that reminds audiences of their own place in their own families. The movie has some creative animation, but some of it assumes naturalistic evolution. Despite this, the theme of evolution isn't explicitly mentioned or discussed.
A NEW AGE has many moral, biblical lessons. The movie shows that commitment and marriage are good things. It also has a beautiful message about fatherhood and children. Overall, the movie stresses the importance of family and sticking together as a family. It also stresses love, forgiveness, sacrifice, and community. THE CROODS: A NEW AGE does have brief allusions to evolution and some slapstick violence where characters hit each other and sticks fly into one character's eye twice. So, MOVIEGUIDE® advises caution for younger children.
This is a portion of our review for THE CROODS: A NEW AGE. To read the full review, click here.