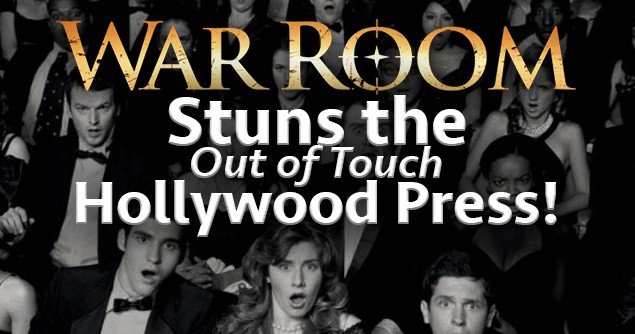 WAR ROOM Stuns The Out of Touch Hollywood Press!
The $3 million Kendrick Brother's WAR ROOM opened with an $11 million weekend, crushing all competition with a per screen average of $9,692.
NO ESCAPE, costing $5 million, opened to $8.2 million with a $2,470 per screen average. WE ARE YOUR FRIENDS starring Zac Efron, costing $6 million, opened to $1.8 million and a $772 per screen average.
A Variety Magazine article is topped "'War Room' Stuns with $11 Million." It quotes Paul Dergarabedian, senior analyst at Rentreck, who said, "These are the kind of outlier events that happen and wake everyone up to the fact that faith-based audiences are passionate and looking for content."
Variety reported that WAR ROOM was projected to debut in the $4 to $5 million range, so it more than doubled expectations! Variety also noted that WAR ROOM tripled its production budget on opening weekend – a rare feat for any movie.
In a second article explaining the success of WAR ROOM, Variety's Bret Lang writes:
"Outside of evangelical circles, the names Alex Kendrick and Steven Kendrick are likely to be met with blank stares. But, thanks to low-budget hits like FIREPROOF and COURAGEOUS, the brothers have transformed themselves into Steven Spielberg's of Christian cinema. Their names above the title are enough to open movies that are firmly pitched to the faithful."
Asked about the poor secular reviews the Kendrick's movies get, Alex Kendrick, who is a friend of MOVIEGUIDE(r) and once was the MOVIEGUIDE(r) radio engineer for a few programs, told Variety, "Critics in Hollywood are rough with us. They don't understand why we make our movies or our worldview. But, our target audience gets them, and that's who we want to draw closer to a walk with God."
WAR ROOM's success is no surprise to Movieguide®. Christian want movies with a clear call to know God's love and to draw closer to God.
To the Kendrick's credit, they do not soften their Gospel message to try to expand their reach to secular audiences. The Kendrick's movies actually do reach secular audiences, in part, because enthusiastic Kendrick movie fans share the movies with secular friends. The subjects of saving marriages and families are profoundly needed.
At the same time, one hopes and prays that the Kendrick brothers will continue to try to improve the dramatic quality of their movies, so that even the secular critics are impressed.
The lesson the Kendrick Brothers are teaching is that if you'll humble yourself before God and create movies that profoundly glorify Him, God can give you favor with audiences.