"Home Sweet Home"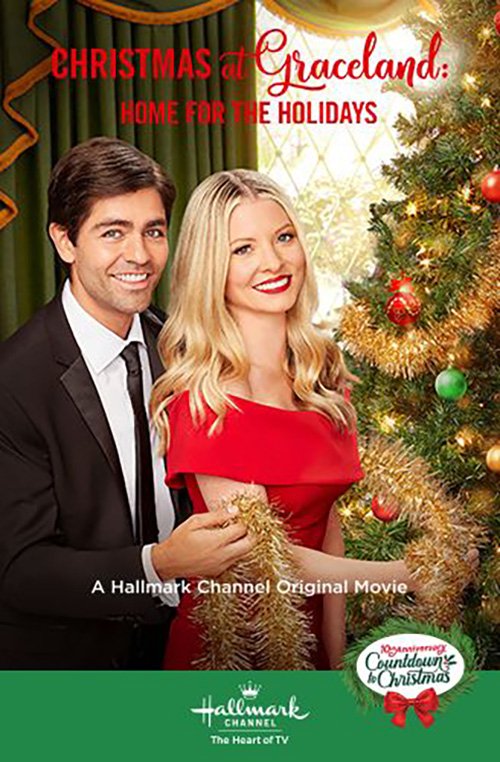 | | None | Light | Moderate | Heavy |
| --- | --- | --- | --- | --- |
| Language | | | | |
| Violence | | | | |
| Sex | | | | |
| Nudity | | | | |
What You Need To Know:
CHRISTMAS AT GRACELAND: HOME FOR THE HOLIDAYS is a romantic Christmas television movie. Harper, a world traveler, is home for the holidays. She meets Owen, a handsome and successful widower with three children. The children are immediately drawn to Harper's whimsical, creative ways. Owen needs help. Harper agrees to be a nanny for the family during the holidays. Owen insists on sticking to a rigid schedule for the children. Harper manages to charm him into a new way of thinking. Harper helps Owen find the meaning of family time and Christmas "presence." Owen helps Harper discover what she's wanted all along, a family. The future is uncertain when Harper is offered her dream job.
CHRISTMAS AT GRACELAND: HOME FOR THE HOLIDAYS lives up to what we expect from Hallmark Christmas movies. It wonderfully echoes some of the situations and themes of the classic movie THE SOUND OF MUSIC. It has some wonderful, touching moments about true love, family relationships, giving, and meaning of Christmas. CHRISTMAS AT GRACELAND: HOME FOR THE HOLIDAYS is a great television movie for the whole family.
Content:
(CC, BB, A):
Dominant Worldview and Other Worldview Content/Elements:
Strong Christian, moral, pro-family worldview stressing the importance of supportive friendships, helping others, togetherness, and home, with a Christmas carol sung at an important point that focuses on the reason for the season, Baby Jesus
Foul Language:
No foul language
Violence:
No violence
Sex:
No sexual content
Nudity:
No nudity
Alcohol Use:
Some cocktails at a party
Smoking and/or Drug Use and Abuse:
No smoking or drugs; and,
Miscellaneous Immorality:
Nothing else objectionable.
More Detail:
CHRISTMAS AT GRACELAND: HOME FOR THE HOLIDAYS is about a woman home from Europe for the holidays and a widowed businessman with three children who lead two separate and extremely busy lives but fall in love unexpectedly and find the meaning and magic of Christmas together. HOME FOR THE HOLIDAYS is a feel-good, heartwarming story about the importance of family and Christmas.
After spending several years overseas, Harper comes home to Memphis, Tennessee for the holidays. Harper delights her sister and family with cultured tales of her adventures abroad as a Museum Curator. Harper hopes to land her next big job in London at an international museum. In the meantime, she enjoys holiday time with family while she awaits the museum's decision on whether or not to hire her.
Harper has endless amounts of energy and a knack for over-commitment when it comes to helping others with creative projects. She volunteers at Graceland, the home and museum of Elvis Presley, as a tour guide, where she meets a successful and attractive widower, Owen, and his three children. In her typical, captivating way, Harper wins the children over immediately. Owen is in over his head with his rapidly growing technology business and caring for the three children. Harper agrees to be the family's nanny for the holidays.
The children love their new nanny's style of creativity and fun family time. However, Owen is not that happy when Harper doesn't follow the rigid schedule he has in place for his children. Harper apologizes and somehow manages to continue on in her spontaneous style. She works hard to show Owen the importance of family time and Christmas "presence."
At the same time, Harper helps her friend, Regina, plan a Christmas celebration at Graceland. The party's theme is focused around Elvis and the emphasis he put on Christmas and the importance of family. Owen simultaneously plans a party to raise money in order to provide free early diagnosis equipment for hospitals. His plans are threatened when he realizes his party is a duplicate of a party that's already been thrown with the same guest list. Even with all of her charm, it's uncertain if Harper can save the day. Things become even more when Harper receives the offer for her dream job.
CHRISTMAS AT GRACELAND: HOME FOR THE HOLIDAYS is a very festive, heartwarming story about the importance of family. There are also some nice messages about keeping your heart open to love after you have experienced loss. This Hallmark original story has the ingredients to instantly put viewers in the Christmas Spirit. It avoids some of the pitfalls of superficial holiday movies and includes some depth and meaning. One scene that grabs your heart is when Harper sings an authentic Christmas carol with the children, which includes the traditional words of OH CHRISTMAS TREE, including "and angel's song of holy babe in manger low, the story of so long ago." Bring on the Christmas magic with CHRISTMAS AT GRACELAND: HOME FOR THE HOLIDAYS, and bring the family, too. This is a great movie for the whole family.