"Crazy Rich Comedy with a Heart"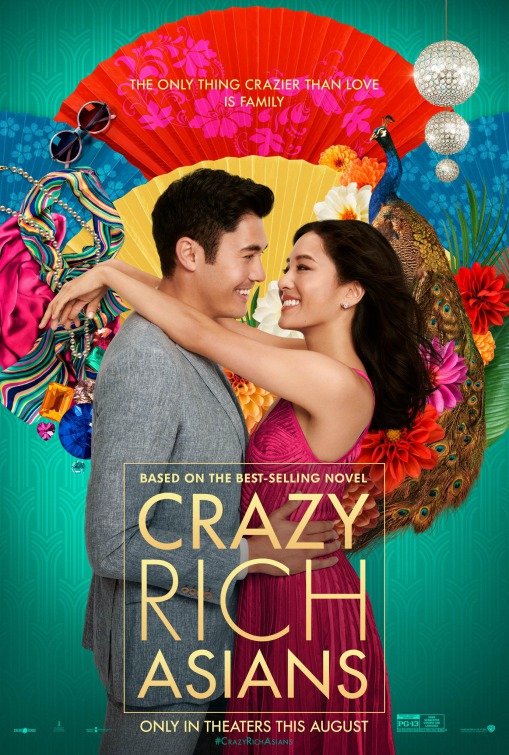 | | None | Light | Moderate | Heavy |
| --- | --- | --- | --- | --- |
| Language | | | | |
| Violence | | | | |
| Sex | | | | |
| Nudity | | | | |

What You Need To Know:
CRAZY RICH ASIANS is a comedy about Rachel, a beautiful Chinese economics professor at New York University in love with Nick, a handsome young man from Singapore. Nick invites Rachel to come to his best friend's wedding back home and, at the same time, meet his family, including his mother. On the plane to Singapore, Rachel learns that Nick's family is rich, but only in Singapore does she learn his family is one of the ten richest Asian families in the world. Making matters worse, Nick's mother takes a couple moments to make sure Rachel knows that she'll never let Rachel become part of the family. Will Rachel fight back?
Based on a bestselling 2013 novel, CRAZY RICH ASIANS is a very enjoyable, funny, crowd-pleasing movie, with strong emotional, heart-tugging moments. The performances are also really good. Happily, CRAZY RICH ASIANS has several surprising Christian, biblical references. It promotes a redemptive attitude of goodwill toward other people, despite their social differences. However, it's marred by some strong foul language and sexual references. So, MOVIEGUIDE® advises strong, extreme caution for CRAZY RICH ASIANS.
Content:
(C, BB, Ro, Pa, Acap, Ho, LLL, V, S, N, A, DD, M):
Dominant Worldview and Other Worldview Content/Elements:
Light, somewhat implied Christian worldview with some strong moral elements containing overt biblical references, a church wedding is officiated by a Christian pastor who isn't given any lines, an overt reference to Ephesians 6:4 (but the verse isn't quoted), Colossians 3:1-2 is read in one scene ("Since, then, you have been raised with Christ, set your hearts on things above, where Christ is, seated at the right hand of God. Set your minds on things above, not on earthly things"), and stained glass windows shown, but mitigated by some Romantic elements, one or two references to pagan superstitions, some immoral pagan behavior, some apparent anti-capitalist elements as super-rich people are shown sometimes to be mean and prejudiced, and some overt homosexual elements where one effeminate male character admits he's homosexual to the female lead when they meet and girl's father says his young adult daughter looks like a lesbian celebrity because of her short blonde hair, but otherwise there's no other indication that the woman is herself lesbian;
Foul Language:
23 obscenities (two "f" words), three strong profanities, and seven light profanities;
Violence:
Woman accidentally spills drink on man's shirt, some jealous women have placed a dead fish on woman's pillow and written a nasty insult behind the bed, a scuffle occurs in the background, and an older woman says her husband was abusive;
Sex:
Implied fornication in one scene, unmarried couple sleeps together on plane in special first-class bedroom, one effeminate male character, who helps the female lead at one point, admits he's homosexual when she meets him, a reference to a lesbian celebrity, but her sexual behavior is not mentioned, large bachelor party features many girls in bikinis, man caught fooling around with girlfriend of one of lead male character's cousins, some passionate kissing, it's mentioned that a woman with an abusive husband had a child out of wedlock with another man who helped her escape from husband, and a geeky older teenage boy has a crush on his older sister's female friend;
Nudity:
Upper male nudity and images of women in bikinis at bachelor party;
Alcohol Use:
Alcohol use, including at raucous wedding reception and at a bachelor party;
Smoking and/or Drug Use and Abuse:
A mention of cigars and an unlikeable character says the word "drugs" in one brief conversation, but nothing is shown; and,
Miscellaneous Immorality:
Snobbery and prejudice but rebuked, rich young women are jealous of rich man's girlfriend who isn't rich like them, woman falsely accused of being a golddigger, some gossip, some lying, and some people are mean to others, but it's not endorsed.
More Detail:
Are these Rich Asians crazy, or just crazy rich? Or, maybe a little bit of both? After watching the movie CRAZY RICH ASIANS, it would seem that the latter question is the correct answer.
CRAZY RICH ASIANS is a comedy about a beautiful Chinese economics professor at New York University, in love with a handsome young man from Singapore, who discovers her beau is heir to a massive fortune and has a stern mother back home who doesn't approve of their relationship. For the most part, CRAZY RICH ASIANS is a fast-moving, crowd-pleasing comic soap opera. It has a fun cast and touching, uplifting moments, including a few surprising Christian references, but it's marred by some strong foul language and sexual references.
The movie opens in 1995 with young Nick Young arriving at a fancy London hotel with his mother, Eleanor. Nick's father is conducting some business nearby and will be arriving later. Although Eleanor made a reservation by phone, the snooty hotel staff refuses to acknowledge it, because the family is Chinese (Nick's rich paternal Chinese grandmother married an English doctor named Young). Eleanor refuses to leave, however, and insists on seeing the hotel owner, who lives in the penthouse. The owner comes down and informs the staff that Eleanor's wealthy husband just bought the hotel. The staff stands in shock as the now former owner takes the Young family to their suite.
Cut to 2018 in New York. Nick and his girlfriend, Rachel Chu, are enjoying some dessert at a restaurant. Nick wants Rachel to join him in Singapore to attend his best friend's wedding and meet his family, especially his mother and his mother's elderly stepmother. Two young Chinese women in fancy dresses recognize Nick and hear Rachel's name. They immediately get on their smartphones, and, before you know it, all of Nick's extended family, friends, and jealous wannabe girlfriends get texts about Nick's new love interest. Who is this Rachel Chu?
Of course, word gets back even to Nick's mother, Eleanor, who's conducting a Bible study on Jesus Christ and Ephesians with a few female friends and family members. As a result, Eleanor's not surprised when Nick calls his mother to inform her he's bringing Rachel with him. However, she insists Rachel stay at a hotel and even lies to Nick about their family home being renovated to ensure that Rachel doesn't stay with the family.
At the airport, Rachel gets an inkling of how rich Nick's family really is when she learns they're flying first class and will even have a room on the plane to sleep during the long flight to Singapore. Rachel doesn't know the half of it about Nick's family, however.
In Singapore, Rachel gets to meet all of Nick's rich friends and family members, including several crazy rich cousins, one of whom turns out to be an outgoing, humorous homosexual who serves as the family's Man Friday. Rachel has already met Nick's female cousin, Astrid, a fashion celebrity who's married to a self-made businessman and workaholic, Michael.
On several occasions, Nick's mother makes it clear to Rachel that Rachel is unfit to become part of the family. During the bachelorette excursion party to a nearby island resort, Rachel also discovers that the rich girls in Nick's circle of friends secretly believe she's just a golddigger. Meanwhile, Nick tells his best friend about his plans to pop the question to Rachel and ask her to marry him.
Can Nick and Rachel's love survive the backlash against it from Nick's mother and from the wealthiest community in Singapore?
Based on a bestselling 2013 novel, CRAZY RICH ASIANS is a very enjoyable, funny, crowd-pleasing movie, with strong emotional, heart-tugging moments. The main actors give wonderful performances, and there are some side bits that are also appealing, such as when one of the mother's friends, behind the mother's back, lets Rachel know she loves the dress she's wearing. In addition to Henry Golding, Constance Wu, and the great Michelle Yeoh's performances as Nick, Rachel and Nick's mother, the one-name actress Awkwafina delivers a standout performance as Rachel's funny, quirky friend, Peik Lin, who's always there to give Rachel some good advice as well as make an insightful joke about the crazy characters and situations Rachel encounters. The movie is enriched by some great dialogue and finely drawn character arcs, which include several simplifications of the original novel's complex cast of characters. On the plane to Singapore, Rachel asks Nick, "So, your family is rich?" "We're comfortable," he responds nonchalantly, to which Rachel replies, "That's exactly what a super-rich person would say!"
The story's main conflict involves the mother's firmly held belief that not only is Rachel not really fully Chinese because she was brought up in America, but also that Rachel doesn't have the same socioeconomic status as Nick and his family. She also states her belief that America's stress on the individual is toxic to her idea of family. Nick's grandmother, the family matriarch, also seems to share her daughter-in-law's sentiments, although she at first behaves much more friendly to Rachel. It becomes clear by the end, however, that Nick and Rachel belong together and share a deep love and respect that shouldn't be denied.
Here, it's interesting to note that, in the Bible study scene, a quick mention is made to Ephesians 6:4, which reads, "Fathers, do not exasperate your children; instead, bring them up in the training and instruction of the Lord." Earlier in the same scene, a character seems to read from Colossians 3:1 and 2, which says, "Since, then, you have been raised with Christ, set your hearts on things above, where Christ is, seated at the right hand of God. Set your minds on things above, not on earthly things."
These Christian, biblical thoughts aren't mentioned again at the end, but one of the movie's most moving scenes occurs in the fancy church where Nick's best friend is married. As beautiful stained-glass windows look down from the large church dome overhead, the friend's bride comes down the aisle, which has been flooded with water, a kind of baptism. [SPOILERS FOLLOW] At the same time, Nick, the best man, is so moved by the moment that he looks at Rachel sitting in the front and mouths the words, "I love you," to which she mouths the words, "I know. I love you too." This development is undermined at the wedding reception, where Nick's mother and grandmother inform Nick and Rachel that the scandalous background of Rachel's mother means they can't allow Rachel to be part of Nick's life any longer. This puts Nick in the impossible dilemma of either denying his family or denying Rachel. How can that impasse be overcome?
Despite its brief Christian, biblical references, CRAZY RICH ASIANS contains some Non-Christian, immoral content. For example, a couple references are made to pagan superstitious beliefs in good luck charms, such as wearing a red dress for good luck. CRAZY RICH ASIANS also contains excessive foul language, including two "f" words and three strong profanities. Finally, there are some references to sex and sexual immorality. For example, Nick's cousin Astrid learns her husband is having an adulterous affair, which causes them to separate. Also, of course, there's the homosexual cousin, who's mostly used for some comic relief, but who's also portrayed as a very likeable fellow. In addition, Nick and Rachel sleep together on the plane to Singapore, and there's another bedroom scene of implied fornication between them. Furthermore, the uninhibited young man organizing the friend's bachelor party has arranged a wild party with lots of girls on a floating ocean barge. Later, he's caught fooling around with the actress girlfriend of one of Nick's other cousins.
Ultimately, therefore, MOVIEGUIDE® advises strong and extreme caution for CRAZY RICH ASIANS. It's a four-star movie, but less objectionable content and a stronger Christian worldview could have made this a truly great comedy.
Note: Some are labeling CRAZY RICH ASIANS a romantic comedy, but the comedy isn't really between the male and female lead but involves the female lead's encounter with the male lead's family, friends, and acquaintances.